Why Megan Thee Stallion Is Giving Away $1 Million In Stock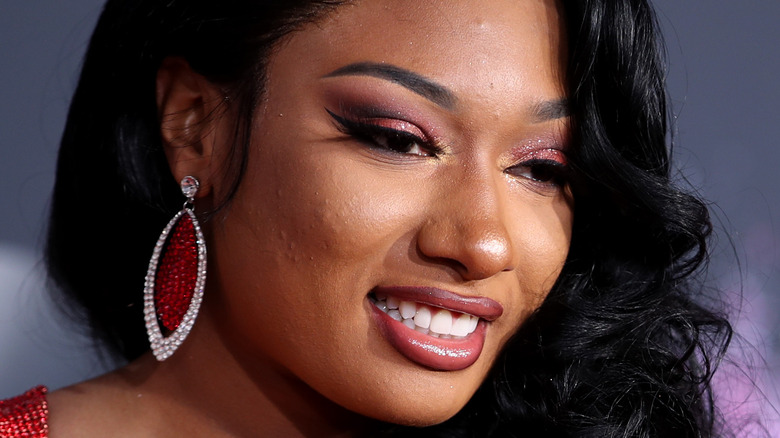 Rich Fury/Getty Images
Megan Thee Stallion and her fans, called "Hotties," have a tight-knit relationship. Recently, the "Hot Girl Summer" even helped pay for a young fan's funeral by donating $8,155 after a friend of the fan reached out to her on social media. "Meg we lost a hottie our best friend passed away unexpectedly. They absolutely loved you, listening to ur songs was something we did every time we were together," the friend tweeted on June 16, tagging the rapper.
"I was on Twitter right then, and this girl tweeted me and she was like 'Megan, one of my best friends passed away, and she was such a Hottie, and we just really need help,'" Megan told Houston's 97.9 "The Box." For Megan, helping out her fans in need is the least she could do. "I love how hard the Hotties go for me, they always support me and they make me who I am," she said in the same interview. "So I can give back to them any time. It's nothing I wouldn't do for the Hotties. Whenever they ask me for something, I try my best to give it to them."
Megan's latest token of her appreciation, however, is her biggest yet. In fact, the rapper has recently announced that she is currently giving away $1 million in stock, in partnership with CashApp. Scroll on to find out more.
Megan Thee Stallion wants to help you 'build your own empire'
John Sciulli/Getty Images
On June 29, Megan Thee Stallion surprised her Hotties with an insane giveaway — $1 million in stock. (Meg herself is worth $6 million, per Celebrity Net Worth.) Taking to Twitter, the rapper explained how fans can join in on the fortune. "Listen up, Hot Girl CEO and @CashApp are here to teach you about investing," she wrote. "To celebrate, I've partnered with @CashApp to give out $1 MILLION in stock. Reply with your $cashtag for a chance to own some."
The tweet is also accompanied by an informational video, "Investing for Hotties," in which Megan breaks down financial terms such as "fractional shares," "diversification," and "dollar-cost averaging." In the clip, Megan also explains why she decided to launch the campaign.
"Me and my thriving empire, Hot Girl Enterprises, have teamed up with Cash App to teach you everything I learned on the way up about money and how you can build your own empire. Buying stocks isn't only for the big players," she said.
"Anyone can start with as little as $1. Putting in a little money and seeing how it moves is a great way to learn about the stock market." She later added, "The more you educate yourself, the more equipped you'll be to navigate investing." Keep it up, Meg!