The Surprising Amount Of Times D'Andra Simmons Has Been Engaged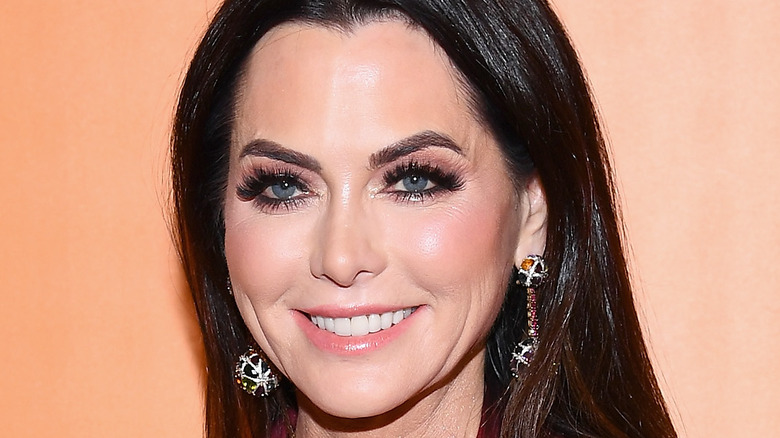 Dave Kotinsky/Getty Images
Watch out, Danielle Staub! "Real Housewives of Dallas" star D'Andra Simmons is here to give you a run for your money! While "Real Housewives of New Jersey" villain Danielle is infamous for being engaged 21 times (just ask "RHONJ" OG and table flipper extraordinaire Teresa Giudice), fans might be shocked to learn that the prominent Dallas socialite is not too far behind her Garden State counterpart. 
As reported by Meaww, during an episode on Season 5, whilst the cast was en route to a vineyard via a party bus D'Andra opened up to the rest of the ladies about her various engagements and even cited her personal at-home stripper pole for playing an integral role in getting so many men to pop the question. "I loved to get the ring, that was a big challenge for me. Then I got bored, didn't want the guy anymore. ... Some of the rings I kept, some my mother gave them back," she later told the S'More Show. YIKES. But just how many times has the Lone Star State housewife been engaged? Keep reading to find out!
D'Andra Simmons has been engaged 13 times
Cooper Neill/Getty Images
Per Bravo TV, entrepreneur and reality star D'Andra Simmons has been engaged a staggering 13 times! (We'd like to think that somewhere former New Jersey Housewife and engagement queen Danielle Staub is letting out a big sigh of relief as she lives to rule another day.) 
After many fans took to Twitter to declare their shock and awe upon learning the news, D'Andra offered up a bit of humor regarding the revelation. "Sometimes you have to kiss a few (or 13) frogs before you find your Prince Charming!" she joked on the social media platform before adding a kissy face emoji and the hashtag #RHOD. 
One person not laughing about the 13 engagements, however: Mama Dee Simmons. During an episode of Bravo's "Watch What Happens Live," D'Andra explained that after coughing up more than $1 million fat ones for D'Andra's extravagant first wedding that also included a one-hour fireworks show over the city of Dallas, Mama Dee required that D'Andra foot the bill for her second wedding to her now-husband Jeremy Lock. "That was my second marriage, and it was my duty to pay for it," D'Andra told host Andy Cohen. Perhaps that's why D'Andra opted to forego the fireworks spectacular the second time around...