The NCIS Star You Didn't Realize Was In ER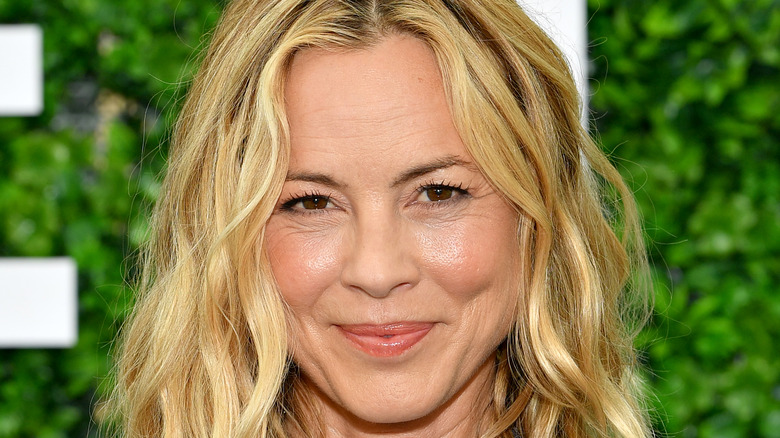 Pascal Le Segretain/Getty Images
For three seasons, Maria Bello captivated "NCIS" fans as Dr. Jacqueline "Jack" Sloane. Her character bid an emotional farewell to Mark Harmon's Jethro Gibbs while the two were in Afghanistan, per Deadline. Fans were sad to see Jack leave the series, and Bello was emotional after leaving. After wrapping up her final scenes on the series, Bello made a heartfelt Instagram post that included photos with the cast, along with a snap of Harmon kissing her on the cheek. "I've learned many things on this journey for the last three and a half years. I learned about commitment and community," Bello wrote in the lengthy caption. The actor mentioned how wonderful the cast and crew of the show had been. "Though in our business, like many, there are quite a few a**holes – there is not one on the set of NCIS," she added.
Following her departure from "NCIS," Bello worked as the writer and producer on the movie "The Woman King" starring Viola Davis, per Newsweek. The accomplished actor had previously worked as a producer, but this was her first foray into writing. Speaking to TV Insider in February 2021, Bello revealed the project had been years in the making. "I've had this commitment for years to make a movie, 'The Woman King,' with Viola Davis," she told the outlet. This was not the first time Bello left a successful television series to focus on films.
Why fans miss her ER character
Maria Bello appeared in a string of television guest roles in the mid-1990s. She landed the starring role in the short-lived "Mr. & Mrs. Smith" series in '96 and followed that up with landing the role of Dr. Anna Del Amico on "ER," per IMDb. This started out as a recurring character in Season 3 and became a full-time character for Season 4. Bello's Dr. Del Amico had an ongoing flirtatious fling with Noah Wyle's Dr. John Carter, but the two characters seemed poised for a long-term relationship, per The Atlantic. Fans were never able to find out if the two would stick together, as Dr. Carter's family wealth became an issue, and Dr. Del Amico left to reunite with her ex in Philadelphia, via Today. Bello's turn on the hospital drama is remembered fondly by fans, and in 2018, Bustle described her character as "smart, fun, and just a great addition to the cast." 
Once Bello left the hit drama series, she was able to leverage that exposure into film roles. Shortly after departing "ER," she appeared in a slew of films including "Payback" and "Coyote Ugly," via IMDb, and took home Golden Globes for her work on both "The Cooler" and "A History of Violence," per Newsweek. Bello was thankful to land these roles later in her career. "I think if I had had success when I was younger, I'd probably be a bit [expletive] up," she told The Washington Post in 2006.