Here's How Much Ashleigh Barty Is Really Worth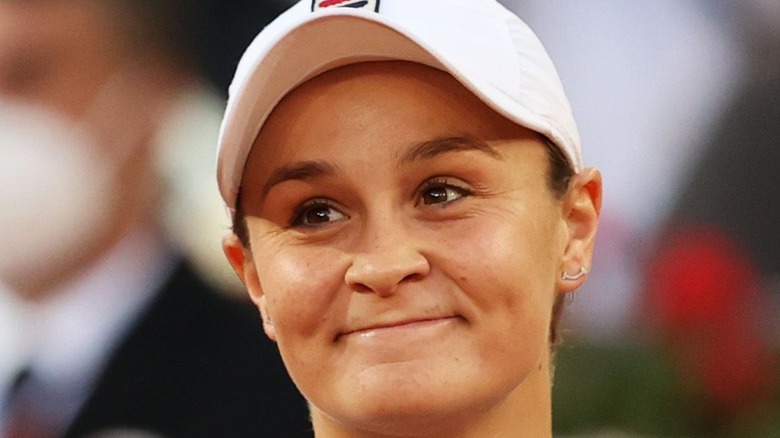 Clive Brunskill/Getty Images
Ashleigh Barty may have enough money to buy hundreds of gold-plated tennis rackets, but the Australian sports star would much rather spend it on her family. The reigning world champion tennis player was provided with the "privilege" of opening on Wimbledon's Centre Court on June 29, calling the offer an "honor" to The Sydney Morning Herald. The 25-year-old won the game against Spanish player Carla Suárez Navarro, wearing perhaps a lucky clothing choice: a replica of fellow Indigenous Australian player Evonne Goolagong Crawley's Wimbledon outfit, per The Guardian.
Barty previously expressed her "dream" to win the world's most respected tennis tournament, and with the 50th anniversary of Crawley's win, she may have extra motivation to take out the title. "One day I would love to be the champion here. It's a dream. It's a goal," Barty said. But one thing that surprisingly doesn't motivate the young player is money, let alone world ranking — instead, she strives to the "best" tennis player she can be. "That is what we're striving for every single day, to try and improve every single day and try and bring the best out of myself," Barty told Yahoo! Sport in 2020. 
Keep reading to find out just how much the tennis star is worth.
Ashleigh Barty previously won the largest cash prize in tennis history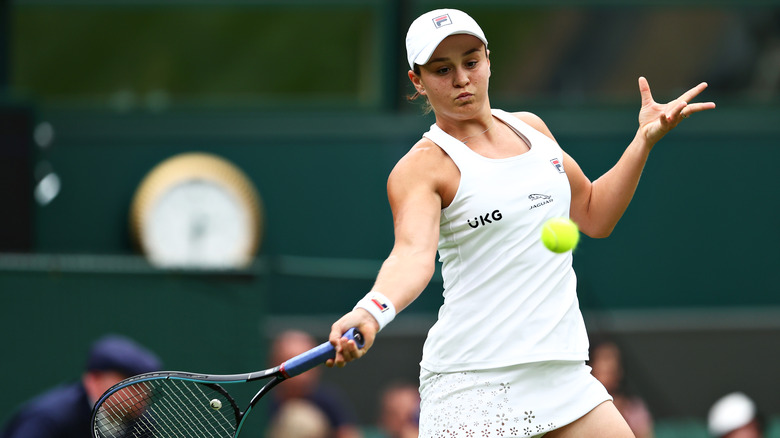 Julian Finney/Getty Images
At 23-years-old, Ashleigh Barty scored the biggest check in tennis history by winning the WTA Finals in Shenzhen, China in 2019, per 7News. The $6.4 million dollar prize money is the largest any player has ever won from a single tournament ... not even tennis greats Roger Federer, Rafael Nadal, or Serena Williams have pocketed so much.
And like most high-profile tennis players, Barty also has a number of sponsorships, including endorsements from Nike and tennis equipment manufacturer Head, per The Tennis Time. She even previously signed contracts with brands such as luxury car manufacturer Jaguar, Swiss watch brand Rado and Australian cosmetic brand Esmi. Totaling all her prize money and sponsorships, The Tennis Time estimates Barty's net worth to be approximately $20 million. However, if she becomes 2021's Wimbledon champion, her earnings will undoubtedly skyrocket. 
But either way, the humble Barty doesn't seem too phased about the potential payday, telling 7News in 2019 that she's not "extravagant" and instead lives a "pretty simple life." While she enjoys spoiling her niece and nephew with new tennis rackets and trampolines, she prefers to spend time with them. "So, look, I mean, the amount of zeros you have in the bank account doesn't change how I'm going to spend my off-season and spend time with my family," she said to the outlet. 
Ashleigh Barty was playing tennis against grown men at age 12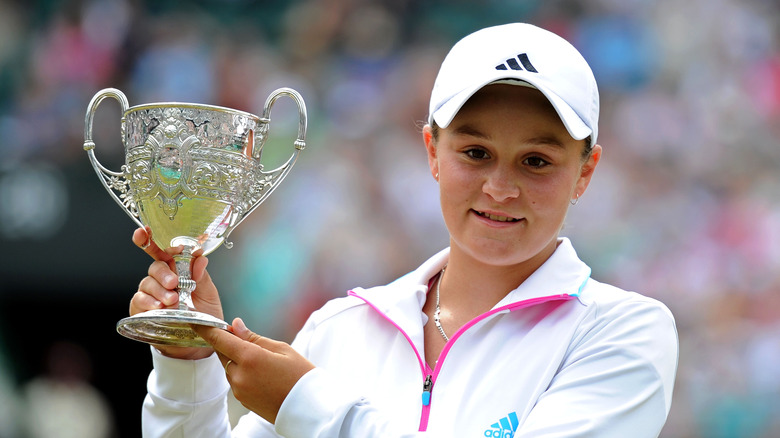 Michael Regan/Getty Images
The Ipswich, Queensland native began playing tennis at age five and showed coordination skills beyond her years, according to her first coach, Jim Joyce. "When she turned 9, she could play on equal terms with boys who were six years older. At the age of 12, she was already practicing freely with the grown men," Joyce said to The Tennis Time of Ashleigh Barty. 
Despite a passion for grass courts, the versatile Barty went from strength to strength, winning her first ITF junior title at age 13. Even during her early days, her results were exceptional, competing in five tournaments with 24 wins and only two losses. But little did she know she'd make WTA's world number one several years later, a ranking which would make her incredibly wealthy. 
After a few losses in doubles tournaments, Ashleigh Barty took a long two-year break from tennis, which may have been a blessing in disguise as she returned in 2016 with a vengeance and a new coach Craig Tzier, per The Tennis Time. Despite a few injuries throughout her career, Barty eventually won major tournaments such as the US Open Doubles in 2018 and the French Open singles in 2019. She's definitely earned her winnings!