The Truth About Ashleigh Barty's Boyfriend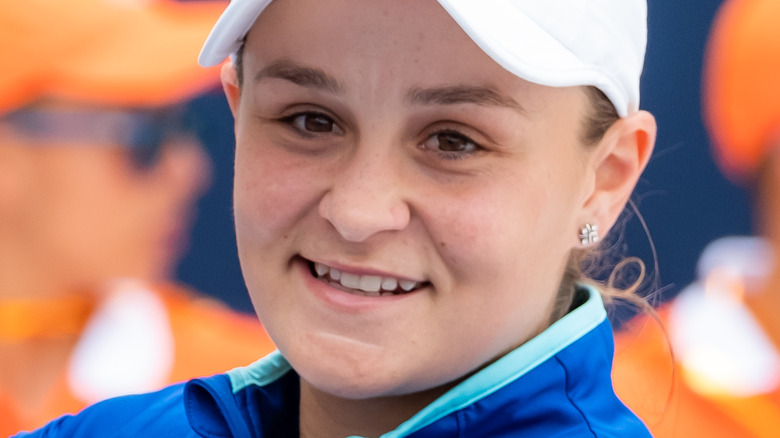 Shutterstock
Ashleigh Barty is one of the most successful tennis players in the world. Per the Women's Tennis Association's official website, Barty has been ranked the No. 1 female tennis player for the past two years, after winning her first Grand Slam at the 2019 French Open. She has also won 11 singles titles in her career thus far and has made deep runs in most of the tournaments she's entered.
While Barty has made her career out of playing tennis, she is also proficient in other sports. According to The Guardian, Barty took a break from playing tennis in 2014 and played cricket professionally for two years before returning to the sport in February 2016. In the same year she returned to tennis, Barty also fell in love, having met her boyfriend while playing golf. 
But who is the man who captured her heart? Keep scrolling to find out more about Barty's boyfriend.
Ashleigh Barty's boyfriend has sporting ambitions
Ashleigh Barty is a tennis star in her own right, but her boyfriend, Garry Kissick has sporting ambitions too. Per News.com.au, Kissick is an aspiring professional golfer. Barty met Kissick while she was playing golf at the Brookwater Golf Club in 2016. The golf club is not only a training ground for Kissick but also where he works, as he's in charge of the irrigation for the grass on the course. Kissick frequently posts about golf courses on his Instagram account, alongside photos of him with Barty.
In addition to liking golf, Kissick is a massive fan of soccer and supports England's Liverpool Football Club. He, though, like many boyfriends, posts tributes to his girlfriend on Instagram whenever she wins. "Amazing! The puppies and I are so proud of you baby!" Kissick captioned an Instagram post of Barty holding the French Open trophy in 2019. "Many more to come!"
While Barty is less publicly affectionate about their relationship on social media, she does occasionally post about him on Instagram. "Wishing the happiest of birthdays to this handsome boy," Barty wrote under an Instagram of her and Kissick in November 2018. "Thank you for being your cheeky and caring self every single day." Aw!