What We Know About Leslie Jones And Kate McKinnon's Relationship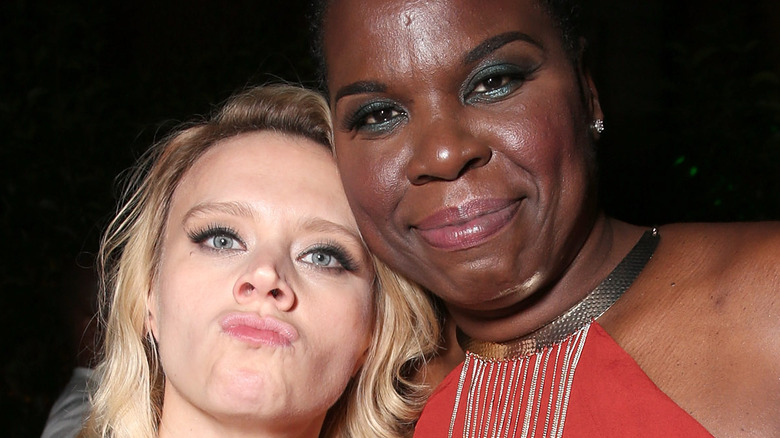 Todd Williamson/Getty Images
Leslie Jones and Kate McKinnon are two of the funniest women — we mean, the funniest people — around. Thank you to "Saturday Night Live" for bringing them into our living rooms and hearts. They are certified besties, as a quick glance through Jones' social media shows. In this Twitter post, she captioned a video of herself dancing with McKinnon, "MY B***H FOR LIFE!!! Kate McKinnon, I love you!!"
Well, someone somewhere saw that and the many photos of the two of them hugging and mugging on the red carpet together and made some big assumptions. One click-bait article showed a photo of Jones and McKinnon hugging each other with the headline "Celeb Couples We Totally Forgot Were Married," per Snopes.
If that confuses you, you're not alone. For what it's worth, McKinnon is openly gay. She's joked about it with Jerry Seinfeld in "Comedians in Cars Getting Coffee" and played a number of lesbian characters on "Saturday Night Live," per the New York Times. Over the years, Jones and McKinnon have appeared in numerous "SNL" sketches together and co-starred in 2016's all-female "Ghostbusters" together, per IMDb.
So, what's the deal with that marriage-related ad and with Leslie Jones and Kate McKinnon's relationship off-screen? Keep reading to find out.
Leslie Jones and Kate McKinnon are #FriendshipGoals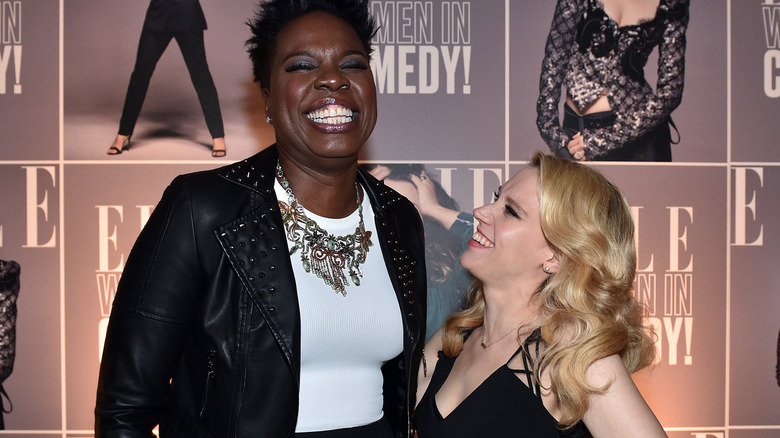 Mike Windle/Getty Images
The click-bait people weren't done with just one ad featuring Leslie Jones and Kate McKinnon in the lead image. Another ad featured another photo of Jones and McKinnon with the headline: "17 LGBTQ Celebs that Overcame Many Challenges and Eventually Became Couples," per Snopes. People who clicked through thinking the "SNL" women were featured found themselves clicking through 67 slides with no mention of Jones or McKinnon.
To be very clear, Jones and McKinnon are not married to each other. They are best friends. Like Tina Fey and Amy Poehler, they became close during their years together on "Saturday Night Live."
When they shot 2016's "Ghostbusters" together, that bond solidified, according to Refinery29. McKinnon said, "Leslie and I have worked together for two years at SNL. We were very close by the time we got there to film and got so much closer, pathologically closer over the course of the summer in fact ... We're sisters for life."