The True Meaning Behind 'Having Our Way' By Migos Featuring Drake
Shutterstock
Earlier this month, Migos teamed up with Drake to release a new track called "Having Our Way." The popular track — a nice dance salvo in the wake of a pandemic — is part of Migos' latest album, "Culture III," which is their first full release in years. 
In June, Quavo declared to Complex that "Culture III" is going to be "the greatest album of this year." The rapper also told the magazine that the record will be "the greatest album of the summer," per HotNewHipHop, touching on the easing of restrictions due to COVID-19. "I feel like this album going to open up the world. We're having fun and smiling again, you know what I mean? Everybody's been hurtin', and going through this pandemic and losing loved ones... I feel like this is a breakthrough. This is the sonic boom to the new life and new world that we live in," he told the outlet.
Keep reading to find out the real meaning of "Having Our Way" by Migos featuring Drake.
Does 'Having Our Way' throw shade at Quavo's ex, Saweetie?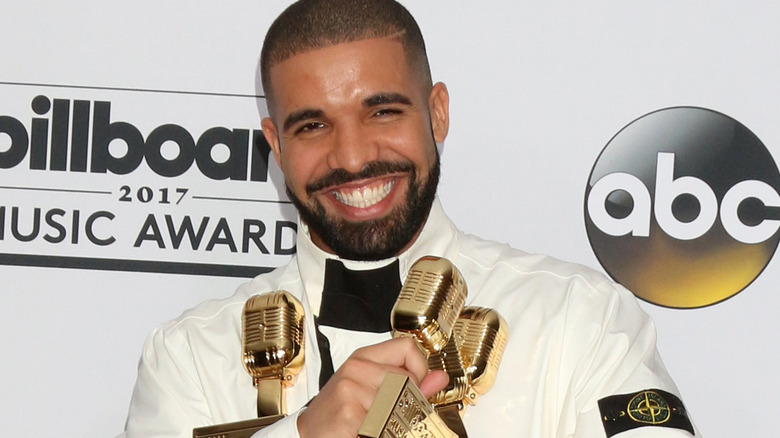 Shutterstock
According to HotNewHipHop, the newest song from Migos — who are originally from Atlanta — is considered to contain an alleged swipe at Quavo's ex, Saweetie.
"Havin' my way in the city / Get pulled out your britches / You talkin' to trippin'," they rap on the song. "She had it her way, now she out of a Bentley," they continue, which is the offending lyric in question, as Genius notes. As fans of the group know, Quavo gifted Saweetie a Bentley while they were dating, but he repossessed the car when they broke up, per HipHopDX. 
Drake, for his part, is referring to his vast wealth on his featured lyrics on the track. "Okay, great, I'm in the backroom of Wally's / I spent thirty thousand on somebody's grapes," he raps, making reference to the upscale Beverly Hills restaurant Wally's, which is also known for its collection of fine wines (the "grapes" in question). He also raps, "I've been too solid to ever have stripes on my sneaks, you get what I mean?" — a line that seemingly refers to his feud with Adidas, per Genius.