Everything You Need To Know About Trump Organization CFO Allen Weisselberg
On July 30, the two-year investigation into the Trump Organization's business practices concluded with a filing of charges against the organization, the Trump Payroll Corp., and Allen Weisselberg, the CFO of the Trump Organization — specifically, "15 felony counts in connection with an alleged tax scheme stretching back to 2005," per CNN. Prosecutors in court said the counts include a "scheme to defraud, conspiracy, criminal tax fraud, offering a false instrument for filing and falsifying business records," according to the outlet.
This thrust Weisselberg into the spotlight. He, along with other representatives of the organization, surrendered in the Manhattan District Attorney's office at 6:20 a.m. July 1, per the New York Post. "Mr. Weisselberg intends to plead not guilty and he will fight these charges in court," said his attorney, Bryan Skarlatos, in a statement provided to the outlet. According to CNN, Donald Trump himself has not been charged.
While Weisselberg is in the spotlight now, he actually has a longtime history with the Trump Organization. According to USA Today, he was first hired by Trump's father, Fred, in 1973, and eventually became comptroller of the Trump Organization under Donald Trump in the late 1980s. 
Read on to find out more information about Allen Weisselberg, including his feelings about the former president and his personal life.
Allen Weisselberg is considered a 'soldier' of Donald Trump's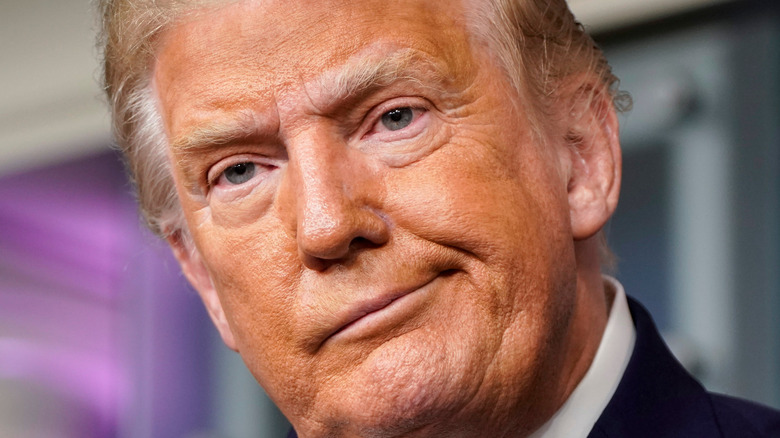 Shutterstock
Allen Weisselberg set up the entire accounting department for the Trump Organization, served on the board of the Miss Universe organization, and was the treasurer for the now-defunct Trump Foundation before becoming the CFO of the organization, per The New Yorker. Still, he and his wife, Hilary, lived in a "modest" home in Wantagh, New York — until they moved to a New York City apartment rented by the Trump Organization, according to CNN, which prosecutors claim he was evading taxes on. According to USA Today, the Trump Organization compensated him in the form of $1.17 million worth of "gifts," such as free private school for his grandchildren and the rent-free condo on the Upper West Side. These gifts are part of the investigation by the Manhattan District Attorney. 
And according to Weisselberg's former daughter-in-law, Jennifer — who is "prepared to testify" against him in trial if it were requested, her lawyer told Insider — Weisselberg is so devoutly loyal to Trump that it's questionable if he will "flip" on the former president. 
"He has more feelings and adoration for Donald than for his wife," she claimed to The New Yorker in March. "His whole worth is 'Does Donald like me today?' It's his whole life, his core being. He's obsessed. For Donald, it's a business. But for Allen it's a love affair."