Kate Middleton Just Made A Surprise Appearance. Here's Where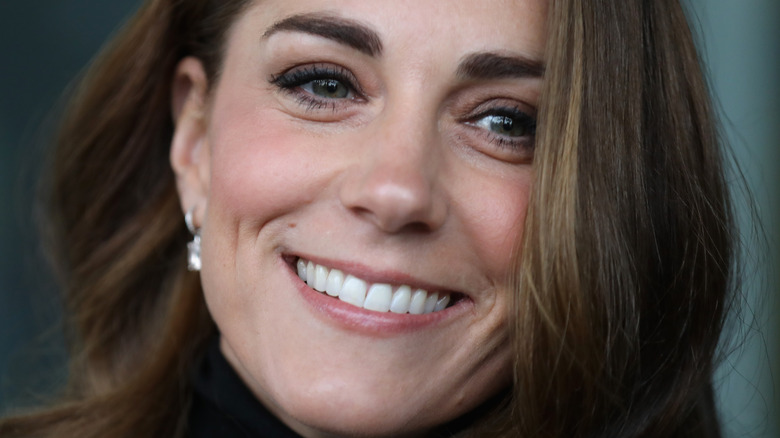 Tim P. Whitby/Getty Images
Kate Middleton did not make an appearance at the statue unveiling in honor of Princess Diana that took place on July 1, and many royal watchers were curious what kept her from attending. As it turns out, Kate wanted to attend, but she also wanted her husband, Prince William, and her brother-in-law, Prince Harry, to have that moment together without any additional fanfare or fuss, according to Us Weekly. "Out of respect for [Prince] Harry and William, [the royal family] wanted it to be just about Diana's sons and not a huge public affair. Kate was definitely supporting William while physically not being there and really wanted to attend, but the family as a whole decided it was best for the kids and her to stay home," a source told the outlet.
However, the Duchess of Cambridge had some big plans ahead of the weekend, and made a surprise appearance to enjoy one of her favorite things. Keep reading to find out where Kate was spotted on July 2. 
Kate Middleton is a huge tennis fan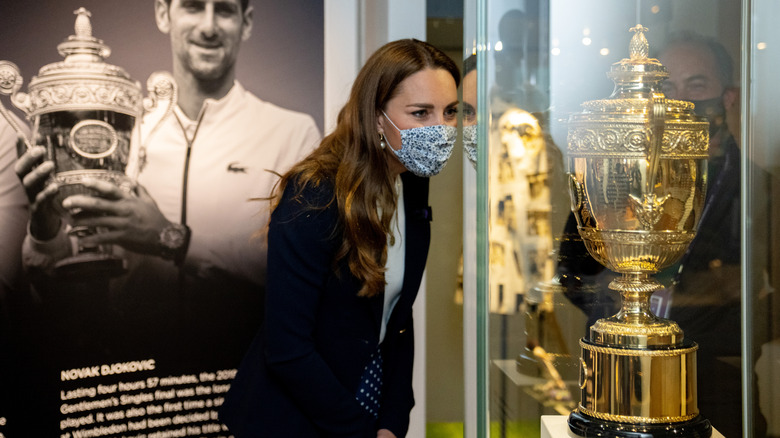 Pool/Getty Images
Kate Middleton was at Wimbledon! The Duchess of Cambridge looked effortlessly chic as she arrived to the event on July 2. She wore a polka-dot Alessandra Rich tea-length skirt, a tailored sport coat, and a pair of white Jimmy Choo heels, according to the Daily Mail. The outing marks the first Wimbledon match of the year for the duchess, who took in Jamie Murray's first match alongside tennis pro Tim Henman. The duchess looked extremely happy as she sat amongst other spectators on day five of the event. 
Kate also took a bit of a tour around the grounds and spent some time in the kitchen to learn about how executive chef Adam Fargin and his staff have been helping out in the community amid the pandemic, according to the Daily Mail. At one point, Kate even assisted Fargin by cutting up some strawberries! Before heading out, the Duchess of Cambridge was given a tour of the Wimbledon Lawn Tennis Museum. All-in-all, it seemed like a very fun day for the duchess, who hasn't been to Wimbledon in a couple of years. July 2 marks the first time that Kate has been to Wimbledon since 2019, as the tournament was canceled in 2020 due to the coronavirus pandemic. According to Town & Country, Kate was joined by her sister-in-law Meghan Markle that year. 
The event has been a favorite of Kate for many years, and she has previously attended with her husband and her sister, Pippa Middleton.