The Truth About Tamra Judge's Relationship With Fernanda Rocha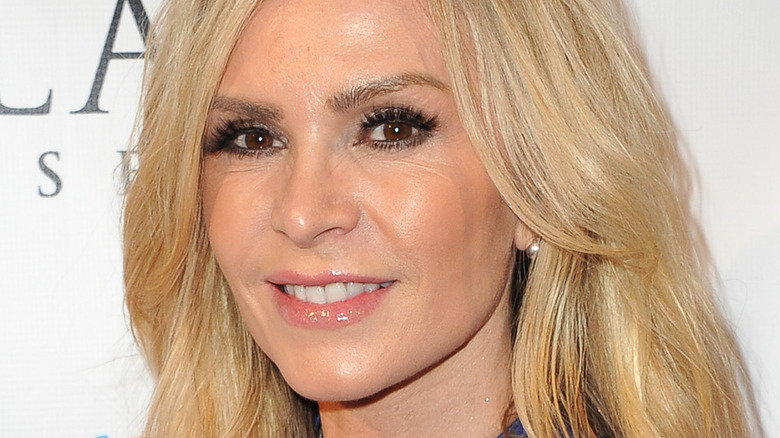 Allen Berezovsky/Getty Images
"The Real Housewives of Orange County" Season 6's blast from the past, Fernanda Rocha, is making headlines once again as she has been linked to yet another blonde from the O.C.
As reported by Page Six, former Housewife Braunwyn Windham-Burke, who recently got the axe by Bravo, announced on June 21 that she and the Brazilian fitness instructor are indeed an item. "What started as a friendship has become something more — I am so grateful for her — she is beyond amazing," Braunwyn told the publication. "Not only has she been a source of strength, but she has taken me under her wing and helped me navigate my coming out. Without the show, I never would have met Fernanda, so I am forever grateful for that. She's taking me away for a few days today, and that is exactly what I needed," she continued, detailing their budding relationship.
But as RHOC stans may recall, Braunwyn isn't the first Orange County Housewife Fernanda has befriended. Keep reading after the jump to learn all about Fernanda's friendship with another O.C. cast member!
Tamra Judge and Fernanda Rocha shared a kiss
Fitness instructor Fernanda Rocha first burst onto the Bravosphere in 2011 during Season 6 as a friend of former "The Real Housewives of Orange County" cast member Tamra Judge. "Fernanda and a Tamra are pals and they love to flirt ... with each other. The pair model topless for a charity fundraiser poster, and their behavior spreads rumors and speculation in the O.C. circle," the Bravo website teased about Rocha's time on the reality series.
But what's the real story behind Tamra's relationship with Fernanda? Per Bravo's The Daily Dish, Fernanda revealed during an episode of RHOC that she and Tamra shared an intimate late-night kiss at Tamra's birthday party only year one prior. Tamra initially minimized the incident, brushing the encounter under the rug as simply a drunken peck, but later copped to it. "Okay, there might have been some tongue," she confessed, before adding, "but there was no nipple-tweaking!" Later, Tamra appeared to backpedal entirely, explaining to Bravo host Andy Cohen that she was indeed coherent during the kiss. "I was aware of what I was doing," she declared.
TBD if Fernanda and Braunwyn will go the distance unlike the flame that quickly fizzled out between her and Tamra. But there's one thing we do know for sure — Fernanda definitely has a type: blonde and sun-kissed by the O.C. rays!