The Truth About Chris Watts' Parents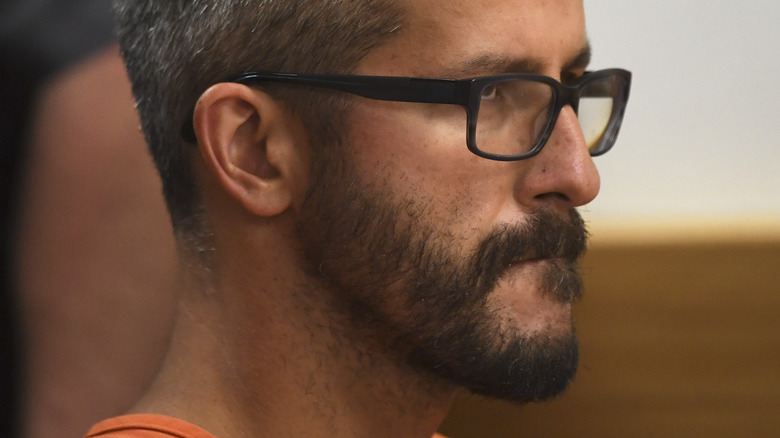 Pool/Getty Images
The Chris Watts documentary dropped on Netflix in 2020 and shed light on the horrifying 2018 crimes. For those that didn't tune in, don't worry, we've got you.
Watts was convicted of the 2018 murders of his two young daughters, Bella and Celeste, and his pregnant wife Shanann. It all started on August 18 when the three were reported missing. Police investigated the Watts' Colorado home, but it seemed like Shanann and her daughters had just vanished into thin air. Eventually, suspicion fell onto Chris when it came to light that he was having an affair with his co-worker Nichol Kessinger.
After intense questioning by the police, Chris confessed to murdering Shanann and their daughters and disposing of the bodies in the oil field where he worked, per Insider. Chris quickly became the most hated man in America. Everyone turned on him (even Kessinger) — everyone except his family.
Read on to find out what's really going on with Chris Watts' parents.
Chris Watts' parents couldn't accept the truth
When Chris Watts was arrested for the murder of his wife and children, his parents, Cindy and Ronnie, couldn't believe it. "He's not a sociopath. He's not a psychopath," his mother claimed in a televised interview.
Cindy explained that she thought Chris made a false confession. "I asked Chris, 'If you did not do this, do not confess to something you didn't do,'" she said. Cindy added that she suspected Chris was pushed to take a plea deal by his attorney's who didn't think he'd win in a trial, given that he'd already confessed. "To me, all [the lawyers] wanted to do was save his life," she said. "He's going to die in prison. I just want him to fight. I don't want him to take this plea deal. I want him to plead not guilty to the children."
Chris, who was facing the death penalty, wisely took deal and pled guilty to the murders. He was sentenced to five consecutive life sentences with no possibility of parole, per the Daily Mail.
By the time the sentencing rolled around, Cindy and Ronnie had come to accept Chris' fate. "I have always loved you and I still do. We love you and forgive you son," Cindy said in court. Her husband, Ronnie echoed her sentiments, per The Sun. "Chris, I forgive you and your sister forgives you and we will never abandon you," he said.
Since the sentencing, Cindy and Ronnie have kept and understandably low profile.