What We Just Learned About Britney Spears' Family Being On Her Payroll
Shutterstock
Britney Spears has a net worth of $60 million, according to Forbes, and while that number should be much higher, given the amount of money that she's earned over the course of her career, it's not surprising to know that she's helped support her family. In fact, shortly after she skyrocketed to fame, Britney purchased a mansion in Louisiana where her mom, Lynne Spears, still lives, according to Love Property. However, there is a big difference between voluntarily supporting your family and actually paying them a paycheck — and the latter seems to be the case for Britney.
According to a piece written by Ronan Farrow and Jia Tolentino in The New Yorker, Spears family members, including the youngest sibling, Jamie Lynn Spears, and the eldest, Bryan Spears, have all benefited from a Britney-signed paycheck over the years. "Jamie, Lynne, and Spears's brother, Bryan, have all spent years on Spears's payroll, and, as friends who spoke with her at the time recalled, she was increasingly resentful of their efforts to influence her," Farrow and Tolentino wrote. As Us Weekly points out, it's unclear how much money Britney has paid her family over the past two decades. 
However, there is one person who is supposedly no longer on Britney's payroll. Keep reading to find out who that is.
Britney Spears wants control of her own money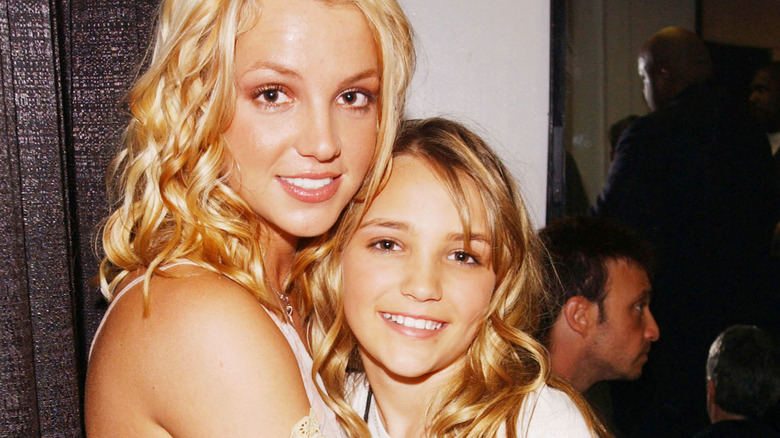 Frank Micelotta/Getty Images
According to Us Weekly, Jamie Lynn Spears is the only member of Britney Spears' family that's not getting a paycheck from her sister's fortune. It seems as though Jamie Lynn alluded to this when she released a statement following Britney's June 23 court appearance. "I have nothing to gain or lose either way. This situation does not affect me because I am only her sister who is only concerned about her happiness," Jamie Lynn said on her Instagram Story. "I'm not my family. I'm my own person. I'm speaking for myself," she added.
Last month, The New York Times reported that Jamie Spears, the current conservator of Britney's estate, earns approximately $16,000 per month for the role. In addition, he is getting another $2,000 per month for an office rental, which he apparently needs in order to work for his daughter. "It's been a long time since I've owned my money," Britney told Judge Brenda Penny in court on June 23 (via CNN). "What state allows people to own another person's money and accounts and threaten them saying 'you can't see your money unless you do what we want you to do' and I'm paying them...since I was 17 years old," she added.