Here's How Much White House Press Secretary Jen Psaki Is Really Worth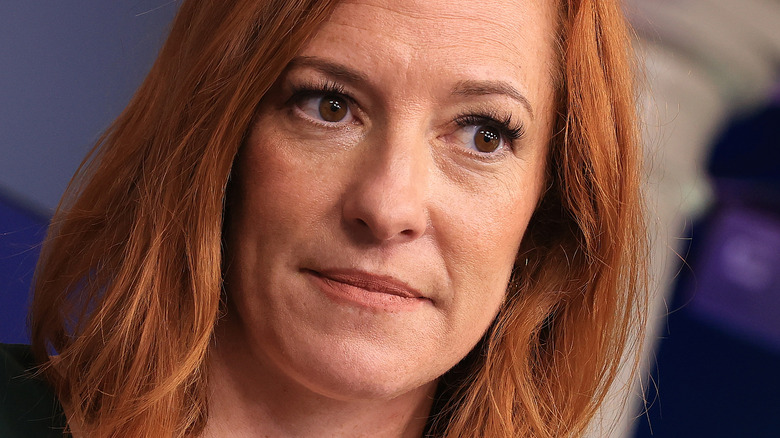 Chip Somodevilla/Getty Images
Jen Psaki recently announced she will be stepping down as White House press secretary, saying goodbye to not only the United States' most senior media role, but also a huge salary. Psaki was handpicked by President Joe Biden to be his new press secretary in 2021 and she quickly became a media conference fixture for the newly formed government. She addressed the American public for the first time on January 20, vowing to share "accurate information" following Donald Trump's reign of "fake news," per news.com.au. She also acknowledged the country's political diversity when she said: "There will be times where we see things differently in this room... that's OK. That's part of our democracy, and rebuilding trust with the American people will be central to our focus in the press office and in the White House every single day." 
Publications and experts worldwide praised Psaki for her "transparency" with CNN's Brian Stelter, writing that even on her first day, she "sent a message that functional government is back." Quite the compliment given the Trump administration's often antagonistic and dismissive approach toward the media. But, despite the "fan-favorite" already showing such confidence and leadership in her new high-powered position, Psaki is a seasoned political press professional. She even worked as President Barack Obama's deputy communications director in 2009, per Business Insider. So, after all that, what's her net worth?
Jen Psaki has represented both government media and major commercial networks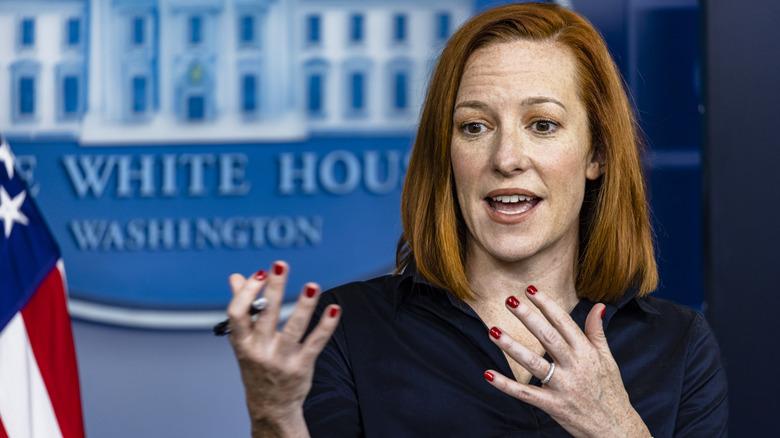 Samuel Corum/Getty Images
Jen Psaki has had a plethora of media jobs throughout her 17-year-career, but each position has been politically aligned. The 34th White House press secretary hails from Stamford, Connecticut and is the daughter of a real-estate developer and psychotherapist, per Exact Net Worth. While she did not study politics — she graduated with a degree in English and sociology, per The Sun — she began her career working on the re-election campaigns of Iowa Democrats Tom Harkin for Senate and Tom Vilsack for governor in 2001. 
Several years later, Psaki transitioned from state politics to working with leading political players like Barack Obama. She was selected to be Obama's traveling press secretary during his 2008 presidential campaign and worked as his deputy press secretary following his inauguration. Just a year later, Psaki was promoted to deputy communications director, but subsequently left in 2011 to work as the senior vice president and managing director at the Global Strategy Group. She later returned as press secretary for Obama's 2012 re-election campaign before going corporate again — but this time, to the mainstream media. Psaki worked as a political commentator on CNN, which Exact Net Worth says "contributed massively" to her estimated $2 million dollar wealth. Her current White House salary, however, still sits at a handsome $183,000 per year.
Despite the mother-of-two saying she will be moving on from her current position in2022 so as not to "miss moments" with her kids, given her on-again, off-again government career, it's certainly possible we could see Psaki return in the near future.