Miley Cyrus' New Look Is Causing A Stir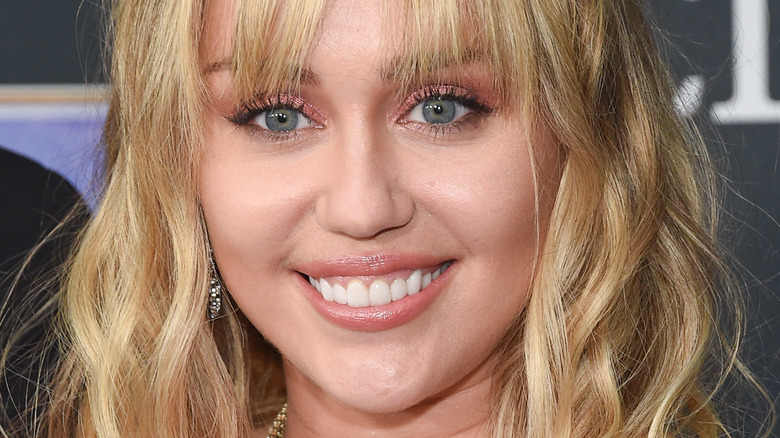 Shutterstock
When it comes to serving an ever-revolving door of dialogue-starting new lewks, few pop stars come close to Miley Cyrus. Whether she was freeing the nip in an Instagram selfie (via Cosmpolitan) — in violation of Instagram's community guidelines, no less — or twerking in a Care Bear-themed onesie (followed by a nude latex one) in that performance at the 2013 VMAs, Cyrus marches to her own stylistic drum (as she generally does in life). "Fashion to me is kind of flipping yourself inside out," Cyrus told Vogue in June. "It's like wearing your heart, wearing your guts, wearing your values, wearing your identity, wearing your pain, wearing your joy. There's something kind of childlike [about it]... You don't think about what someone will think of you or what they'll judge."
Cyrus did admit in March 2020 to the rare occurrence in which judgment over her fashion choices got inside her head. On her Instagram Live series "Bright Minded: Live with Miley," the singer spoke about the meme mocking her 2013 VMAs fashions that led her to change the way she dressed for a while. "I was just so skinny and so pasty and they kept putting me next to this turkey, and I was feeling so bad on myself that I did not wear a bikini for like two years," Cyrus said (per People). As evidenced by her 2015 Jimmy Kimmel Live! appearance, Cyrus returned to dressing however she wanted. And, on July 4, her new look had people talking once again... 
Miley Cyrus delivers shock-and-awe in Las Vegas on July 4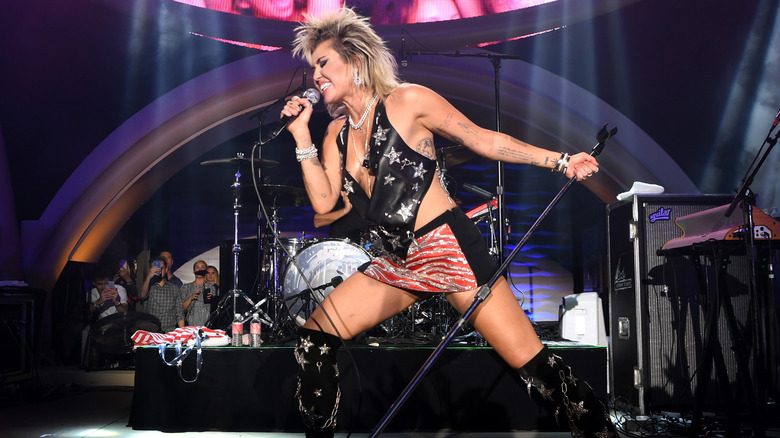 Denise Truscello/Getty Images
In keeping with the punk-rock vibes of her latest album "Plastic Hearts" (released in fall 2020), Miley Cyrus' onstage look at the July 4th opening of Resorts World Las Vegas evoked Joan Jett and the American flag — and was 100% awesome. Sporting a black leather halter top dripping with bedazzled stars, matching knee-high black boots with similar embellishments, and a super-mini skirt with patriotic red-and-silver stripes on the front, Cyrus' rocker chic was designed by the exalted Roberto Cavalli, Cosmopolitan UK shared. 
As the outlet observed, Cyrus' backless top was "perfect as it reveals a slew of her fab tattoos... all the way from the wrist to torso." Cyrus, who also covered her neck, wrists and ears in sparkly jewelry, coiffed her hair into a spiky mullet that Cosmopolitan labeled "verrrry rock'n'roll." The outlet also gushed, "Don't even get us started on her heavy eyeliner and smoky eye situation. Ob-sessed," opining that "this whole look is a serious contender next time we're looking for costume party outfit ideas."
Twitter also lavished praise upon Cyrus' style and performance in equal heaps. One concert attendee tweeted his self-taken video which showed the "Prisoners" singer shouting, "We've got to free this b***h. It's stressing me the f*** out" (us too, Miley), while another encapsulated the night with the caption, "mileys energy. her look. the way the crowds singing with her. yeah y'all should be scared for miley cyrus' next era." We are ready!