The Truth About Karen Huger's Marriage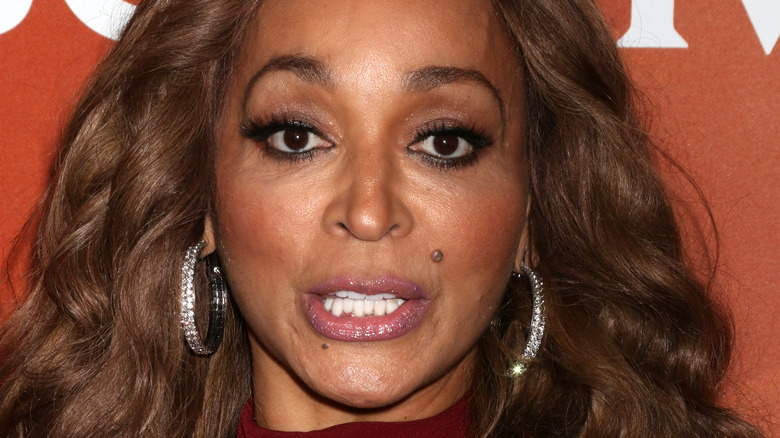 Shutterstock
Season 6 of "The Real Housewives of Potomac" premieres July 11 on Bravo and this season promises no shortage of drama — or outrageous antics — from Karen Huger.
According to her Instagram, Karen goes by the mantra, "I don't promise, I execute." She started working on her wig line right after she launched La'Dame fragrance, and if that's not impressive enough, she's launched her "It's Karen Huger" YouTube channel and even squeezed in time to meet Mia Thornton, the newest housewife of Season 6. Talk about a (busy) boss lady!
Producer Kemar Bassaragh and Bravo's vice president of current production Josh Brown discussed the importance of Karen fluency on an episode of the "RHOP After Show," since it appears a lot of the drama surrounding her stems from communication issues. "Some of the other women maybe need to be better at being fluent in Karen Huger, because I think Karen, when she says things, she gives off certain signals in the way that she's saying it or in the words that she chooses where you have to read between the lines," Brown said. Bassaragh said he's "still working on it" when it comes to understanding Karen.
When she's not in front of the cameras, Karen is happily married to her husband Ray. Keep reading for more details on their marriage!
How quarantine impacted her marriage
Quarantine affected a lot of people and it seemed to change Karen Huger's marriage to her husband Ray Huger, as she detailed in an August 2020 episode of "Watch What Happens Live." "I would say it's helped us. Look, it's one-on-one; it's me and Ray and it's really given us time to have that quality time and work it out, baby. And that's what we're doing," she said. 
Karen opened up to Entertainment Tonight in July 2020 about their alleged marriage issues during Season 5, adding, "It's a place of work in a marriage. We don't hold back and we work through. I'm honored to have done it." Karen and Ray share two children and they also acknowledged their 24th wedding anniversary in October 2020. The couple and their daughter celebrated Father's Day together in June and it's clear this family has nothing but love for one another!
"The Real Housewives of Potomac" Season 5 reunion featured a surprise vow renewal announcement from Ray, and Karen was overwhelmed in the best way. "I always thought we would renew our vows on the 25th year. I just, you know, because of last year, didn't think that it was possible. So thank you for the love. I look forward to it," she said. We can't wait to see what the future holds for this couple!