Is Sharon Stone Seriously Getting Close To A 25-Year-Old Rapper?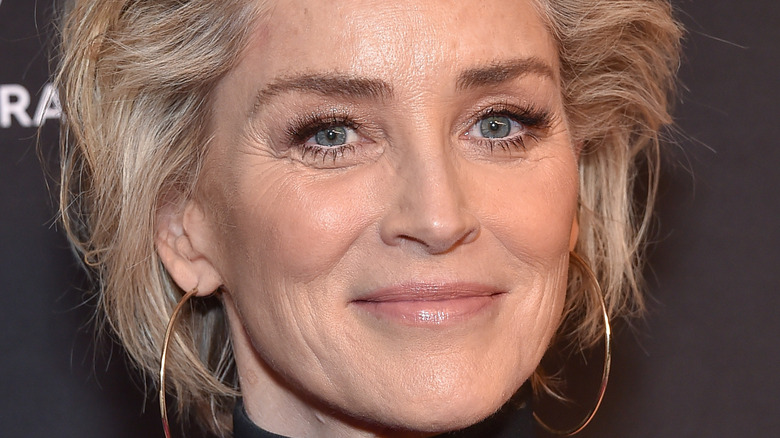 Shutterstock
Emmy Award-winner Sharon Stone has proved, time and again, that age ain't nothing but a number. In 2020, the 63-year-old mother of three paraded her flawless figure by modeling scanty lingerie while rocking a pair of killer heels, per Hello! The star's breakout role came as the bold Catherine Tramell for the iconic neo-noir erotic thriller "Basic Instinct." While the role made Stone an icon, she says her ride to the top wasn't always as easy as it seemed.
Stone recently spoke to WSJ Magazine about why she believed she was considered "difficult" by Hollywood standards. She felt that she challenged the entertainment business by pushing for gender equality in the industry. It seems as if she believed that she was ahead of her time. "I think that when I was saying all these things — that now Kamala Harris, our fabulous vice president, and Michelle Obama and Hillary Clinton are now avidly discussing — about women's rights, [it] made my film career quite difficult," Stone explained. The actor, who reportedly boasts an IQ score of 154, continued, "People found me to be 'difficult' because I was asking for those things and expecting to get those things that I felt were correct and appropriate for myself and other women."
After years of being in the ring for women's issues, it seems as if Stone is enjoying some time with an up-and-coming rapper. Here's the tea on the 25-year-old and Stone, and exactly how close they've been getting.
Sharon Stone and RMR just have that 'Basic Instinct'
Sharon Stone and RMR have been getting to know each other, per Page Six. Apparently, they have been spotted around LA and enjoying each other's company. A source told the outlet that they were seen "canoodling and popping bottles," which seems to indicate that they're very close. Stone and RMR also got down and were slaying on the dance floor as they were "dancing to hip-hop." And, just for good measure, "Chris Brown was also there." 
RMR is a 25-year-old rapper who fiercely protects his identity with his trademark gold grills and a ski mask. Apparently, the artist "respects" Stone and "thinks she's cool as f**k," especially because she stars in one of his favorite movies, "Casino." The insider claimed, "They're on the same frequency and it's a very unique friendship." The source alleged that Stone and RMR are "enjoying each other's company right now and hanging out. They're having a great time together." While they're not Instagram official or anything, Stone has shown him some love on his social media updates, while RMR has also returned the favor, according to Page Six. 
While RMR and Stone have not publically spoken about their situation, it seems as if someone has turned up the heat this summer.