Who Is Mia Thornton's Husband?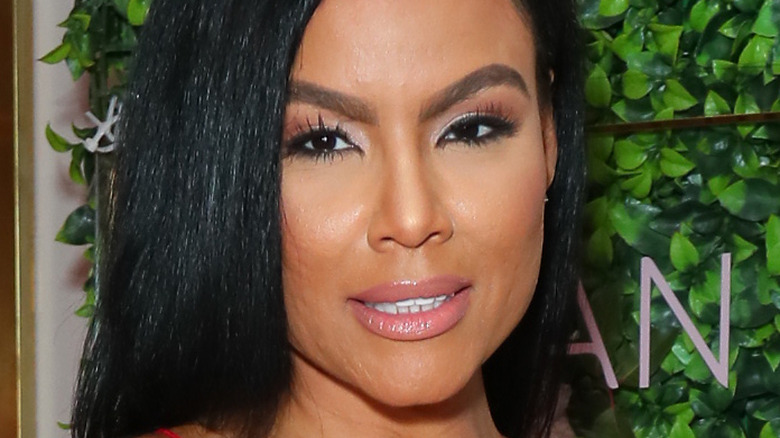 Leon Bennett/Getty Images
Mia Thornton is one of the newer faces on "The Real Housewives of Potomac," so it's understandable if you're still trying to get some tea on her story. Fortunately, we can help fill you in. For instance, you'll surely be interested to find out who she's married to, not to mention the arguably strange way that they met.
Mia is married to Gordon Thornton, who happens to be 32 years older than his wife. While that age gap might raise some eyebrows, it's not the only thing that sets this couple apart. There's also the fact that they "originally met in a strip club," as Mia explained (via E! News). Saying that they were "serv[ing] on the same board for a non-profit organization to raise money for Haiti," she recalled, "[O]ne of the original founders of the organization, she worked there — not as an entertainer, but in the admin office and so she did use the facility in order to raise money. They serve steak dinners and then the proceeds went to the organization."
Mia and Gordon obviously hit it off, with Mia noting in July, "Gordon and I originally met in 2003 but we have been exclusively dating for 13 years now." Beyond that, they've been married for almost 10 years and share children together. However, who is Gordon when he's not at home with Mia and their family? Read on to find out!
Mia and Gordon Thornton both work for the family business
While Mia Thornton is a "certified 'boss'" who's "living life like it's golden with her multiple businesses," according to Bravo, her husband, Gordon Thornton, is quite the business-minded figure himself. "Gordon was a multi-unit franchise owner with Massage Envy when he decided to invest in The Joint Chiropractic," according to the business' website. That's where Gordon works with both his wife, per Screenrant, and his brother, Marvin.
Along with The Joint Chiropractic surely benefiting the family financially, Gordon also explained how what they offer has benefited Mia physically, saying, "I've seen what chiropractic care did for my wife — it's helped her treat her pain issues holistically and effectively."
It certainly sounds like Gordon is pretty fulfilled by what he does. When it comes to his job, Gordon explained (per his website), "You're helping people feel better every day. ... It's hard not to be passionate about owning a business that makes this big of an impact on people's lives." Beyond that, he pointed out, "It's also far easier to run than other businesses I've owned — McDonald's was very hard to operate and even Massage Envy was a lot harder." 
Relatively easy and totally fulfilling? Sounds like an awesome career choice!