Accountants Responsible For Best Picture Snafu Fired From Oscars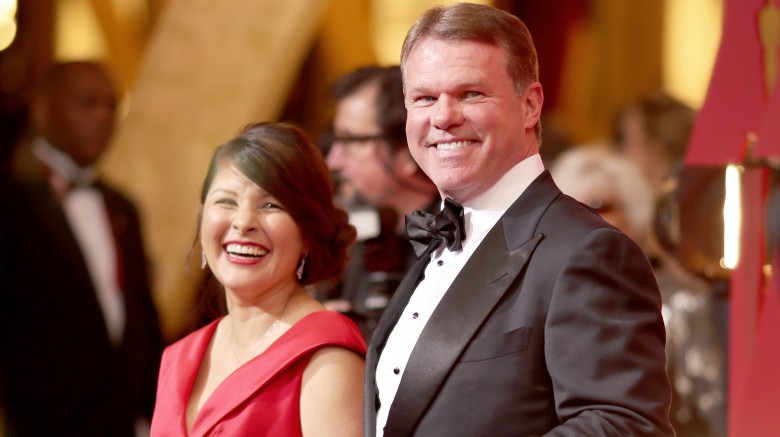 Getty Images
These two won't be smiling for much longer: The PricewaterhouseCoopers accountants responsible for royally screwing up the best picture announcement at the 2017 Oscars will never work the awards show again.
In case you've been under a rock since the Feb. 26, 2017 ceremony, presenters Warren Beatty and Faye Dunaway awarded the Oscar for best picture to La La Land (2016) instead of Moonlight (2016), causing a confused but somewhat controlled chaos on stage and a frenzy in the press following the fiasco.
Cheryl Boone Isaacs, the president of the Academy of Motion Picture Arts and Sciences, said Wednesday, March 1, 2017, that PwC accountants Brian Cullinan and Martha Ruiz have been "permanently removed from all film academy dealings," the Associated Press reports. Isaacs also told the wire service that the Academy's longtime partnership with PricewaterhouseCoopers "is under review."
As Nicki Swift previously reported, PwC tweeted their mea culpa for Envelopegate on Monday, Feb. 27, 2017, writing, "PwC takes full responsibility for the series of mistakes and breaches of established protocols during last night's Oscars. PwC Partner Brian Cullinan mistakenly handed the back-up envelope for Actress in a Leading Role instead of the envelope for Best Picture to presenters Warren Beatty and Faye Dunaway. Once the error occurred, protocols for correcting it were not followed through quickly enough by Mr. Cullinan or his partner."
Cullinan was accused of tweeting photos with and of the stars surrounding him, including best actress winner Emma Stone, instead of focusing on his job at hand. A source told People, "Brian was asked not to tweet or use social media during the show. He was fine to tweet before he arrived at the red carpet, but once he was under the auspices of the Oscar-night job, that was to be his only focus...Tweeting right before the Best Picture category was announced was not something that should have happened."