Did Britney Spears Get Her Tattoos Removed?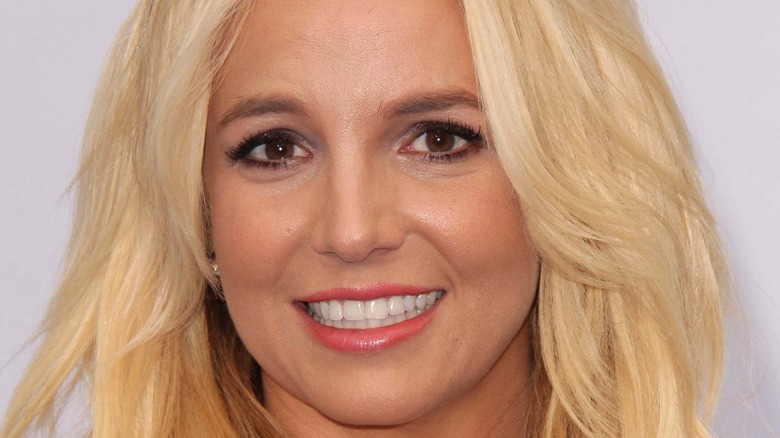 Shutterstock
Britney Spears shared an Instagram photo that has some of her followers pointing to it as evidence that backs up one of their favorite conspiracy theories. However, it's also possible that she simply did something many other celebs have done: having at least one of her tattoos removed.
For her July 7 post, the pop star was photographed standing with her bare back to the camera. She had on a backwards silver necklace with a winged heart pendant. Her hair was swept over in front of her left shoulder, and she faced a bathtub with water in it. The caption accompanying the pic was wordless. Instead, it included something cryptic for her fans to puzzle over: a series of three ballet slipper emoji. But what many Instagrammers focused on was the lack of visible tattoos on Spears' back. "This isn't Britney where's her tattoo???" wrote one person. "This isn't her!!!! she has a symbol meaning tattoo on her upper back neck area & also has a [fairy emoji] on her lower back!!!" another comment read.
This isn't the first time that a certain faction of Spears' fans has been convinced that one of her Instagram posts features an imposter. When she shared a photo of herself dressed down in a flannel shirt and rolled-up jeans in October 2020, there were similar suggestions that someone else was posing as her, as reported by Seven News.
What Britney Spears has said about tattoo removal in the past
Britney Spears has gotten nine known tattoos, per Body Art Guru. They include a fairy on her lower back and a Kabbalah symbol on the back of her neck. According to Us Weekly, she got the latter removed in 2008. It was in Hebrew and reportedly translated to this: "Responsibility for everything in her life and accepting she can heal herself in all ways." However, what appeared to be the same tattoo popped up in a June 2021 Instagram post. Spears revealed that it was her "favorite" piece and shared a more succinct translation. "It's Hebrew, it's a language written backwards !!!! It says Mem Hey Shin and means healing !!!!" she wrote.
Some of Spears' followers suggested that the neck tattoo was simply covered up by her hair and that the body art on her back was cropped out of her recent pic. While the "Gimme More" singer seemingly didn't get her neck piece removed after all, she is open to having some of her ink erased. In March 2020, she revealed that she wasn't a fan of the pair of pink dice with seven pips on her left inner wrist. She and her ex-husband, Kevin Federline, got inked with similar "Lucky" dice designs during a trip to Ireland in 2004 (via Page Six). "I don't even like ink .... guess I should remove it ?!?!!!!" Spears wrote.