What Did Katie Couric Wear To Her Daughter's Wedding?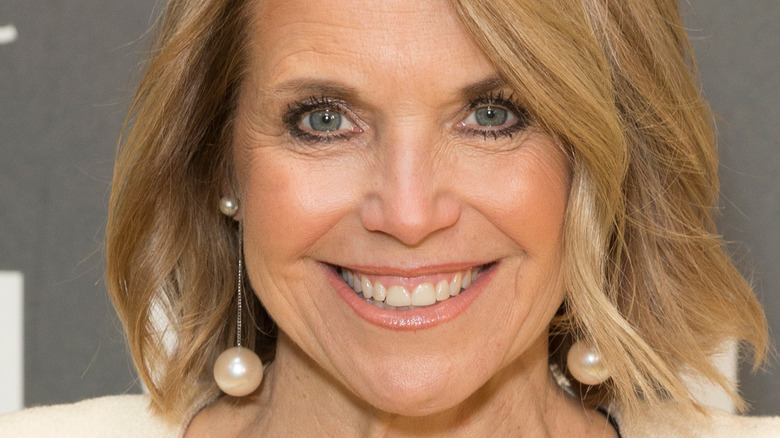 Shutterstock
Katie Couric was a "TODAY" show anchor and later moved on to ABC's "Dateline" and CBS Evening News, but all of that time spent breaking stories meant time away from her young daughters.
She opened up about balancing work and motherhood in a July 2012 interview with Working Mother, saying, "I try to limit the things I do at night and not travel too much. If I do have to be away for work, I make sure I'm home for the nights before I leave and build in plenty of time at home once I return." She also makes it a point to go apple picking every fall with daughters Ellie and Carrie and hopes they will eventually love "Dancing With the Stars" as much as she does. And when it comes to time spent at work, Couric told moms to "get rid of the guilt," in a December 2015 Insider interview. "When you're at one place, don't feel bad that you're not at work; when you're at work, don't feel bad that you're not at home," she said.
It seems like motherhood is one of her greatest accomplishments. As she told AOL in April 2019, "I'm happy that my daughters turned out to be such exceptional people." What's just as exceptional is what Couric wore to Ellie's wedding. Keep reading for more details.
Katie Couric was the ultimate mother of the bride at her daughter's wedding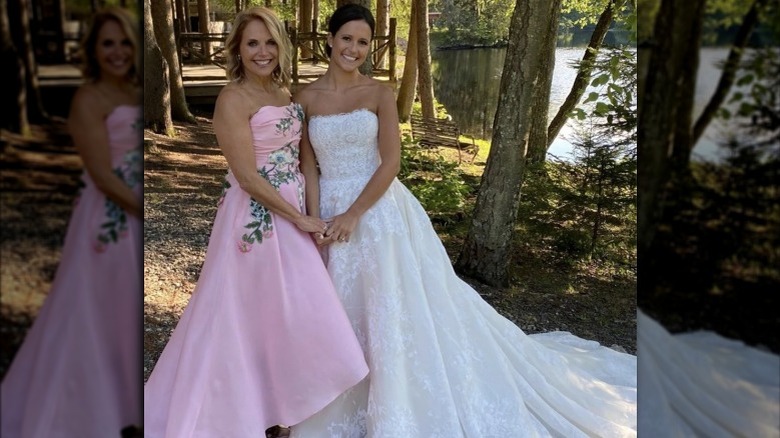 Katie Couric/Instagram
Usually, the bride takes your breath away at a wedding. However, Katie Couric just made a case for the mother of the bride taking your breath away, too.
The former "TODAY" anchor almost stole the show at her daughter Ellie Monahan's upstate New York wedding where she wore a pink Marchesa gown designed by Georgina Chapman, per the Daily Mail. The strapless pink number was adorned with flowers and had pockets, a definite bonus. Couric wrote in her Instagram stories (via TODAY), "MOB baby. A huge thank you to @GeorginaChapmanMarchesa and her wonderful team for making this dress for me. I [heart] it!!!"
Couric was clearly overwhelmed in the best way at the ceremony. "Ellie was a breathtakingly beautiful bride. Mark was a dashing and beaming groom," she shared on Instagram. "It was such an incredible, moving, extraordinary weekend full of love and friendship ... I'm so happy I could cry but there are no tears left. Wait! I'm crying again. Tears of joy." Couric also felt the presence of her first husband Jay, who died of colon cancer in 1998: "The weather was perfect. (Thank you Jay.)," she added. Sounds like a perfect day for a great mother-daughter pair!