The True Story Of How David Harbour Met Lily Allen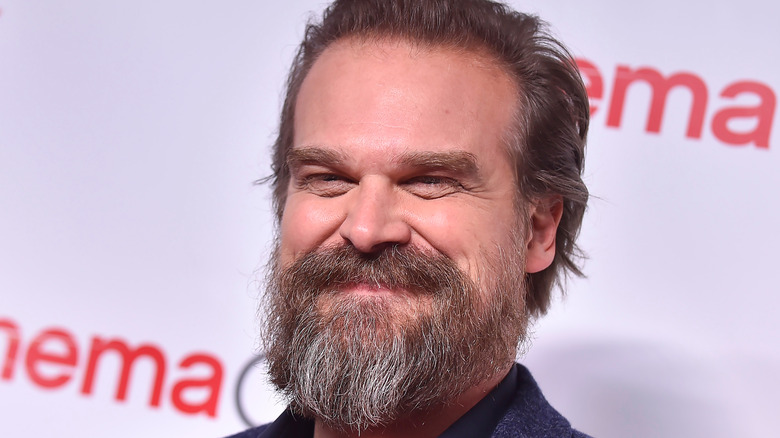 Shutterstock
Last year brought many surprises. From a pandemic to a somewhat delayed U.S. presidential election, 2020 had most of the world on the edge of their seats just waiting (or cringing in anticipation) for the next chaotic event to happen. But one of the more pleasant surprises just happened to be in the world of celebrities.
Last year, actor David Harbour, known for his role of Jim Hopper on Netflix's hit science-fiction thriller "Stranger Things" married everyone's favorite indie-pop singer from the early 2000s, Lily Allen. The wedding announcement came as a total surprise to both Harbour and Allen's fans, since there wasn't much proof of a relationship before their Las Vegas nuptials. That's right! Like many other stars, the "Stranger Things" actor and the "Alfie" singer eloped to Vegas to get hitched and it was pretty much the cutest thing ever. The two have since been going strong in their first year of marriage, but how did they meet anyway? Read on to find out!
David Harbour and Lily Allen met on this dating app
Santiago Felipe/Getty Images
They met on the apps! One of the biggest surprises in celebrity news from 2020 was that actor David Harbour had married British singer-songwriter Lily Allen. The two got married in a quick jaunt down the aisle in Las Vegas and are coming up on their one-year wedding anniversary in September. But how did the couple meet? Yep, fancy-schmancy dating app Raya.
The membership-only dating app has been used by celebrities like Ben Affleck and Demi Lovato, per Page Six, and that's what connected Harbour to Allen. The two then met in person under the big clock at The Wolseley in London in 2019, and the rest is (a very short but wonderful) history. "I remember looking at him, and it reminded me of Leonardo DiCaprio in 'Titanic,' you know?" she told Sunday Times Style (via Harper's Bazaar). "When she's going to meet him under the clock. And, by the way, it was my first date ever. I had never been on a date! I was so anxious." 
As for her retro Vegas wedding dress, she told the outlet, "I had rented a dress, which was on its way to the hotel, then [my daughter] Ethel said, 'Let's keep looking.' So we went to a few other shops ... it was in a back room. The girl in the shop said, 'What's the occasion?' I was, like, 'I'm getting married!'" Congrats to Harbour and Allen, their story is adorbs!