Why Addison Rae's Latest Gig Has The Internet In A Frenzy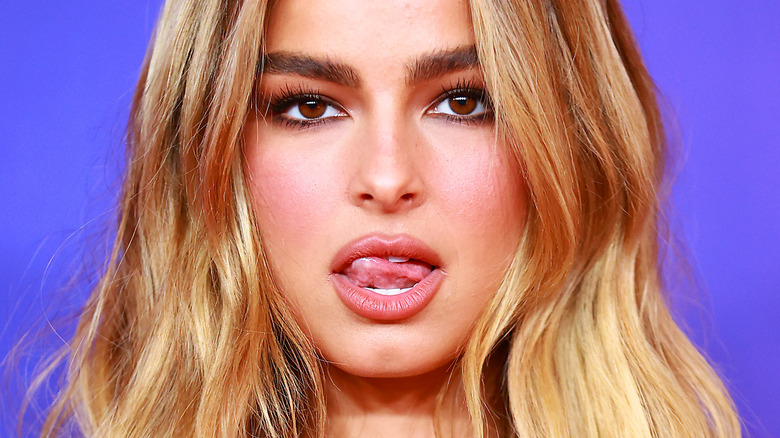 Matt Winkelmeyer/2021 Mtv Movie And Tv Awards/Getty Images
TikTok star Addison Rae is no stranger to controversy.
Per TMZ, Rae caught flak for appearing on "The Tonight Show with Jimmy Fallon" for doing popular TikTok dances originally made famous by Black creators, yet didn't give said creators any sort of credit for the dances in the first place. But after TMZ caught up with the TikTok celebrity, she admitted that she should have given the Black creators the full credit they deserved. "I think they were all credited in the original YouTube posting," she said to the TMZ cameraman, "but it's kinda hard to credit during the show. But they all know that I love them so much, and I support them so much. Hopefully, we can all meet up one day and dance together." 
Now, however, Addison Rae is under fire for getting a new gig. But why aren't fans happy about it? Let's take a look.
Addison Rae got a gig with the UFC...and it didn't take her much
Kevin Mazur/2021 Mtv Movie And Tv Awards/Getty Images
Addison Rae took to Twitter to announce that she got a gig working as a reporter for UFC. The TikTok celebrity bragged, "I studied broadcast journalism in college for 3 whole months to prepare for this moment." 
Naturally, these comments caused a stir amongst her followers, who claimed that she was "stealing jobs" from other qualified journalists. "Glad you found work, because without dances to steal from black TikToker's I was worried about you," wrote one critic. "The AUDACITY.. do you know how many people who are more trained and qualified who have been studying this and putting their WHOLE life savings into college that you took this away from. i have a friend who studied for SIX YEARS only to have thus shoved in her face. disgusting," wrote another. 
Travis Pettis, an award-winning sports reporter, was one of the few who defended her, albeit a bit backhandedly. "I truly feel bad for her. To not have the ability to read the room or know something you posting is insensitive is such a bad trait to have. Seems like a nice girl but makes herself come off as entitled and a airhead," he wrote.