How Jimmy Buffett Saved Colin Jost's Life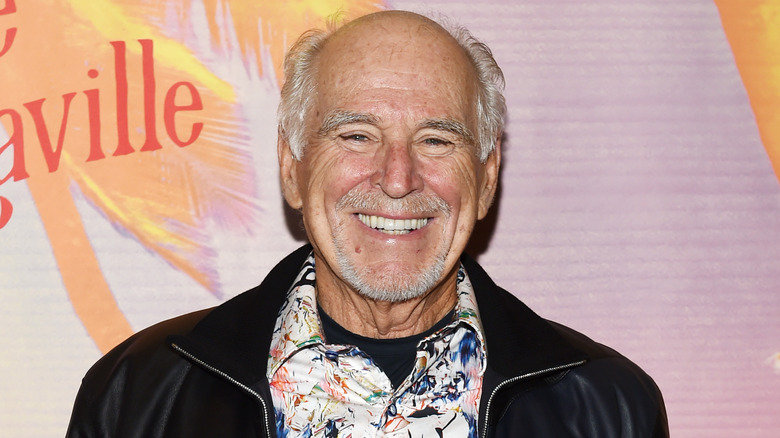 Amanda Edwards/Getty Images
We may receive a commission on purchases made from links.
As the world mourns the loss of legendary singer Jimmy Buffett, we have to look back on the moments that made his life extraordinary. After all, the songwriter and creator of the "Margaritaville" empire, who passed away Sept. 1, 2023, had plenty of moments to celebrate throughout his long career.
There was at least one time when Parrotheads — as Buffett's most fervent fans are known – had cause to rejoice when they learned Buffett was a hero. The "Margaritaville" singer and restaurant proprietor may not have wanted to share the details about his heroic rescue of "SNL" castmember — and ScarJo's husband —  Colin Jost, but we're here to sing his praises.
Buffett was, after all, a man who once sang about his reluctance to save people. "And I can't be your hero today / I'm through with the simple games you play / It just may take some time for me to even up the score / But I can't be your soldier home from war," he sang in "I Can't Be Your Hero Today." (Of course, he was talking about being a man in a toxic relationship, but still — this was a humble man. Let's respect his privacy while enjoying his music!)
Anyway, whether you're a fan of Jost's brand of comedy or not, he's certainly grateful to be here thanks to our Parrot leader. 
Colin Jost described the rescue mission in his memoir, A Very Punchable Face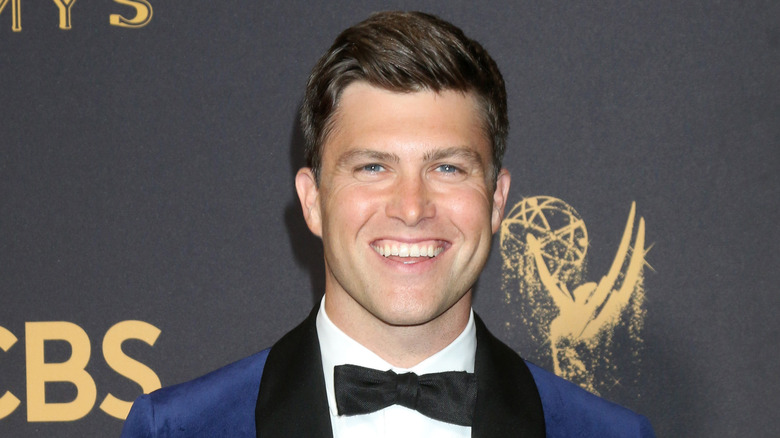 Shutterstock
Colin Jost told the tale of the time musician Jimmy Buffett came to his rescue during a scary incident in the ocean. The "Saturday Night Live" cast member related the story in his memoir "A Very Punchable Face." It happened in 2014 when Colin Jost and his then-girlfriend, Carmel Lobello, took a trip to the island of Saint Barthélemy when tragedy struck. 
During a dinner while on the island, Jost struck up a conversation with a man he had just met. The two connected over a love of surfing, and soon Jost's new friend happened to mention that he tried to "spend a few days surfing whenever we open a new Margaritaville." As the comedian related in his memoir, "Hearing the word 'Magaritaville' made me start to suspect I might be talking to Jimmy Buffett."
Jost ended up going surfing with Buffett and his family. Unfortunately, Jost wrote that he got "pinned against the rocks by my own leash" and was "bleeding because I sliced my foot open" as waves crashed over him (via Vulture).
Fortunately, Buffett saved the day! He came to Jost's rescue by cutting him loose with the knife that he surfs with. Yes, Buffett apparently surfs with a knife, to which Jost wrote in his memoir, "How awesome is it that Jimmy Buffett swims with a knife??" The next day, when Jost tried to find Buffett to thank him for saving his life, he learned he "flew himself to Nevis to play golf for the day."
Jimmy Buffett was also known for his philanthrophy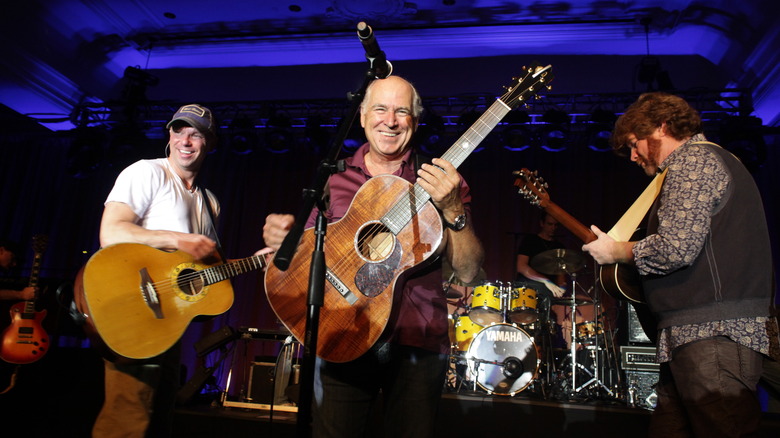 Capehart/Getty Images
Jimmy Buffett's rescuing of Colin Jost wasn't the only time the singer-songwriter helped those in need. The "Margaritaville" mogul was also a philanthropist who performed at many benefit shows, mostly for environmental conservation causes. That includes varied appearances including "Live From the Gulf Coast," a concert to raise funds to clean up the BP oil spill in 2010, and "Trying to Reason...," a Florida hurricane benefit concert in 2017.
Buffett also created a few well-known charitable initiatives throughout his life. He launched "Singing for Change," which "funds organizations that inspire personal growth, community integration, and the enhanced awareness that collectively, people can bring about positive change," according to SingingForChange.org. For each ticket sold for a Buffett concert, $1 went to the foundation, which sent them along to grassroots nonprofits throughout the country.
The musician also established the nonprofit Save the Manatee Club with former U.S. Senator Bob Graham. The organization aims to protect manatees and their habitats "by aiding in the recovery and protection of manatees and their aquatic ecosystems throughout the world." And as if that wasn't kind enough, he collaborated to create Last Mango Boatworks, which donates portions of its boating gear sales to charities. As they note on their shop website, the brand promotes finding the happy moments in life, as Buffett once said, "It takes no more time to see the good side of life than it takes to see the bad."
Now that the "It's 5 O'Clock Somewhere" singer has died, it seems that one way to celebrate Buffett's legacy of helping others would be to support one of his conservation charities.