The Real Meaning Behind 'WUSYANAME' By Tyler, The Creator Ft. YoungBoy Never Broke Again & Ty Dolla $Ign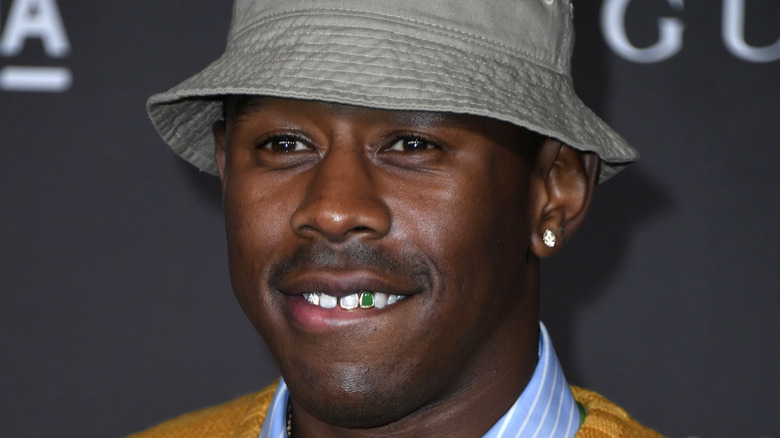 Frazer Harrison/Getty Images
After its release, Tyler, The Creator's new album, "CALL ME IF YOU GET LOST," debuted at No. 1 on the Billboard 200 Albums chart. Marking Tyler's eighth studio album, the project includes tracks such as "LEMONHEAD," "LUMBERJACK," and "MANIFESTO" (which includes a public apology to Selena Gomez).
But there's one song in particular that seems to be a favorite among fans. The track in question, titled "WUSYANAME," features verses from Ty Dolla $ign and NBA YoungBoy ... which caught some people by surprise. "Youngboy's verse on WUSYANAME was probably one of my favorite features of this year. I never expected him to ride on a song w/ Tyler," one fan tweeted.
"It's the way I cannot listen to WUSYANAME just once... Whenever it comes on that b*tch is gonna be on repeat for a minute," a second fan admitted. At the time of writing, the official music video for "WUSYANAME" counts over 6.5 million views on YouTube. So, what's Tyler's "WUSYANAME" all about? Scroll on to find out.
Tyler, The Creator spits some cheesy pick-up lines on 'WUSYANAME'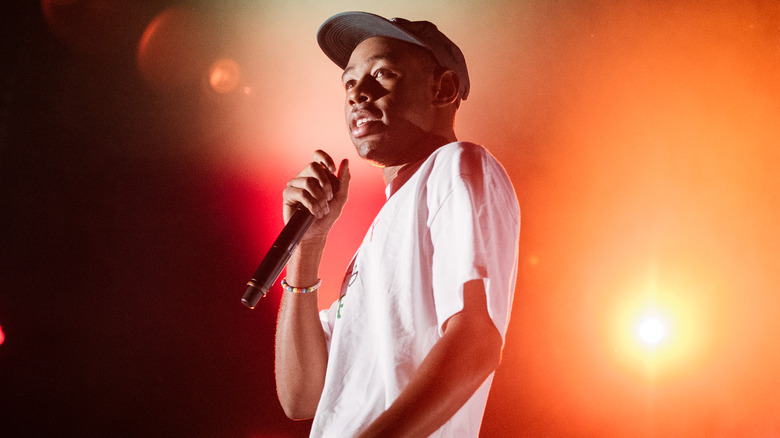 Emma Mcintyre/Getty Images
On "WUSYANAME," Tyler, The Creator tries to hit on a girl he just met ... before finding out she has a boyfriend. In the first verse, for example, the rapper can be heard spitting an unusual pick-up line. "Aw, you look malnourished / Let's get some bread, fry the egg yolk and drown it in syrup."
Taking to social media in June 2021, Tyler explained the meaning behind it, after a fan asked why he used such an awkward line. "broooo hahahha i thought it be funny to say the worst pick up line ever then say sh*t to justify it," he tweeted.
NBA YoungBoy, meanwhile, opted for spicier ones. "I'm tryna get down to the root of the apple," he raps in the second verse. "The deepest I could in them jeans." And though this specific collab caught fans by surprise  — mainly due to YoungBoy's bad boy persona — Tyler admitted that he's not as bad as he seems. "hes a sweet heart man, sending love to youngboy, such an interesting person," Tyler told a fan on Twitter. Actually, YoungBoy's cameo is one of Tyler's favorite features on "CALL ME IF YOU GET LOST."
"what's your favorite moment on the record?" someone asked Tyler. "tooo many," he replied. "when nba says 'think soooo' or fana when she says 'him and i got some things that we're try-innnnnng' on i thought, good harmony under it. its tooo many to name."