The Truth About Lauren Boebert And Donald Trump's Relationship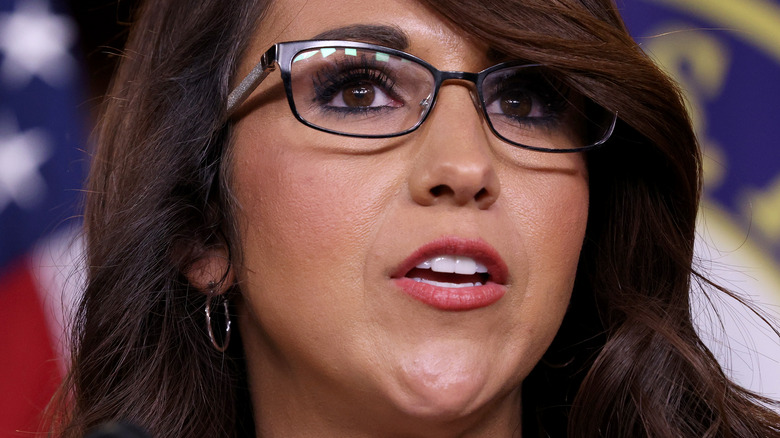 Win Mcnamee/Getty Images
Following the U.S. Capitol riot on January 6, 2021, Twitter and other popular social media platforms suspended Donald Trump's account. The suspension, however, doesn't mean that the former president's influence on the conservative front has diminished. Though he does have some right-wing critics, Trump still influences at least some Republican decision-making. His meeting with Lauren Boebert, the first-time Republican lawmaker from Colorado, suggests that his grip on the party isn't quite done.
Boebert, who's also a gun-rights activist, holds high regard for Trump. When asked about the meeting agenda, the Republican said it was "just a meeting" and refused to comment further. She also put aside the possibility that their meeting was about her prospects for contesting a higher office, per Yahoo News.
Considering how the events unfolded after Trump's loss to Joe Biden in the 2020 presidential race, it's crucial to understand his influence with Republicans. So, what's the relationship between Trump and Boebert? What does Boebert think of the former president? Let's find out!
Lauren Boebert remains close to Donald Trump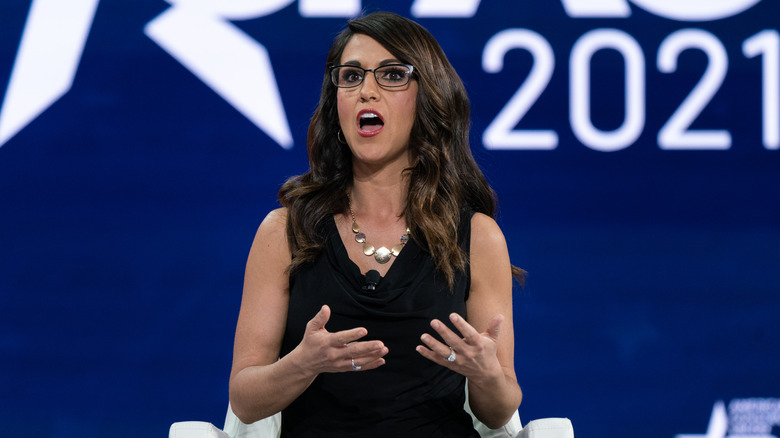 Bloomberg/Getty Images
Speaking about her relationship with Donald Trump and how she feels about him, Lauren Boebert said that she's still close to Trump. "I remain close with President Trump. And I guess not 'remain' — so I've always been close with him in my heart, but now I am close with him, which is really nice. I'll be going back out and seeing him again in July," Boebert told The Washington Examiner (via Yahoo News). "He's still fighting harder than ever for America."
When Boebert joined Trump and other conservative leaders on a trip to the border of the U.S. and Mexico in June, her enthusiasm from the meeting and her regard for the former president was evident. "Great to visit the southern border with President Trump," she tweeted. In the attached video clip, Trump called Boebert "fantastic, right from the beginning." 
Trump and Boebert first met at a 2020 Independence Day event held in South Dakota, per KDVR. The outlet noted that Boebert said she agreed with Trump on every issue, and that following her win, the then-president called her to congratulate her. Since then, the Republican has visited Trump's South Florida resort for several fundraisers and other events.