The Truth About Queen Elizabeth's Relationship With Princess Eugenie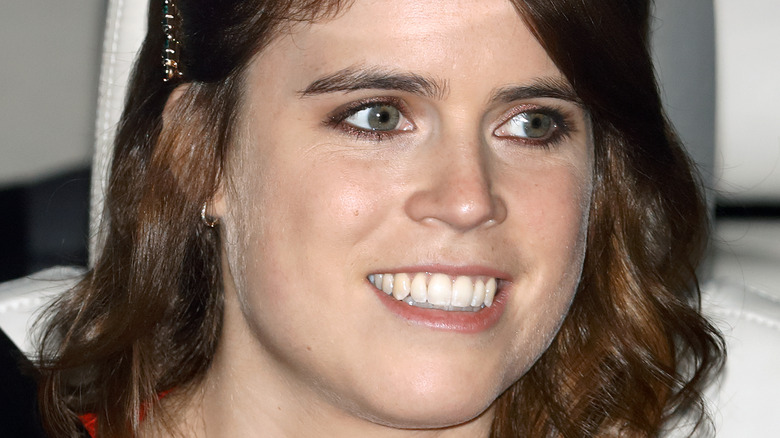 Max Mumby/indigo/Getty Images
With Prince William, Kate Middleton, Prince Harry, and Meghan Markle constantly dominating the royal news headlines, we're as guilty as anyone of occasionally forgetting that Queen Elizabeth II actually has a ton of grandchildren (and great-grandchildren) and she has special relationships with them all. Or, at least, she does with most of them. From her habit of referring to the queen as "Granny" in her social media posts and in interviews, it's not a wild suspicion to believe Princess Eugenie has a particularly warm relationship with her grandmother.
Eugenie, who is the second daughter of Prince Andrew and ex-wife Fergie, is known to royal watchers for her playfulness, whimsical fashion sense, and peace-making abilities within the family. It's not unheard of for grandmas to play favorites on occasion, and even if she is the literal Queen of England, Queen Elizabeth is still a grandma. So could Eugenie be her secret fave? Well, we don't know if we could say for sure one way or the other, but here is what we can tell you about their bond.
Princess Eugenie calls the queen 'Granny'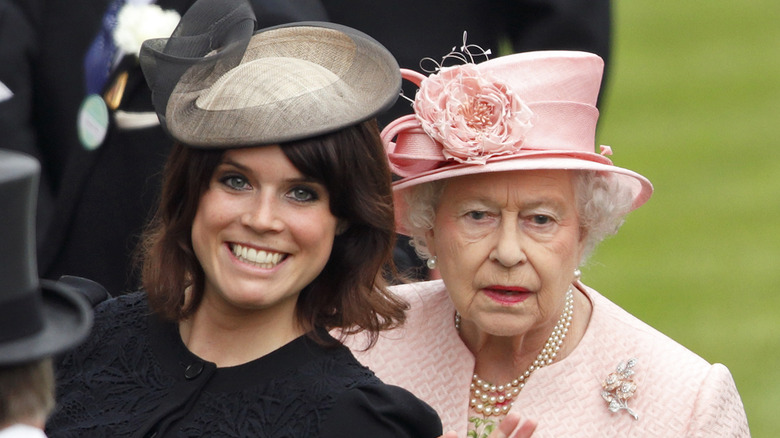 Max Mumby/indigo/Getty Images
Unlike many of Queen Elizabeth's other grandchildren, Princess Eugenie has a habit of referring to Her Majesty simply as "Granny," which should tell you something in and of itself about their relationship. For instance, in a touching tribute following the death of Prince Philip, or "grandpa" as Eugenie calls him, the princess promises to look after her dear old gran. "Thank you for your dedication and love for us all and especially Granny, who we will look after for you," she wrote in the caption of her Instagram tribute.
Eugenie has also revealed that her grandmother the queen was one of the first people to know about her engagement to Jack Brooksbank. "Granny actually knew right at the very beginning, she was one of the few people who knew. She was very happy, as was my Grandfather," she told "The One Show" (via Hello!).
And after the queen sent the princess an unusually personal happy birthday message on social media, there were those speculating that the 31-year-old is actually her favorite of her grandchildren. The simple message read, "Wishing Princess Eugenie a very happy birthday today!" but was also accompanied by a cake and red balloon emojis — very much in Eugenie's own fun-loving style.
That said, we still don't think the queen is exactly a normal granny. She is, after all, the queen.