The Interview That Made Gwen Stefani Uncomfortable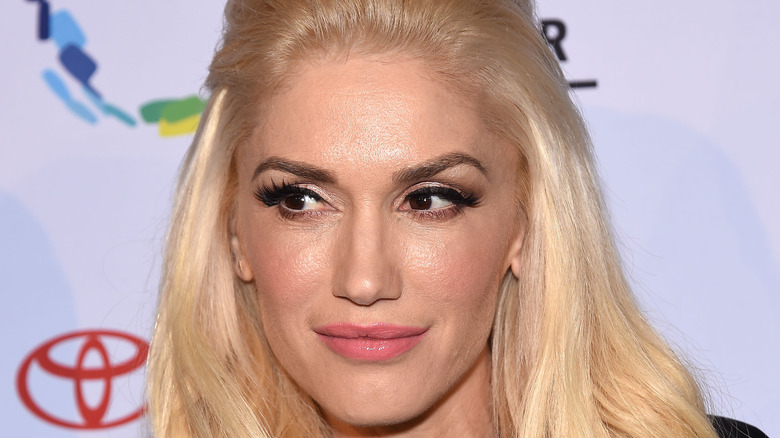 Shutterstock
Gwen Stefani is a seasoned pro when it comes to doing interviews after having a spotlight on her life since the '90s. She's also learned a thing or two about awkward situations. After all, she is the girl whose band didn't break up after she and the group's bassist broke up. Instead, the No Doubt frontwoman kept performing with ex-boyfriend Tony Kanal, and she wrote a song about their split that became one of the band's biggest hits.
The "Don't Speak" singer and her ex had couldn't avoid speaking about her heartbreak during their early interviews. "We were going through the breakup, and in every interview we were talking about it so we were opening this wound on an hourly basis," Kanal recalled while speaking to The Guardian in 2012. This was a stark contrast to where Stefani found herself decades later when she started dating Blake Shelton.
Instead of talking about her pain, Stefani couldn't seem to stop gushing about how great life with Shelton was, and she was regularly asked about her relationship with him. "What don't I love about Blake, and what don't we all love about Blake?" she said during a January 2021 appearance on Today. So what role did Shelton play in an interview that made her uncomfortable?
Dua Lipa got something wrong while interviewing Gwen Stefani
Dua Lipa might be a big fan of Gwen Stefani, but this doesn't mean that she keeps up with the "Don't Speak" singer's life outside of what she hears about in her discography.
Lipa scored a collaboration with Stefani for her 2020 remix album "Club Future Nostalgia." During an interview with Apple Music's Zane Lowe, Lipa spoke about her reaction to hearing their "Physical" remix. "I couldn't believe it. I sat by my phone and I was literally holding my face," she said. Lipa had the opportunity to interview Stefani when she filled in for Jimmy Kimmel during an August 2020 episode of his late-night talk show, and she failed to do her research on her collaborator's personal life.
Lipa started out on a strong note by telling Stefani that she learned how to spell the word "bananas" because of her, and she described herself as a "massive, massive fan." The "Hollaback Girl" singer was flattered, but things took a slightly awkward turn when Lipa asked her about her "husband, Blake Shelton." Stefani smiled and took the error in stride. "Well, he's not my husband, but that sounded cool when you said it," she stated. Lipa dropped her head down, seemingly in embarrassment, but the women both laughed it off. In Lipa's defense, Stefani and Shelton had been dating since 2015, but they wouldn't tie the knot until nearly a year after her interview flub.