Inside Hannah Roberts' Marriage To Kelsey Miller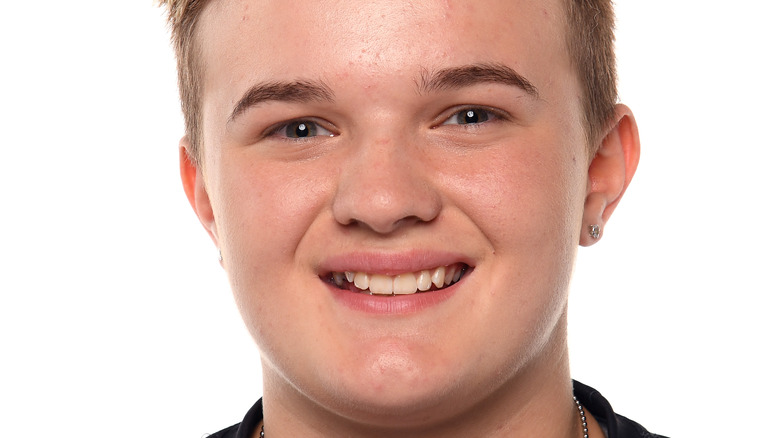 Harry How/Getty Images
Michigan native Hannah Roberts is set to make her Olympics debut this summer, and she was the first rider from the United States to qualify in BMX freestyle, according to TeamUSA.org. BMX runs in the Roberts family — her cousin Brett Banasiewicz was a professional BMX racer from 2009-2012, according to USA Today. Roberts started racing when she was 9 years old and participated in her first competition in 2012, per Team USA. She quickly racked up accolades, taking home three world cup titles, three world championships, as well as a gold medal from the Pan American Games.
Roberts seems thrilled for BMX to make its debut at the Olympics, telling Forbes in June, "Having BMX [freestyle] in the Olympics is huge for us because we don't get equal prize pay; I think there are only three events that pay equally." She added, "It's better than nothing; having it where it has to be equal is more helpful to get younger girls in the sport."
Roberts has a life off the track, too — she's a married woman! Keep reading for more details on her marriage to Kelsey Miller.
Hannah Roberts has a lot of love for her wife
Hannah Roberts and Kelsey Miller took a big step in their relationship in October 2020 — they bought a house together! "I bought a house with my best friend. I can't wait to make this house a home with you @kelsey_miller24," Roberts wrote on Instagram.
Roberts took things up a notch when she asked Miller to marry her in November 2020. "I asked my best friend to spend the rest of her life with me and she said yes. I'm so thankful for you and I'm excited to see what the future has in store!," she wrote. She apparently kept the good vibes going because they got married in January! "2021 is for new beginnings and I'm beyond blessed [to] be beginning a forever with you as my wife. I love you so much and I'm grateful for the love we are building together," she penned. Roberts said the "small ceremony" was due to "everything going on," possibly alluding to the 2021 Tokyo Olympics. She's hoping to have a bigger wedding in 2022. 
Although Roberts is busy training for her Olympics debut, she appears grateful to have Miller by her side. "My wife is amazing. She makes me eat right and work out when I'm supposed to. That helps on days I'm struggling to get out of bed or going through my lows. Even when I'm too tired to drive to a training center, she'll drive me and sit there and call out tricks," she told Forbes in June.