Why Olivia Rodrigo Was At The White House
Shutterstock
You may have been seeing photos of Olivia Rodrigo at the White House looking like a young, 21st-century Jackie Kennedy and speaking behind the podium in the official briefing room and wondered: "Why?" Pretty much everyone is currently listening to the Disney star and current musical icon's latest album on repeat, but who would have guessed the phenomenon extended to President Joe Biden as well? Well, we can't tell you how she decided on the classic pink suit or absolutely wild (in a good way) shoes, but we can give you the official reason for her presidential visit.
The collective cultural obsession with Rodrigo, which started with the release of her first single, "Drivers License," has only grown since she released the full album, "Sour." And while Rodrigomania spans generations (who can't relate to the difficulty of parallel parking?), there's no denying that the star has particular appeal with her fellow Zoomers. And it looks like this is the real reason she was there.
Here's the deal.
Olivia Rodrigo promoted a good cause during her White House visit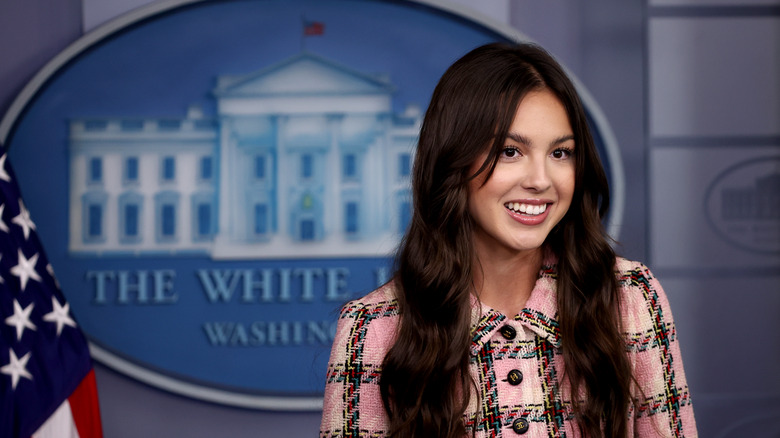 Chip Somodevilla/Getty Images
President Joe Biden may not listen to Olivia Rodrigo's music himself, though we wouldn't be surprised if he does. But the administration clearly recognizes her appeal — particularly with young people. So, they invited her to the White House as part of a push to get young people to get the COVID-19 vaccine.
Via a presidential tweet, Biden explained, "Olivia Rodrigo is stopping by the White House today with a clear message to young people: get vaccinated. It's the best way to keep yourself and your loved ones safe from the dangerous new COVID-19 variants."
During a July 14 press conference, Rodrigo said (via Variety), "I am beyond honored and humbled to be here today to help spread the message about the importance of youth vaccination." The singer continued, "It's important to have conversations with friends and family members, encouraging all communities to get vaccinated and actually get to a vaccination site, which you can do more easily than ever before given how many sites we have and how easy it is to find them at vaccines.gov." There ya have it! If you're not going to get the vaccine for any other reason — do it for Olivia Rodrigo.