Meghan Markle To Meet Prince Harry's Pals At Friend's Wedding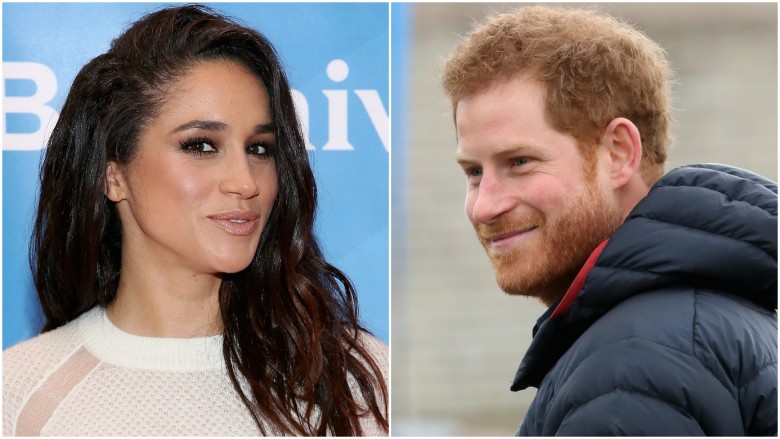 Getty Images
Meghan Markle and Prince Harry are taking their relationship to the next level: She's meeting his crew!
Markle, 35, will join Harry, 32, at his best friend's wedding in Jamaica. Harry reportedly flew out on his own, while Markle will follow on a private jet a day or two later.
A source told The Daily Mail, "This the first time that she and Harry have socialized so openly as a couple and is a significant step up in their relationship. Make no mistake, he is heads over heels about her. This one could go all the way. Don't be surprised if you hear news of an engagement by the end of the year."
Another insider noted to Us Weekly, "They will be engaged by the end of summer...[they] have spoken candidly about their future. They see a life together."
Markle, who's based in Toronto, where she stars in USA Network's Suits, will likely relocate to be with her bae.
"Meghan feels a move to London is inevitable," a source told Us Weekly. "It's not like Harry can uproot!"
The insider added that the pair are basically living together in his apartment at Kensington Palace and that Markle has made it more inviting by making herself at home.
"Harry knows very little about interior design, and that's something Meghan is particularly good at," a friend of the actress said. "He has a few more plants, nice candles — and his kitchen is well-stocked too!"
Still, though they love spending time at home, they're not hermits. "They genuinely enjoy going to restaurants, being outdoors and experiencing new places," a source said. "They're not trying to hide."
A Markle insider added that she's "ready to move away from acting" and that this season of Suits will likely be her last. "She's started thinking of the bigger picture...They're so in love. I honestly can't stress how happy she is. Out of 10, I'd say 150."
Is Harry finally ready to settle down? The once-notorious playboy and party animal told The Mirror in 2015, "There come times when you think now is the time to settle down, or now is not, whatever way it is, but I don't think you can force these things, it will happen when it's going to happen. Of course I would love to have kids right now but there's a process that one has to go through. Hopefully I'm doing all right by myself—it would be great to have someone else next to me to share the pressure, but you know, time will come and whatever happens, happens."