Melissa McCarthy Is Showing Her Support For Mariska Hargitay In A Hilarious Way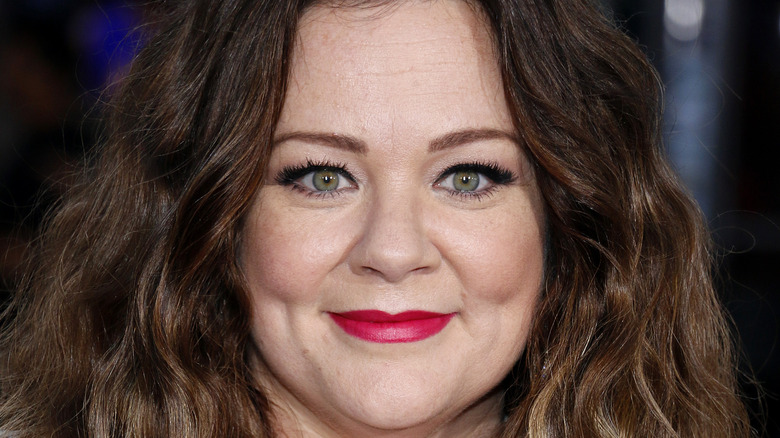 Shutterstock
Mariska Hargitay is recovering from a nasty injury that happened during a red carpet event. According to Page Six, the actor suffered an ankle injury at the premiere of "Black Widow" at Regal UA East Hampton Cinema in the Hamptons. The actor fell on her way out. Onlookers even called an ambulance, and it was a whole big thing. The outlet reports that Hargitay didn't just suffer a minor sprain, but instead broke her femur. Umm, ouch! To make matters worse, Hargitay was already recovering from a broken knee at the time.
A source close to the situation shared that Hargitay had been rushing home to get things in order for the afterparty, which she had planned on hosting. "She was taken to Southampton Hospital by ambulance with her husband Peter Hermann," an insider shared. "She stayed there for several hours and ended up with a bandaged leg. She didn't make it back to her house until after midnight when the party had mostly wound down." The same insider also revealed that Hargitay was more concerned about the party and whether or not the guests had a good time, rather than her own injury. 
Since the accident, Hargitay has been sharing photos of her recovery with fans on Instagram, including one shot where she thanked her friends for all of their love. "I'm feeling happy and grateful. For my #Friends and #SmallMiracles," she wrote. When it comes to friends, Hargitay has some good ones. Keep scrolling for deets.
Melissa McCarthy is the best friend a gal could have
What do you do when your friend breaks her ankle? You make a giant sign, of course. Melissa McCarthy, being the good friend that she is, lent her support to Marisa Hargitay on Instagram. The comedian posted a short clip that showed her standing in front of a Wienerschnitzel restaurant with a sign in hand that read, "Honk if you're praying for Mariska Hargitay's recovery."
To accompany the video, McCarthy also included a sweet and funny caption in support of her pal. "If you can't produce quality care for your friend after ankle surgery, the next best this is obviously standing outside Wienerschnitzel with a sign," she shared in the caption. It's no secret that fans have loved the latest update from McCarthy, and it's received a lot of love. "This made me laugh I needed to this," one fan commented on the post.
Another Instagram user joked that they wanted to break their ankle to test their friends' loyalty. "I'm about to break an ankle just to test my friends commitment," one more fan joked. Several others asked McCarthy if she got a bite to eat when she was at Wienerschnitzel. Luckily, Hargitay also caught wind of the post, writing, "I LOVE YOU! CAN YOU HEAR ME??" in all caps. The actor also re-posted the clip on her Instagram page, and fans had a similar reaction. Some posted well-wishes, while others applauded McCarthy for being so funny.
We think that this stint should earn McCarthy a guest role on "Law & Order: SVU," how 'bout you?