The Truth About Whoopi Goldberg's Three Ex-Husbands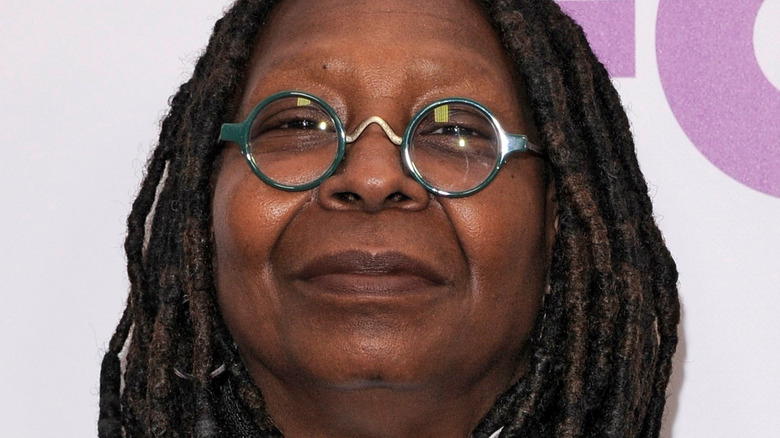 Shutterstock
When Whoopi Goldberg told The New York Times in 2016 that she wasn't married because, "I don't want somebody in my house," it seemed as if the actor never walked down the aisle. However, Goldberg has said "I do" not once, not twice, but three times, which all ended in divorce. The "Sister Act" star provided some more candid thoughts on marriage to The New York Times Magazine in 2019, admitting she was never enamored with the idea to begin with. "Look, people expect you to have a boyfriend. They expect you to get married. So I kept trying to do that, but I didn't want to share information with somebody else." 
Despite being just 18 when she first tied the knot, Goldberg's first marriage was her longest. As a teenager, Goldberg suffered from substance use problems and reached out to drug counselor Alvin Martin for assistance, per Closer Weekly.The pair eventually married in 1973 and that same year welcomed their only daughter, Alex. As a young mom trying to make it in Hollywood, Goldberg told Good Housekeeping she struggled to make ends meet for the family, not only living in a "one room space," but sleeping in the same bed.
The pair divorced in 1979 and Goldberg eventually moved on with cinematographer David Claessen (famous for making music videos for Britney Spears, Travie McCoy, and Jason Mraz) in 1986, but after two years, they called it quits. As "third time's the charm," Goldberg donned a wedding band one more time — but sources say there almost was a fourth ceremony. 
Whoopi Goldberg and Ted Danson apparently had 'plans to wed' back in the '90s
A few years after Whoopi Goldberg's divorce from David Claessen, she dated former co-star Ted Danson. Goldberg and Danson struck a friendship after meeting on late-night's "The Arsenio Hall Show" in 1988, and then four years later, they were cast in "Made in America." According to Hello!, they began a "controversial affair" on set. While Goldberg was single, Danson was married to Cassandra Coates, whom he shared two kids with. The paparazzi caught onto the affair and Coates filed for divorce after 16 years and walked away with $30 million.
Following the controversy, Danson said, "I'd walk in Whoopi's shadow for the rest of my life — I adore the woman," but sources say his parents were against their relationship. "They made plans to wed as soon as [Ted] could get a divorce, but under pressure from his parents, he dumped Whoopi," a source claimed.
While Goldberg called their breakup "really painful," she married actor and IATSE union organizer Lyle Trachtenberg a year later in 1994 ... but that lasted just one year. Goldberg admitted to The New York Times Magazine that while she was committed to each marriage, she was never in love, saying, "I'd be thinking, Why don't I feel the thing that I'm supposed to?" Goldberg eventually came to the realization she didn't "have to conform" and has since enjoyed, not only her own space, but delicious meals just for her. "Truly, to be happy in the world, you must have risotto," she said.