Of All Billie Eilish's Songs, This One Stands Above The Rest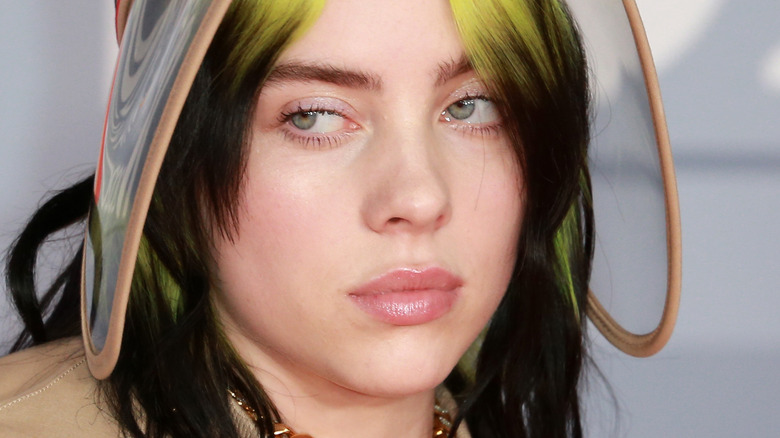 Shutterstock
Billie Eilish has given us one hit after another, wrapping us in familiar energy and a voice that leaves us wanting more. It's been a while since she released her debut single "Ocean Eyes," and there's been no looking back for her. Since the release of her debut single, Eilish has managed to accumulate 48 awards, including one BRIT Award and five Grammys (per NME). Eilish has taken the world by storm with her voice, personality, and deep connection with fans.
But being an Eilish fan can be tricky, especially if one is asked to pick out a favorite song. Isn't that a stressful conversation? And because Eilish is clearly not stopping at a single hit, the task can be really challenging. However, that doesn't mean that Eilish doesn't have that one song that manages to rise above — in composition, lyrics, theatrics, significance, and more.
Considering Eilish's swift rise to fame and the promise of even more hits in the times to come, it might just be time to look back at her songs and talk about that one hit that stands well above the rest. Excited? So are we. Here's more on what's perhaps the best song by Eilish!
Billie Eilish's "Bury a Friend" left a mark on fans
The song "Bury a Friend" from Billie Eilish's 2019 debut album "When We All Fall Asleep, Where Do We Go?" got many heads turning, even though the album was full of hits. What made "Bury a Friend" unique was that it resonated so much with the Gen Z mindset.
Per Alternative Press, the song "Bury a Friend" brings forth the perspective of a monster under Eilish's bed. The song talks about Eilish's confusing relationship with this monster — one that eventually makes her become some sort of a monster herself. The song was also a moment of clarity for Eilish and helped her decide how the entire album would turn out. "When we made 'Bury a Friend,' the whole album clicked in my head. I immediately knew what it was going to be about, what the visuals were going to be, and everything in terms of how I wanted it to be perceived," she said (per UMUSIC).
"Bury a Friend" was like an invitation for those who had no words to describe how they felt. It also detailed the kind of energy and persona the young artist would bring to her fans. The song and the album were adored by fans worldwide, and just like that, Eilish became the center of affection for her fans. The numerous awards that followed were only a testament to that.