Here's How Much Deborah Norville Is Really Worth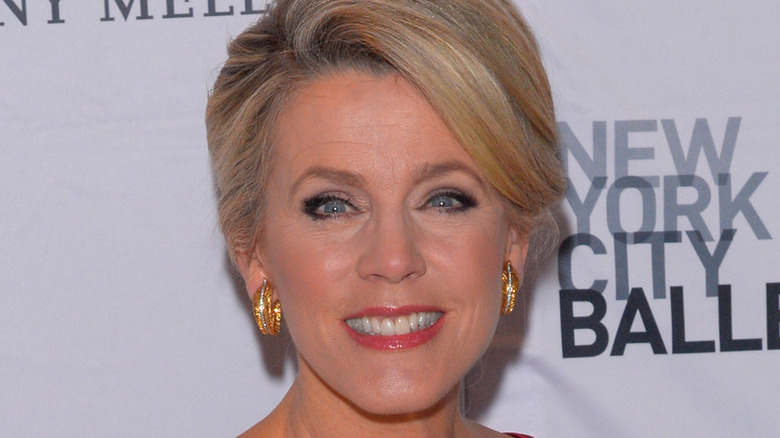 Shutterstock
Deborah Norville has been the host of the syndicated "Inside Edition" since 1995. That said, her first big break was controversial. In 1989, Norville joined "TODAY" on NBC; but she was a controversial pick because of rumors she was hired to push out beloved host Jane Pauley. When Pauley left the morning show later in the year, fans blamed the new (and younger) host. According to The New York Times, Norville only lasted 14 months at "TODAY"; she took maternity leave to have her first child in 1991 and never returned. Norville's replacement was Katie Couric, who was loved by fans and NBC, so the then-31-year-old new mom was out of a job. "I was the center of a storm not of my making," Norville told NYT on being blamed.
After leaving TODAY, Norville worked as a traditional TV reporter before finding a home on "Inside Edition." Her time spent there has worked out well for her. Norville told the Atlanta Journal-Constitution, "I am feeling happy ... I am proud of where this show is in this landscape." Norville added to the Atlanta outlet that her work on "Inside Edition" worked well for her as a mother too. "I could drop the kids off at school. I couldn't pick them up but I could get home, cook and dinner and put them to bed." Unlike many other journalists in broadcast TV, her hours were family-friendly!
So how much is Norville really worth? Read on to find out.
Deborah Norville has an impressive net worth
According to Celebrity Net Worth, Deborah Norville has a net worth of $18 million. She has an annual salary of $4 million for her work on "Inside Edition." The TV host has been married to a Swedish businessman Karl Wellner since 1987. 
Today, aside from TV work, Norville loves to knit and needlepoint, and she even created a branded line of yarn. Norville also wrote a book about knitting, "Knit with Deborah Norville: 18 Classic Designs for the Whole Family". Her yarn line and her book are probably not a massive source of income for Norville, but in an interview with Woman's Day, she explained why she loves sewing, knitting, and needlepoint. "My husband walked in and asked, 'What are you doing?' I said, 'Karl, we live in New York. Everyone we know has a shrink. I have a Kenmore.'"
Norville and her husband do not have money worries; Wellner has a net worth of $40 million. According to Hollywood Mask, Norville and Wellner share three children. According to the outlet, all three attended Duke University, and all three of their adult children are in sales. It sounds like all of the kids have a strong desire to work, just like their parents!