The Truth About Queen Elizabeth's Relationship With The Obamas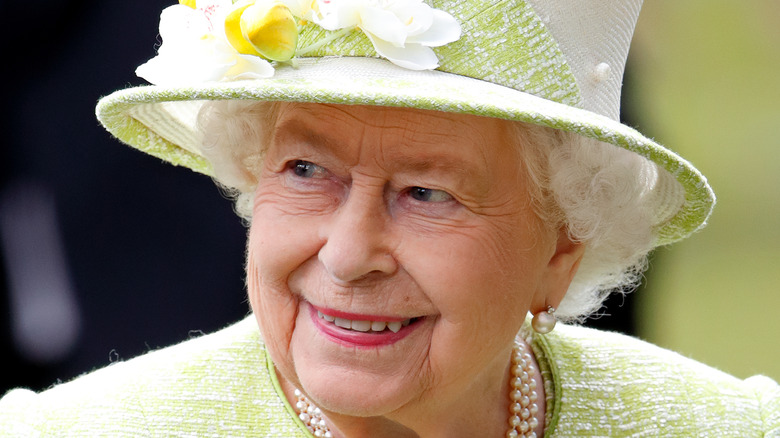 Max Mumby/indigo/Getty Images
Since at least the second World War, there has often been a "special relationship" between the United Kingdom and the United States and some of the members within each country's ruling class. Just as there was the "special relationship" between late 1990's British Prime Minister Tony Blair and then-president Bill Clinton, there is also a bond between Queen Elizabeth II, the world's longest-reigning living monarch, and former U.S. President and First Lady Barack and Michelle Obama.
The queen has met 12 United States presidents in all, starting when she visited Harry Truman in Washington in 1951 when she was still a princess. Most recently she met the current president and first lady, Joe and Jill Biden, on their U.K. trip in June. Insider reports Elizabeth "developed a close friendship" with President Dwight Eisenhower, and the two wrote letters to each other for years following. She also corresponded with President John F. Kennedy until his untimely death, despite reportedly feeling upstaged by Jackie Kennedy on their visit.
But these relationships have perhaps been replaced by her feelings toward the Obamas. While it's of the utmost importance for the queen to be diplomatic and not share her personal or political opinions about leaders from other countries, she has done so in other ways, such as with her dress. For example, while meeting with former President Donald Trump, Elizabeth threw subtle shade by wearing a paisley brooch given to her by the Obamas. What, then, has she signaled about her relationship with the Obamas?
Queen Elizabeth would really like Barack and Michelle Obama to visit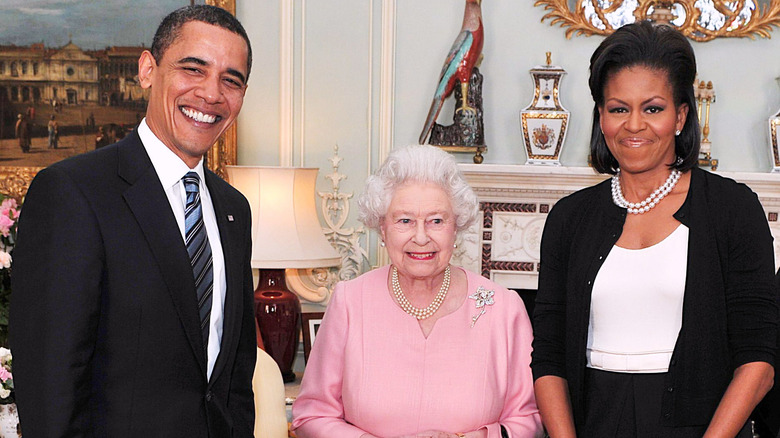 Wpa Pool/Getty Images
Though Queen Elizabeth had strong relationships with other presidents, including Ronald Reagan, she seems to have had a special kinship and affection for Barack and Michelle Obama. According to author Tom Quinn (per Insider), "The Queen has a soft spot for Americans after meeting Barack Obama who she completely fell in love with" — despite the British press making a big to-do about Michelle supposedly breaking protocol by putting her arm around the monarch. But Angela Kelly, dressmaker to the queen, set the record straight, saying "an instant and mutual warmth was shared between these two remarkable women," and that "it was a natural instinct for the Queen to show affection and respect for another great woman, and really there is no protocol that must be adhered to."
Perhaps Her Majesty felt that instant kinship with Barack Obama because of the amazing gift he gave her during their first meeting in 2009, at Buckingham Palace during his first year in office. According to Insider, he gave her an iPod containing video footage of her previous historic trips to the United States, from as far back as the 1950s. It also contained his 2009 inaugural speech and his Democratic National Convention speech in 2008.
The Obamas visited again in 2011, and once more in 2016, and the royal sovereign has even asked for arrangements to be made to bring the Obamas back for another visit. This would be highly unusual considering he no longer holds office.