In Angelina Jolie's Dating History, One Relationship Stands Above The Rest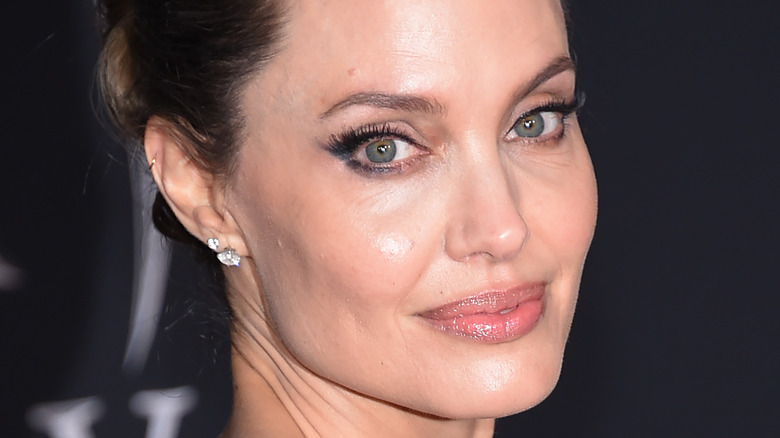 Shutterstock
Angelina Jolie has had a number of high-profile relationships over the years. Some of them were volatile (like the divorce battle with Brad Pitt), some of them were creepy (remember the vials of blood she and Billy Bob Thornton wore around their necks?). But one relationship, in particular, stands above the rest.
Although Jolie's love life has always been a big focus for the press and her fans, she's apparently only had five serious relationships, per Us Weekly. In 1994, she was filming "Hackers" and she and her co-star Jonny Lee Miller fell for each other. However, once filming wrapped, they fizzled out. Jolie then started dating Jenny Shimizu, her "Foxfire" co-star. After they split, she reconnected with Miller and married him in 1996. They divorced in 1999. Of that time in her life, Jolie told Rolling Stone (via Us Weekly), "I wasn't even a good friend because I was just absent. I'd go for drives and disappear or go film something and be in hotels forever and not do anything, not have friends, not visit, not hang out. I couldn't calm down and just live life."
In 2000, she and Billy Bob Thornton married. (He was actually engaged to someone else at the time, per the Mirror.) He and Jolie divorced in 2002. In 2004, she and Brad Pitt got together. Pitt was married to Jennifer Aniston at the time. Fourteen years and six kids later, they split. So, which one of Angelina Jolie's relationships stands above the rest, in terms of being the most over-the-top and attention-grabbing? Keep reading to find out.
The answer might not be the one you think it is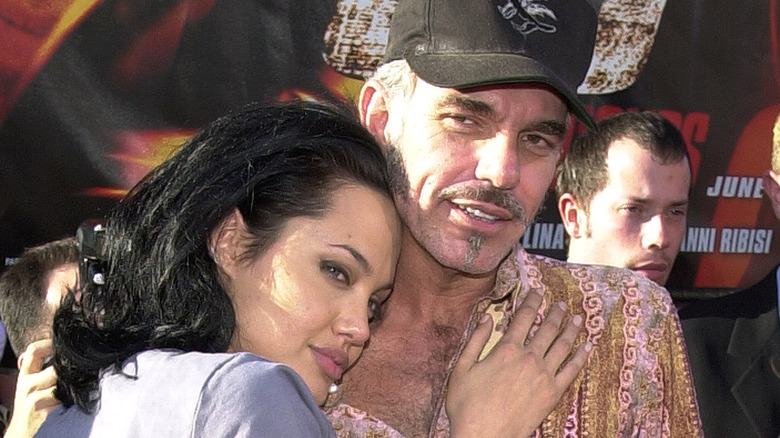 Chris Weeks/Getty Images
Angelina Jolie and Billy Bob Thornton met while filming "Pushing Tin" in 1999. They played husband and wife in the comedy/drama film. During a trip to Las Vegas in 2000, the two spontaneously got married, which was messy because, as referenced earlier, Thornton was engaged to Laura Dern, per Us Weekly. At the time, Dern said to Talk magazine (via Us Weekly), "While I was away, my boyfriend got married, and I've never heard from him again."
Jolie and Thornton were intense together. In 2001, they began wearing necklaces with vials of each other's blood in them. In an interview with Entertainment Weekly (via Us Weekly) in 2008, she called the necklaces a "sweet gesture." In a 2014 address to students at Loyola Marymount University (via E! News), Thornton said, "She thought it would be interesting and romantic if we took a little razorblade and sliced our fingers, smeared a little blood on these lockets and you wear it around your neck just like you wear your son or daughter's baby hair in one. Same thing."
In 2002, Jolie and Thornton started the adoption process for what would have been their son, Maddox. They split before the adoption process was complete and Jolie adopted on her own. Their divorce was final in 2003 and the two reportedly are good friends to this day.