The Truth About Cashay Proudfoot From Love Island USA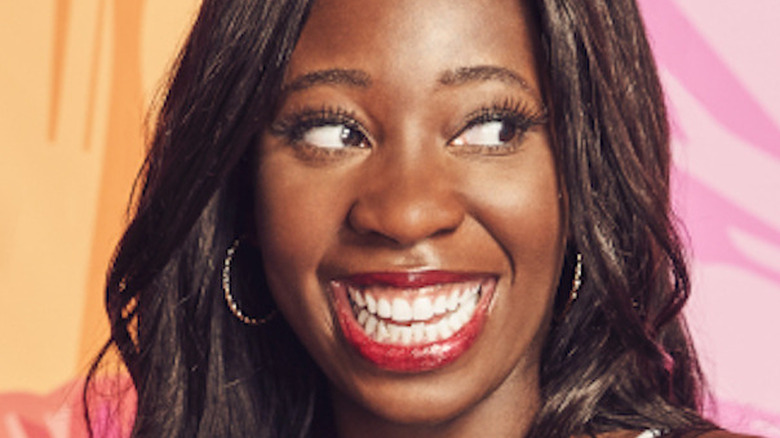 Sara Mally/CBS
The American installment of British reality TV sensation "Love Island" has just begun its third season, following a group of sexy singles as they couple up. And Cashay Proudfoot has already been one to watch.
Per MeAww, Cashay's quest for love this season has not exactly been a day at the beach. At the initial coupling, none of the guys picked her. Then she was involved in a love triangle with fellow contestants Cinco and Trina, ultimately being the odd one out. Cashay then set her sights on Isaiah, only to find that he was also the object of another contestant's affection: her friend, Aimee. While the two friends managed to talk out their feelings before any big fights could start, another man entered the picture. New islander Wes ended up taking both Cashay and Aimee on a date to express his interest, and the interest was mutual. Once again, Cashay and Aimee found themselves in a love triangle.
And fans seemed to ship Cashay and Wes. "FINALLY A MAN COMMENTING ON CASH'S BEAUTY AS WELL AS PERSONALITY!! THE WAY WE WONNNN," tweeted one viewer. "Wes' reaction to seeing Cashay was cute," wrote another. Some viewers, though, felt they could see through the producers' playbook. "How come I feel like they are always putting Cashay and Aimee with the same guys for drama," one user asked. Another questioned, "Why They Keep Trying To Put Cash & Aimee Against Each Other."
Get to know the Cashay you don't (necessarily) see on-screen.
Cashay is all about the dance
In addition to being involved in multiple love triangles on "Love Island USA," Cashay Proudfoot is a model and dancer from New York City who works a day job as a waitress. You can see several of her sexy modeling shots on her Instagram, in addition to videos showing off her dancing skills. She's also a proud supporter of President Joe Biden and Kamala Harris, and her celebratory dance was even featured in The New York Times, according to her Instagram.
Cashay's Instagram bio says, "Find me on a dance floor near you," so naturally, she wants a partner who can join her there. "I need a man who can dance," she told Parade, "and I need someone who's emotionally mature." Her ideal man? Calvin from the previous season of "Love Island." She said, "He's so fun and has the type of energy that can keep up with me. He's not the type of guy who will go home at midnight. He'll make it to 2:00 a.m." Ultimately, Cashay compares herself to a tequila on ice: "I'm simple, I hit strong, but I taste good."