The Bizarre Sarah Ferguson Scandal You Might Have Forgotten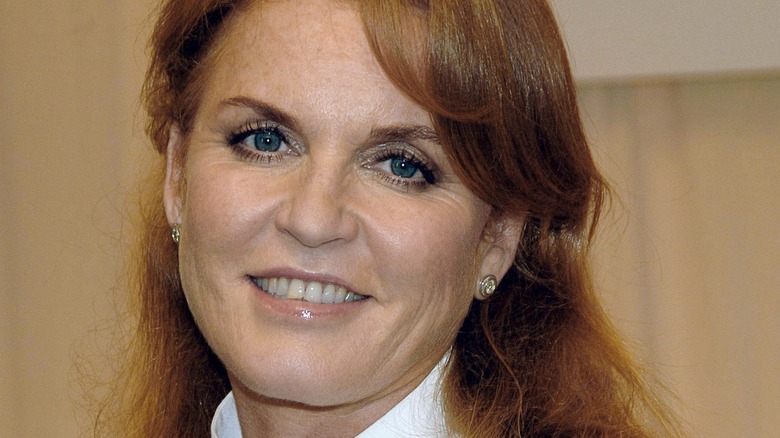 Shutterstock
If you're a member of the royal family — unless you're a youngster or the actual queen — you've probably had a brush with scandal of some kind. This can range from the truly appalling — see exiled former King Edward paling around with Adolf Hitler — to the straight-up bizarre — like what happened to Sarah "Fergie" Ferguson.
Ferguson, mother of princesses Beatrice and Eugenie and ex-wife of Prince Andrew, was caught in a compromising and, frankly, pretty unfair position by the paparazzi in the early '90s. The photos, published in the Daily Mirror, reportedly led Princess Diana to send royal writer Richard Kay a pager message the night before the paper hit newsstands. It read simply, "The redhead's in trouble," per the Daily Mirror.
So what was all the hullabaloo about? 30 years later, this scandal might seem relatively tame by today's standards, but at the time, it was enough to basically destroy Ferguson's relationship with the royal family. Read on for the details.
The royal figure was caught on camera in a sensual situation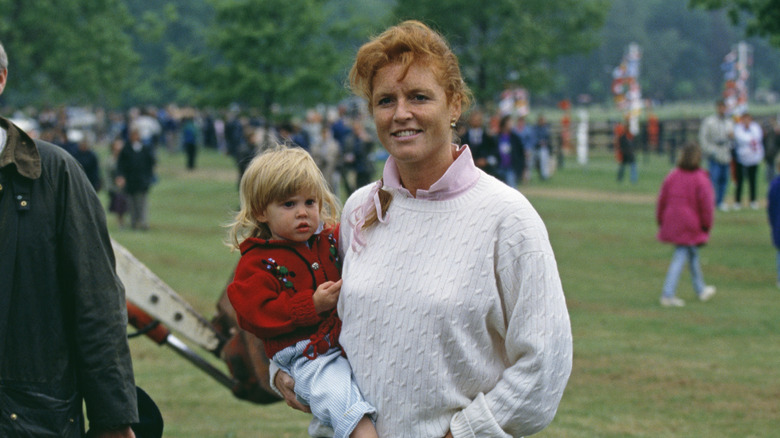 Georges De Keerle/Getty Images
Five months after Sarah Ferguson, better known as "Fergie," and Prince Andrew announced their separation in 1992, tabloid photographers snapped photos of Ferguson at her St. Tropez, France vacation home, tanning topless and (yes) getting her toes sucked by her "financial advisor," Texas millionaire John Bryan, per The Daily Mirror. We're not sure what the reaction from the royal family would be today, but in 1992, they were decidedly not feeling this moment, and the photos caused a ton of family drama.
"She [Ferguson] was at Balmoral [Castle] when those photographs came out. The family came down for breakfast and there was Fergie in this shocking scene and that was the end," royal biographer Penny Junor said on ITV's "The Royal Wives of Windsor," according to The Express. Yep, Ferguson's relationship with her ex-in-laws apparently never fully recovered.
In fairness, Ferguson was in her own home, where she presumably had a reasonable expectation of privacy, and some photographer went to great lengths to obtain these grainy, far-away photos. And while she may still have technically been married, her and Andrew were separated. Plus — as far as risque goes, toe-kissing hardly ranks high in terms of shock value. The photos have been largely forgotten these days, but the scandal would certainly explain why she went out of her way to help Meghan Markle adjust to her new royal life. After all, she'd been there before and survived.