For Every Time Angelina Jolie Has Been On The Red Carpet, This Outfit Stands Above The Rest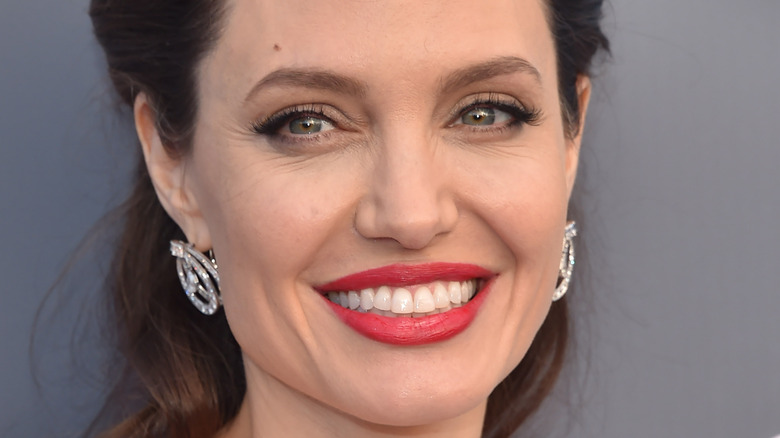 Shutterstock
Whether it was the ultimate devil-may-care casual blue tee she wore to 2000's premiere of "Gone in 60 Seconds" or that 2012 Oscars leg moment, Angelina Jolie has indelibly left her imprint upon the world of red carpet wear. 
Ever since 1995's cyberpunk thriller "Hackers" had her sporting shirts repurposed from old fencing outfits (per Garage), Jolie's sartorial sensibilities have grown increasingly sophisticated over the years, especially when strolling down the red carpet. Wearing a black muscle shirt — which amply showed her now-erased "Billy Bob" tattoo — with formfitting leather pants to the 2001 "Lara Croft: Tomb Raider" premiere, Jolie switched her red carpet attire to regal gowns by the 2004 premiere of "Alexander." At that premiere, she wore a low-cut dress that she even completed with a sparkly pendant necklace!
No doubt, Jolie's fashion evolution has been due to her own identity as an artist, mother and person over time. In 2019, the actor-director revealed to Extra the relatable truth behind the leg-baring dress that launched a thousand memes at the 2012 Oscars: comfort. "I had a more complicated dress and I wore the more comfortable dress," Jolie disclosed. "I think when you feel comfortable, when you feel yourself... you embrace it." Comfy-chic has always seemed the "Eternals" star's red carpet staple for certain — but there was one particular moment that stood out for most people. 
Keep reading to see which Jolie fashion made the most profound impression amongst fans and critics. 
Angelina Jolie's 'Morticia Addams' look is her most memorable red carpet moment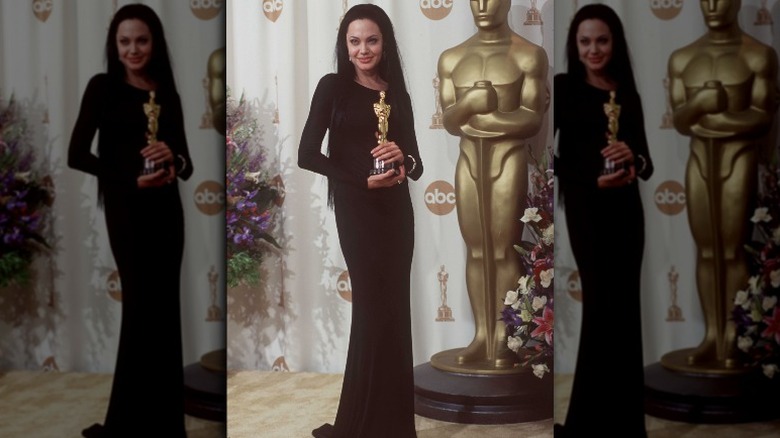 David Mcnew/Getty
If imitation is the greatest form of flattery, Angelina Jolie's goth-chic ensemble at the 2000 Oscars — which consisted of a long-sleeved black Versace gown, black hair extensions and alabaster skin — took the cake as her most outstanding red carpet look. "Dynasty" star Elizabeth Gillies did a scarily perfect impression on Instagram in 2020 of Jolie accepting her Best Supporting Actress statuette for "Girl, Interrupted" that year, even donning Jolie's signature beauty mark above her eyebrow. With over 2 million views, the video made fans nostalgic for the original, as one commented on Jolie's acceptance speech video, "Who's here after Elizabeth Gillies post that AMAZING interpretation?" Another exclaimed, "I miss her crazy goth days!" 
Although Jolie confirmed her black-on-black chic fell in line with her own personal identity, saying "it's silky and very me" (via InStyle), no look is iconic without its share of controversial debate. TIME flat-out labeled it a "fashion disaster," comparing her (unfavorably) to Morticia Addams and saying Jolie was "a brilliant personification of ... 'Girl, Interrupted,'" with "hair extensions by Elvira" and "general affect by Monica Bellucci in 'Bram Stoker's Dracula.'" Oof and oof!
However, fashion loves a controversy, and Jolie's ensemble made many best-of red carpet lists like Vogue's. MTV devoted an entire tribute article to the Oscar winner's "Goth AF" moment, while Us Weekly lauded the outfit for its "statement." This is definitely one Jolie look we'll remember for years to come.