This Is Why Angelina Jolie Brought Her Kids To Meet Ex-Husband Jonny Lee Miller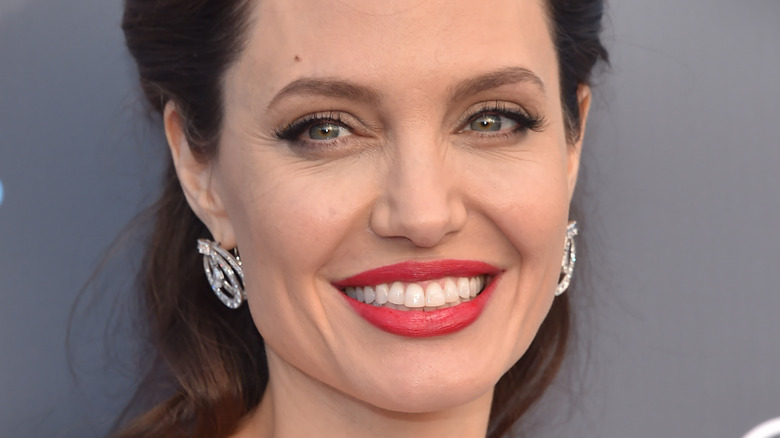 Shutterstock
After years of fighting, Brad Pitt and Angelina Jolie finally settled their long-disputed divorce. The former Hollywood power couple split in 2016 after 12 years together, and the separation was almost as dramatic as their coupling was in the first place. For those who don't remember, Pitt and Jolie got together while working on "Mr. and Mrs. Smith," while Pitt was still married to Jennifer Aniston, per Glamour.
Fast forward a few years, and six kids later and Pitt and Jolie found themselves in the midst of their own messy divorce. In the long-suffering marriage, the final straw came when Pitt got into a physical altercation with his son, Maddox, on a private airplane. Maddox was reportedly attempting to protect Jolie from her altercation with Pitt, who had lost his temper. The Los Angeles County Department of Children and Family Services was called to investigate the situation, per Us Weekly. Pitt was never formally charged with anything but the nastiness of the initial split led to a long, drawn-out, and equally nasty custody battle that lasted several years.
The judge in the case ruled in Pitt's favor, awarding him partial custody when Jolie was seeking full custody of the kids. Jolie reportedly plans to appeal the decision in court, but for now, both Pitt and Jolie are focused on their own futures and their own relationships. So much so, in fact, that Jolie recently introduced her kids to her ex. Here's what we know. 
If you or someone you know is dealing with domestic abuse, you can call the National Domestic Violence Hotline at 1−800−799−7233. You can also find more information, resources, and support at their website.
Jolie wanted her son to connect with Jonny Lee Miller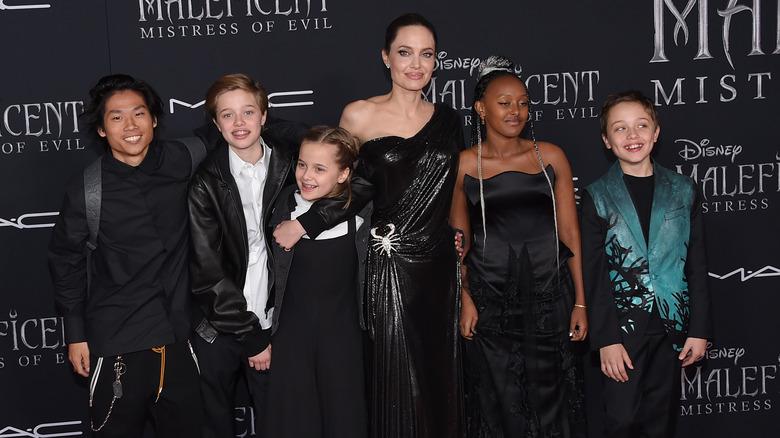 Shutterstock
It looks like Jennifer Lopez and Ben Affleck aren't the only mid-aughts couple reconnecting this summer. Angelina Jolie and the children she shares with ex Brad Pitt took a trip to New York City in June. They didn't just enjoy the sights, though; Jolie (along with the kids) also paid several visits to her ex-husband Jonny Lee Miller.
"On her first evening with Jonny, Angelina only took Knox along, and they got on like a house on fire," a source told the Us Sun. The decision to introduce Knox to her old flame before the other kids appears to be a calculated move on Jolie's part. "Knox is a sweet kid and I imagine she decided he was the easiest one to begin introductions with," the source told the outlet.
The meeting went so well that Jolie reportedly returned to Miller's apartment with Pax, her second eldest, the following day. "They only hung out for a short while at Jonny's apartment, but they seemed to get along well," the source explained. Pax is reportedly considering attending university in New York, so Jolie was excited to introduce him to an old friend who has lived in the city for years. "She's glad he'll have someone she trusts around for him to go to for advice or just to see a friendly face."
It's unclear if Jolie and Miller are rekindling their relationship at this point, but given the passionate nature of their past romance, it wouldn't be a total surprise.
Angelina Jolie and Jonny Lee Miller had an unique relationship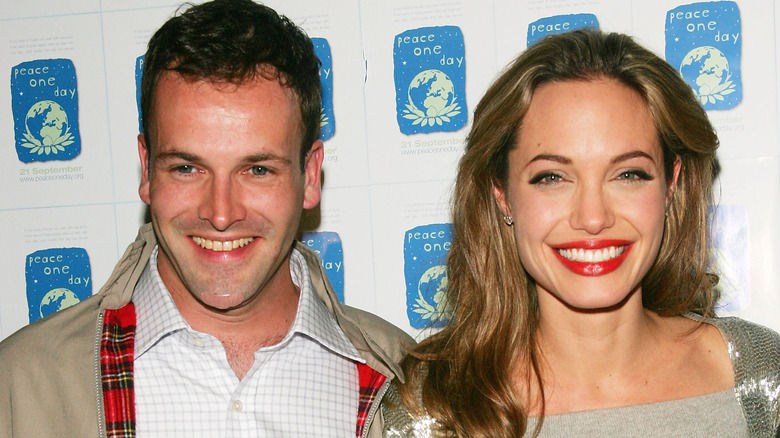 Evan Agostini/Getty Images
Allow us to take you back 20 years to the day Angelina Jolie met Jonny Lee Miller. The pair grew close on the set of the 1995 film "Hackers." A romance blossomed, but they split as soon as the film wrapped, and Miller returned to the UK. As with most young love, though, theirs was a rollercoaster. They broke up and got back together a few times before tying the knot, per Cheat Sheet.
Jolie explained that their decision to get married was a bit unconventional. "We both proposed to each other and both had questions to ask," Jolie told The Sun (via InStyle). "I wondered if we should stay engaged for a while since he was going to be in Britain and I would stay in LA. But we went for a quick wedding." Jolie wore black pants and a white t-shirt with Miller's name written in her blood. Given the, let's say, intense nature of their relationship and their young age, not many people were surprised that the marriage didn't last long. The couple went their separate ways just 18 months after saying "I do." 
"Marriage was something that didn't work out, and I had to make the decision sooner or later. I decided to make it sooner," Miller said of the divorce (via Heavy.com). Miller added that there were no hard feelings, though, which is probably why it was easy for the exes to reconnect after all these years.