My Big Fat Fabulous Life Season 9 Release Date And Cast
Reality TV show "My Big Fat Fabulous Life" is returning to TLC with a new season this summer. The show centers around its star Whitney Way Thore's weight loss journey, as well as her relationships, business ventures, and friendships. According to Screenrant, when fans last caught up with Whitney during Season 8, she was still dealing with the shocking news that her fiancé Chase Severino was having a baby with another woman. She was also isolated from her friends and parents due to the COVID-19 pandemic.
Yet Season 9 appears to have a lot more in store for the reality star who moves back to Greensboro, N.C. with her best friend, Buddy Bell. We also see how Whitney's virtual training business is going, along with her goal to become a certified personal trainer, which apparently hits a roadblock due to "anti-fat prejudices."
A press release for Season 9 even revealed that Whitney may have a new love interest. It states (via Screenrant), "Whitney is exploring a new relationship of her own, as an online flirtation buds with a man who lives in Paris—the two met while Whitney was taking virtual French lessons, but long distance, especially cross-continental, is never easy, so the two of them are working to figure out exactly what they have." With all that said, it's clear that fans have a lot to look forward to in Season 9. So how long will they have to wait to watch it?
When will Season 9 of "My Big Fat Fabulous Life" premiere?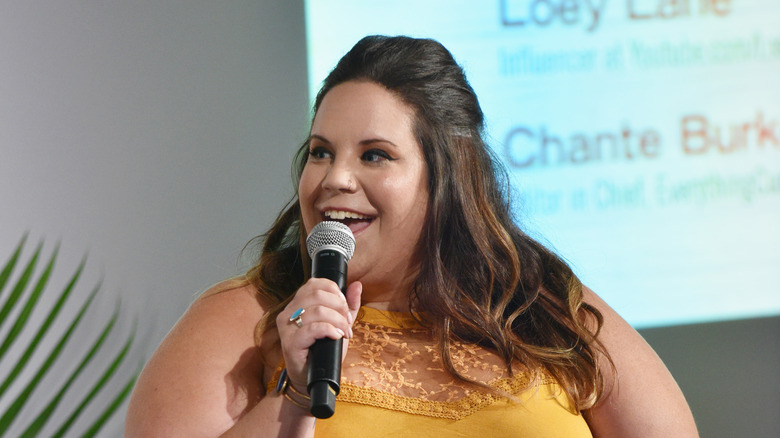 Bryan Bedder/Getty Images
Reality series "My Big Fat Fabulous Life" is returning to TV for its ninth season later this summer. The first episode of Season 9 will air on August 17 at 9 pm ET/PT on the TLC network.
The show's star, Whitney Way Thore, confirmed the new season herself in an Instagram post on June 8, where she wrote, "NEW SEASON of "My Big Fat Fabulous Life" on Tuesday, August 17th at 9/8c on TLC! Tag your besties who are gonna watch with you! Thanks for sticking with us all these years — I can't believe this is [S]eason 9!" The news came months after the Season 8 finale which aired in February. Whitney also posted about that season, writing, "We all made it through and I am so appreciative of my fam and friends who are always by my side! We're all feeling better and more hopeful these days, I've been crying A LOT LESS."
For fans who miss an episode, or who want to catch up on past seasons, or who just don't have cable, "My Big Fat Fabulous Life" will be available in full on TLC.com. Viewers can also stream each episode on Prime Video, Hulu, and the Discovery+ app the same day as it airs on TLC.
Who will be in the Season 9 cast of "My Big Fat Fabulous Life?"
TLC's "My Big Fat Fabulous Life" is returning for Season 9 and with a new season comes some familiar faces. According to Meaww, besides the reality show's star Whitney Way Thore, regular cast members Buddy Bell, Heather Sykes, Ashley Baynes, Tal Fish, and Todd Beasley will all make appearances. As will Whitney's parents, Barb and Glenn. This seems to be a change from last season in that Whitney, her friends, and her parents are all now fully vaccinated against COVID-19 and restrictions have been lifted in terms of where they can film, Screenrant reports.
While fans will probably be excited to see that Whitney's best friend Buddy Bell is now living with her, as some would love the two to end up together, Buddy is actually in a relationship this season, which will apparently take up a lot of his time. Yet fans may see more of Whitney's business partner and friend, Jessica, as the two work on their virtual weight loss and fitness program they run together. 
The person who doesn't seem to be ever coming back is Whitney's ex-fiancé Chase Severino, especially since there's a new long-distance love prospect for Whitney. Yet, it's unclear if fans will ever get to meet Whitney's new love since he does live all the way in Paris. It appears that between Whitney and the rest of the "My Big Fat Fabulous Life" cast, Season 9 should not disappoint!