What Judge Judy Looked Like When She Was Younger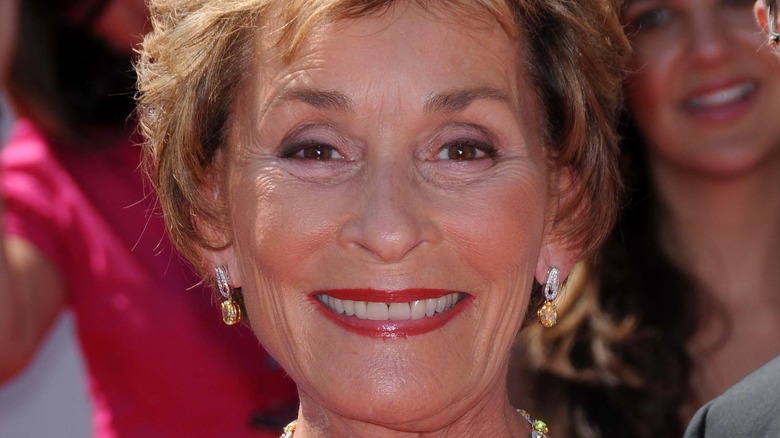 Shutterstock
Judge, meme queen, and television icon are just a few of the many words used to describe Judge Judith Scheindlin. After 25 years, her beloved TV show "Judge Judy" is ending in September, according to the Los Angeles Times — but courtroom drama fans need not fear, because Judge Judy will be back with "Judy Justice" in 2022. You can catch "Judy Justice" for free through Amazon's IMDb TV, per The Hollywood Reporter, and you can also catch classic reruns of "Judge Judy" on Pluto TV's courtroom channel. 
Before she made her name as a no-nonsense TV judge, Judge Judy was a New York City Family Court prosecutor, and then the Supervising Judge of the Manhattan court, according to her official biography. But if you're thinking that the judge is interested in retiring, you'd be sorely mistaken. "Why, at my stage in life, would I try to find something else when I already know what I like? And this isn't a 9-to-5 job. I've still got the time to see the children I love, the grandchildren who are growing up very fast, and the cute mate who I still get a kick out of," she told The Hollywood Reporter in May.
Judge Judy has had a long and prosperous career, but it's tough to imagine her life before she hit television screens. With that in mind, keep scrolling to see what Judge Judy looked like when she was younger. 
Judge Judy said she was 'cute, but not a knockout'
It seems, based on the above picture, that not much has changed for our beloved Judge Judith Scheindlin over the years. She still looks like the same no-nonsense judge that we know and love, just a little younger.
Don't expect Judge Judy to worry too much about her looks as she gets older (although we have to say, she looks great). "I thought it was the message, not the look of the messenger. I didn't even think people looked that closely anymore. They look to see what Halle Berry looks like, but that was never my thing," she told The Hollywood Reporter. "I mean, I was cute but not a knockout. People stopped whistling at me as I passed a construction site decades ago," she continued. 
There's something to be said for growing old gracefully, and Judge Judy nailed it. Here comes the judge, indeed.