The Real Reason Dick Van Dyke Left The Carol Burnett Show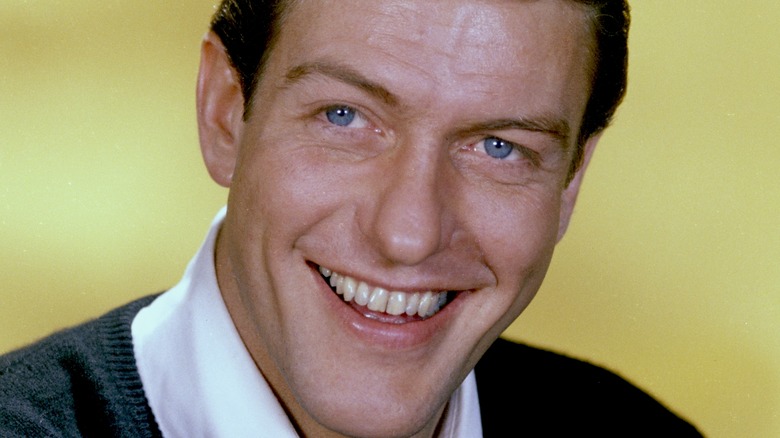 Michael Ochs Archives/Getty Images
Dick Van Dyke is best known for his film roles in "Mary Poppins" and "Chitty Chitty Bang Bang," as well as his self-titled 1960s CBS sitcom. But even longtime fans may forget he also logged a short stint on "The Carol Burnett Show." The year was 1977, and Van Dyke was a regular cast member on the long-running sketch comedy series... for 11 episodes.
According to his IMDb page, following the departure of Burnett's longtime Emmy-winning comedy partner, Harvey Korman, Van Dyke joined "The Carol Burnett Show" cast and appeared in the first 11 episodes of the 11th season, playing "various characters" in sketches alongside Burnett and co-stars Vicki Lawrence and Tom Conway. These characters included a bumbling workman, a TV announcer, an airport traveler and a "famous pianist," per IMDb. Van Dyke also played Dan Fogarty, an old friend of Korman's recurring character, Ed Higgins. He later did a pantomime to play an "Invisible" dog owner at an obedience class.
But Van Dyke exited "The Carol Burnett" show after the first half of the 11th season and never went back — and the reason why might surprise you.
Carol Burnett revealed the surprising reason why Dick Van Dyke was 'asked to leave the show'
Dick Van Dyke and Carol Burnett could have been — and totally should have been — comedy magic on the small screen. But in a twist that no one could have predicted, the actor wasn't right for the series due to the writer's scripts, which proved to be "a disaster," per MeTV.
Burnett gave further insight into the situation in her 2016 memoir, "In Such Good Company: Eleven Years of Laughter, Mayhem, and Fun in the Sandbox." In her book, the comedy legend revealed that after her longtime co-star Harvey Korman was "wooed away by ABC" to star in his own show, Van Dyke was at the top of her replacement wishlist. Burnett had enjoyed a long friendship with Van Dyke and was "thrilled" when he agreed to join her cast. Unfortunately, "The Carol Burnett Show" writers had trouble adapting to Van Dyke's comedy style, which greatly differed from Korman's style.
"A lot of the sketches that were written didn't highlight Dick's unique talents," Burnett wrote (per CheatSheet). "The writers were still writing for Harvey, not Dick. After a few weeks, he was unhappy with the situation and asked to leave the show. I didn't blame him in the least."
"The Carol Burnett Show" never survived that Season 11 slump. The last episode of the show aired on March 29, 1978, where Burnett tugged her ear one final time after 278 episodes, per TV Series Finale.