Who Is David Boreanaz's Wife, Jaime Bergman?
Shutterstock
David Boreanaz has been a well-known actor for over two decades. He is best known for his long-running role on "Buffy the Vampire Slayer" and its spin-off "Angel" as the vampire Angel for eight seasons from 1997 to 2004 and for his 12-season role on "Bones" as Agent Seeley Booth. Now, it's hard to believe his new series "Seal Team" is heading into its 5th season. Basically, there's an A-list of television actors who anchor long-running dramas, Boreanaz is near — or at — the top of that list. For his 24 years of back-to-back long-running roles on television shows, Boreanaz has amassed a net worth of $30 million (per Celebrity Net Worth).
However, Boreanaz has been mired in a number of controversies over the years. In 2009, an extra on "Bones" accused him of sexual harassment, per CNN. The case was dismissed in 2011, but it was embarrassing for Boreanaz. In 2010, Boreanaz revealed that he had cheated on his wife, Jamie Bergman, and that the other woman in question tried to blackmail him for hundreds of millions, per People. Through both scandals, Bergman stood by her husband, and in fact, those incidents brought them closer together. So who is David Boreanaz's wife Jamie Bergman? Keep reading to find out all about her.
David Boreanaz's wife Jamie Bergman is a former model and Playboy Playmate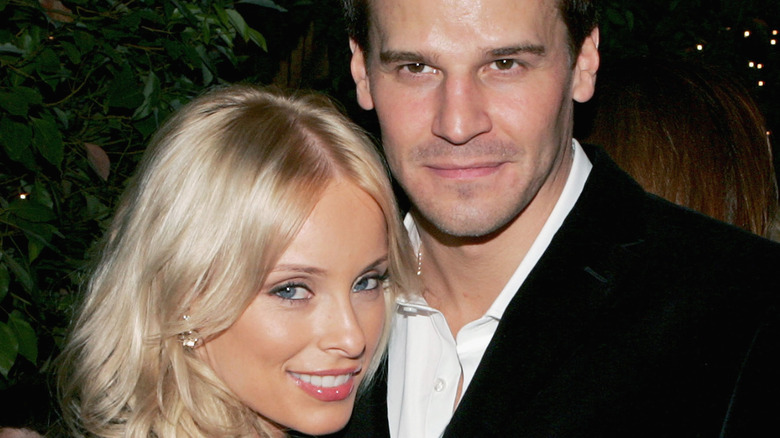 Kevin Winter/Getty Images
Jamie Bergman was born in Salt Lake City, Utah in 1975. She was a cheerleader at West Jordan High School before she graduated in 1993. After high school, she set out to make her childhood dreams of fame and glamour come true, per The Things. And come true, they did. After a bit of a slow start, her career took off by the late '90s. In 1999, she was named both the St. Pauli's girl and the January 1999 Playboy Playmate of the month — which happened to be the magazine's 45th Anniversary issue, per IMDb. She also appeared in a number of Playboy videos. Bergman also dabbled in acting. As an actor, Bergman appeared on an episode of "Beverly Hills, 90210" and in the Oliver Stone movie "Any Given Sunday." She's also made appearances in her husband's shows "Angel" and "Bones."
Bergman and Boreanaz met at a Valentine's Day party at the Playboy Mansion in 2001, per Daily Mail. They married nine months later on Thanksgiving Day 2001. The couple has two children, a son, Jaden, who was born in 2002, and a daughter, Bella, who was born in 2009. Though they both admit that Boreanaz's infidelities around that time had taken a toll on their marriage, they agreed to work on it. Bergman realized that "if there's an ounce of love, we need to work on it for us," per People. Over a decade later, it seems they figured it out.