How Does Nicole Kidman Look Without Her Signature Long Hair?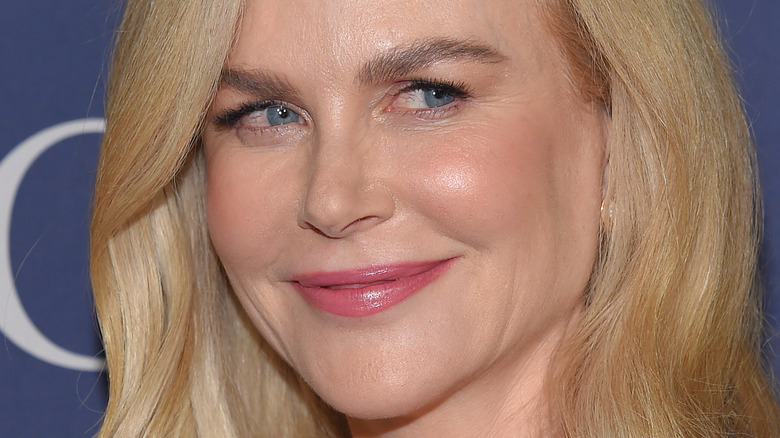 Shutterstock
Nicole Kidman is undoubtedly total hair goals. Long, red locks have become part of Kidman's signature look over the years and fans have made no secret of the fact that they'd pretty much try anything to recreate her stunning locks.
The star's appearance in the HBO murder mystery mini-series "The Undoing" sparked a wave of social media comments from fans sharing their hair envy, with many viewers taking to Twitter to reveal just how "obsessed" they were with her long locks (via The Sun).
Kidman herself even opened up about the reaction to her enviable tresses in October 2020 as she spoke about once again embracing the natural curls she used to sport a lot in the early days of her career. "Do I wish that I hadn't screwed up my hair by straightening it all the time? Sure," she told The Sunday Morning Herald.
But what happens when those long locks disappear? Would we even recognize Kidman now without her signature 'do? Well, she just shared a jaw dropping new photo that will answer all those questions. Scroll on for the snap.
Nicole Kidman wowed fans with a short pixie cut
Nicole Kidman took to Instagram on July 21 to share a gorgeous photo of herself sporting much shorter locks. And we mean much shorter. The photo showed Kidman on the set of her upcoming Apple TV+ series, "Roar" as she ditched her long hair for a short, red pixie cut and what appeared to be a quiff above her forehead. 
But before fans get too up in arms that she's cut her long hair for the role, Daily Mail reported her new look appeared to be a wig specifically for her character in "Roar." The series is based on Cecelia Ahern's "Roar: A Story for Every Woman" and tells stories from a female perspective.
The photo showed Kidman in full costume standing in front of a rainbow with her eyes closed and her left arm raised as she appeared to stand outside her trailer. It's safe to say her followers were wowed by her new look, too.
Actor Poorna Jagannathan simply commented, "Wow," while a fan wrote, "Simply stunning" with several rainbow emoji. "OMG THE HAIR" another wrote in all caps with a heart eye emoji, while second fan echoed that statement by writing, "Oh my god hair I'm obsessed" with three heart eye emoji.
Kidman's short hair is definitely a big hit with her followers, but will she ever go for the full chop with her real hair? We'll just have to wait and see!