For Every Time Joe Biden Has Been Controversial, This Moment Stands Above The Rest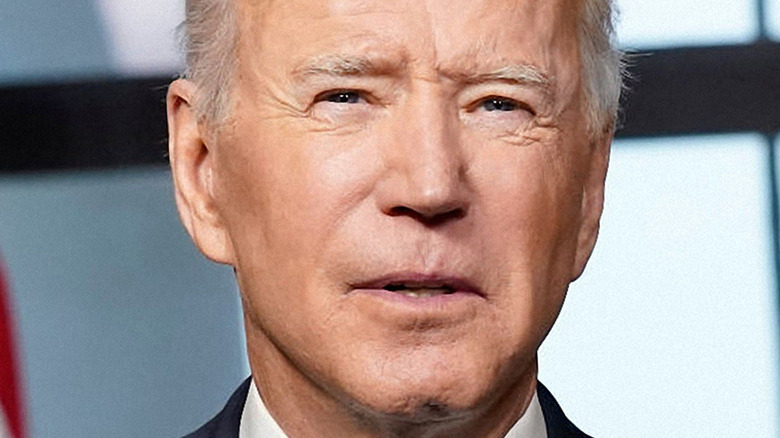 Shutterstock
The following article includes mentions of sexual assault allegations and harassment.
Joe Biden has had a long and controversial road to the presidency. Coming into the office when the country faced several challenges — a raging pandemic, a bitter end to the presidential race, and protests over racial justice (to name but a few) — Biden's road from Scranton, Pennsylvania to the White House has seen several intense moments.
While Biden's path to the presidency was littered with remarks from rival Donald Trump, it wasn't just Trump who was associated with controversies. Over the years, there have been several political hurdles and even misconduct allegations in Biden's way. Biden defended himself from some allegations regarding not having the best boundaries. Before entering his office, the former vice president promised in a homemade video about being "more mindful and respectful of personal space," adding how social norms around making human connections have changed over the years. "Social norms have begun to change, they've shifted, and the boundaries of protecting personal space have been reset, and I get it. I get it. I hear what they're saying," he said in the video posted on Twitter.
Although Biden tried to brush off that scrutiny as a matter of changing "social norms," there's one controversial moment in the political career of President Biden that stands above the rest. Keep reading to hear more about the situation that raised many eyebrows on his character and personality.
Joe Biden faced sexual assault allegations from a former Senate staffer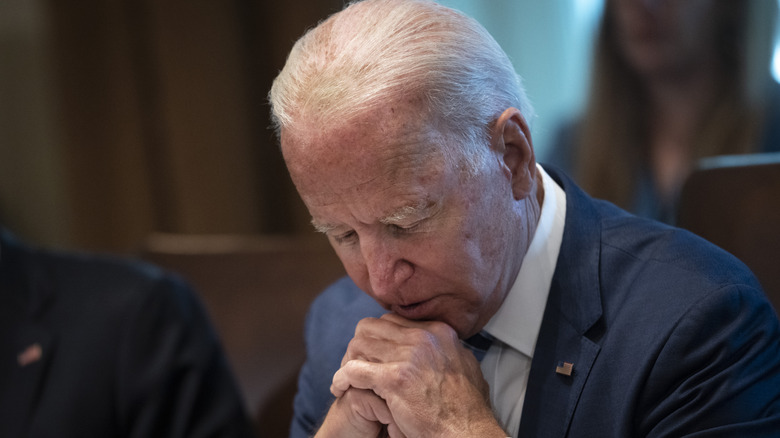 Drew Angerer/Getty Images
Several allegations of Donald Trump sexually assaulting women emerged during his presidential races. Per The Guardian's timeline of sexual misconduct allegations against Trump, the former president has denied all the allegations. But Joe Biden hasn't held the cleanest record either, and Biden's sexual assault allegation makes for the most controversial moment in his long political career.
Tara Reade — a junior aide at Biden's Senate office in 1993 — told The Union in April 2019 that Biden would run his finger along her neck and requested her to serve drinks at a reception because he liked her legs. "He used to put his hand on my shoulder and run his finger up my neck," Reade claimed. "I would just kind of freeze and wait for him to stop doing that." Per New York Times, Reade said that Biden's behavior was "about abuse of power." 
Responding to the allegations, Biden first said that "women deserve to be treated with dignity and respect, and when they step forward they should be heard, not silenced." He then stressed upon the importance of inquiry and scrutiny in such matters. Biden also denied the allegations. "I'm not going to do that at all. I don't know why she's saying this. I don't know why after 27 years this gets raised," he claimed.
If you or anyone you know has been a victim of sexual assault, help is available. Visit the Rape, Abuse & Incest National Network website or contact RAINN's National Helpline at 1-800-656-HOPE (4673).