The Surprising Jobs Pat Sajak Had Before He Was Wheel Of Fortune Host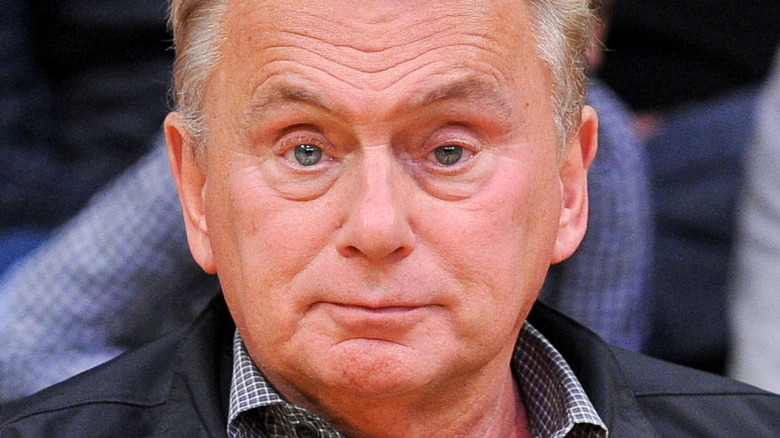 Allen Berezovsky/Getty Images
Before television game show host Pat Sajak started his 40-year run on NBC's "Wheel of Fortune," he held a few unique jobs. And when series creator Merv Griffin offered Sajak the opportunity to replace the previous host, Chuck Woolery, in 1981, it's safe to say his life changed. It was a good choice, too, as Sajak has won three Emmys and nabbed more than 10 nominations by hosting the classic game show.
Sajak is so dedicated to the show, he only stepped away from hosting duties two times — once for an April Fool's Day prank with Alex Trebek, who has since died, and when he had a health scare in 2019. He underwent surgery, and Vanna White, who has been by his side for decades changing letters, carried on the show in his absence. "It felt really bizarre to know that stuff was going on without me. And going on well without me," Trebek told Good Morning America that year.
Although it's difficult to imagine Sajak doing anything else except "Wheel of Fortune," there was a time when he held other jobs, some of which are suprising. Keep on reading to find out what those were.
Pat Sajak wore many different hats
Pat Sajak was born and raised in Chicago, where he also attended college. In between his studies, Sajak got offered a job at a local radio station for Spanish programming. Because he couldn't speak the language, he provided an overnight hourly news briefing translated into English — given anybody was awake and listening, as he told NPR in 2013.
Following his run at the radio station, Pat Sajak enlisted in the United States Army ahead of the Vietnam war. His first position was as a finance clerk since he had studied the basics of training for it. Eventually, the Army agreed to move Sajak to Saigon, where he led radio once again for a year and a half. "We played, you know, whatever the rock 'n' roll music was, at the time. And it was great training for me. And I used to say, this would be a wonderful job except for all the barbed wire and tanks outside," he quipped to NPR. After the war, Sajak helped military leaders with working projectors in the Pentagon, telling The New York Times there was a possibility he "heard very high-level secrets."
Sajak moved on to news stations after the Pentagon, reporting on everything from the weather to the job market. It was good training, in retrospect," he told the NYT. "You learned how to tap dance." And his dance eventually caught the eye of Merv Griffin, who complimented the host for his "great charm." It's safe to say millions of viewers would agree.