Manchester By The Sea Director Defends Casey Affleck Amidst Sexual Harassment Backlash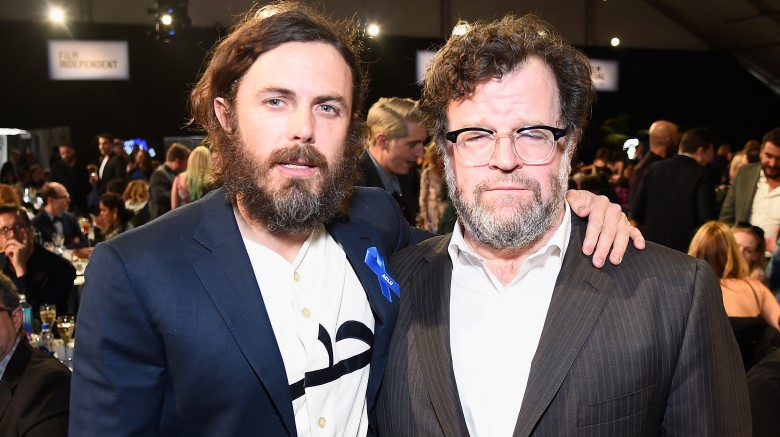 Getty Images
Manchester by the Sea (2016) director Kenneth Lonergan refuses to stand by and see Casey Affleck's sexual harassment allegations broadcast to the world with an implication of guilt.
Affleck, 41, took home the Academy Award for Best Actor for his performance in Lonergan's film, but it wasn't without controversy: Many viewers and critics believed his past should have shut him out of awards season, similar to what happened to Nate Parker, who was acquitted of rape, and his acclaimed film Birth Of A Nation (2015).
As Nicki Swift previously reported, two women who worked on I'm Still Here: The Lost Year Of Joaquin Phoenix (2010) sued Affleck for sexual harassment, with allegations including that the actor demanded crew members show the women their genitals. One of the women accused Affleck of coming into her bed when she was asleep and caressing her without consent. The cases were both settled out of court, and neither party is currently allowed to comment on the suits. Affleck has adamantly and vehemently denied the accusations since they first emerged.
On March 2, 2017, Wesleyan University newspaper the Wesleyan Argus published an editorial by sophomore journalism student and assistant opinion editor Connor Aberle called "Oscars So Problematic: How Wesleyan Is Complicit in Affleck's Sexual Misconduct by Endorsing Lonergan '84." In the piece, Aberle writes, "Wesleyan University cannot insist on claiming credit for Kenneth Lonergan unless they also acknowledge their complicity in the success of a perpetrator of sexual violence...Lonergan essentially won Affleck his Oscar by handpicking Affleck for his movie."
In a letter to the editor on March 4, 2017, titled "How Connor Aberle and the Argus are Complicit in Slandering Casey Affleck," Lonergan wrote, "Only the author's presumed youth can possibly excuse his deeply offensive display of ignorance, and warped PC-fueled sense of indignation...He writes as if Casey Affleck were actually guilty of a crime. In fact, it was alleged 7 years ago, in a civil lawsuit for breach of contract, that Casey sexually harassed two women formerly in his employ. Casey denounced the allegations as being totally fabricated. Like most civil suits, this one was settled out of court by mutual consent on undisclosed terms...In other words nothing was proved or disproved. So how does Mr Aberle dare to write as if he knows who was telling the truth and who was not?"
For his part, Affleck has been mostly mum on the allegations. He told the Boston Globe on Feb. 28, 2017 of the backlash, "There's really nothing I can do about it, other than live my life the way I know I live it and speak to what my own values are and how I try to live by them all the time." He added that he's not allowed to speak on the settlements and claimed that those attacking him don't know what really happened, adding, "I believe that any kind of mistreatment of anyone for any reason is unacceptable and abhorrent. Everyone deserves to be treated with respect in the workplace and anywhere else."