A Look At Millie Bobby Brown's Relationship History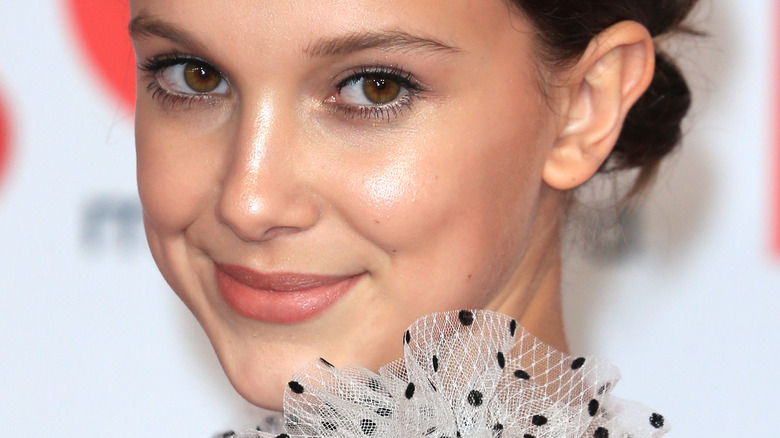 Shutterstock
Millie Bobby Brown is no stranger to relationships that make headlines, even though she's still a teenager. While some fans of her nostalgia-tinged Netflix series "Stranger Things" might find her onscreen romance with co-star Finn Wolfhard convincing and endearing, the two have never had anything more than a working relationship.
In 2016, Brown told Interview Magazine that she experienced her first kiss at the same time as her "Stranger Things" character. She described locking lips with Wolfhard for the sake of Eleven's story as "strange" and "kind of weird," so clearly no sparks flew. A year later, she was linked to "Chapstick" singer Jacob Sartorius. As reported by E! News, the couple made their social media debut in January 2018. In a photo posted on Brown's Instagram Stories, she sported a blissful smile while resting her head on Sartorius' shoulder. The image was dated December 31, 2017.
The lovebirds previously had a few flirty interactions on Instagram, and Us Weekly reported that they rang in the New Year together at Walt Disney World. However, by July 2018, their young Hollywood romance was over. Brown shared a statement on her Stories saying that their decision to split "was completely mutual" and that they planned to remain friends (via People). In January 2019, social media sleuths speculated that the couple was back on after Sartorius and Brown wore the same shirt in separate IG pics. However, if there was a reconciliation, it did not last long.
One of Millie Bobby Brown's rumored exes says he 'groomed' her
In March 2019, The Sun reported that Millie Bobby Brown was dating Romeo Beckham, the son of soccer star David Beckham and Spice Girls member Victoria Beckham. However, a few months later, she was linked to the offspring of a different famous athlete. Brown and Joseph Robinson, whose father is British rugby player Jason Robinson, confirmed that they were a couple in January 2020. On his Snapchat, Joseph shared a mirror selfie that showed him with his arms circled around Brown's waist (via the Daily Mail). He reportedly met her during a trip to the Maldives ahead of the winter holidays.
By August 2020, insiders were claiming that the couple's busy schedules had caused their relationship to fizzle out. If TikToker Hunter "Echo" Ecimovic is to be believed, he also dated Brown in 2020 ,when she was 16 and he was 20. Photos circulating on social media showed him kissing Brown, and he addressed them during an Instagram Live session. As reported by Elle, he made sexually explicit claims about his relationship with Brown and did not paint himself in a positive light when he confessed that he "groomed her." His remarks were met with outrage, but he was initially unapologetic. "I have nothing to apologize for, so make that clear," he said, per Newsweek. He alleged that Brown's parents did not object to his relationship with their daughter and that he even resided at her house for eight months.
Millie Bobby Brown has a new guy with a famous father
If Millie Bobby Brown ever truly cared about Hunter Echo, his lurid comments might have felt like a shot through the heart. However, she did not let him give all love a bad name. She has reportedly found happiness with someone new, and she's pushing back against Echo in a big way. Reps for the actor ominously told TMZ that they are "taking action to ensure that he stops this behavior once and for all," and they described his claims as "dishonest." Echo seemingly tried to mitigate the damage by sharing a now-unavailable apology video on TikTok (via Insider).
While her team takes care of Echo, Brown's love life is attracting attention for a more positive reason. As reported by the Daily Mail, she has been spotted spending time with Jake Bongiovi, the 19-year-old son of rocker Jon Bon Jovi. In June, the pair was photographed holding hands and making no attempt to hide their affectionate display as they strolled down a New York City sidewalk. Brown's chivalrous rumored beau carried a tote bag containing her pet canine Winnie. Weeks earlier, Bongiovi shared a selfie of himself and Brown together inside a vehicle. He described her as his "bff," but it's starting to look like she might be something more to him. On July 10, Brown was pictured with her arm draped around Bongiovi's neck and her cheek pressed against his forehead in a photo on her Instagram Stories, per Hollywood Life.