Nicola Peltz: 12 Facts About Brooklyn Beckham's Wife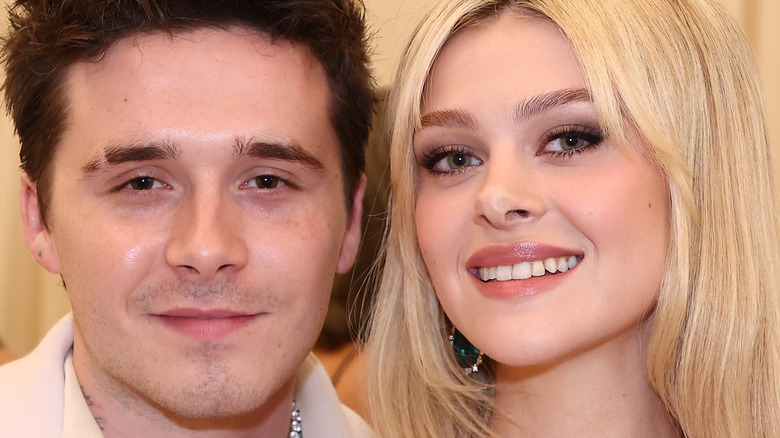 Arturo Holmes/mg22/Getty Images
In April 2022, Brooklyn Beckham married actor and heiress Nicola Peltz in a gorgeous ceremony in Palm Beach, Florida. Brooklyn Beckham has been in the spotlight basically since the day he was born, seeing as how his parents, superstar soccer player David Beckham and Spice Girl-turned-fashion mogul Victoria Beckham, are considered by many to be the U.K.'s other royal family. And while Nicola Peltz did not grow up with the level of fame her husband did, she has certainly led an interesting life and her star is on the rise.
Peltz and Brooklyn's relationship began in October 2019, over two years after they first met at Coachella. In July 2020, they confirmed to the world that they were engaged to be married. When you know, you know, and apparently, Brooklyn knew Peltz was "the one" early on in their relationship — so much so, he headed for the tattoo parlor and got some ink inspired by his lady love. And it wouldn't be the last time. "I am half covered with stuff for her," he recalled to E! News in 2023. "I have like over 20 dedicated to her." 
Of course, Peltz isn't just Posh Spice's daughter-in-law. She is an actor, heiress, philanthropist, and beyond. As much as we love Brooklyn Beckham, it's now his wife's turn to shine.
She comes from an extremely wealthy family
Although Nicola Peltz's family is not as famous as Brookyln Beckham's family, they are unbelievably rich. We're talking billions, as Nicola's father, Nelson Peltz, is a literal billionaire. Peltz, who dropped out of Wharton to pursue his love for skiing, went on to work for his family's food distribution business, eventually expanding it into an empire then selling it for millions. He then founded the investment firm Trian Fund Management in 2005, which has stakes in companies like Kraft Heinz Co., Procter & Gamble, Wendy's, and others. In 2014, he became a Madison Square Garden board member. In 2022, he was made a non-executive director at Unilever. The list goes on. As of 2023, he is worth $1.5 billion, according to Forbes.
The Peltz family owns massive estates in both New York and Florida. Their Palm Beach home, which has been dubbed Montsorrel, is a palatial estate that's worth six figures and was the venue for Nicola and Brooklyn's 2022 wedding. According to Architectural Digest, when the Peltzes acquired the property back in 1985, it was reportedly one of the most expensive real estate purchases in the U.S. 
She appeared in Miley Cyrus' music video for 7 Things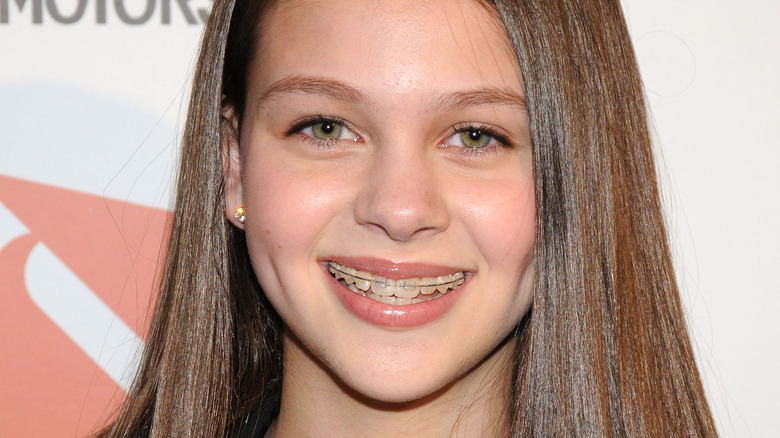 Bryan Bedder/Getty Images
If you're a pop fan of a certain age, you're surely familiar with Miley Cyrus' 2008 hit "7 Things." There's also a good chance you're well aware of the music video, which features the artist formerly known as Hannah Montana and a bunch of tween and teen girls tearfully lip syncing into the camera while clutching stuffed animals. In 2021, Cyrus took to Twitter to try and track down the angsty girls in the video in celebration of the song's 13th anniversary. Eagle-eyed fans thought they recognized Nicola Peltz as one of the scorned teens, and they were right. Peltz first appears about 20 seconds into the video rocking long dark hair and an outfit that is very 2008.
Peltz, who was 13 years old when she shot "7 Things," showed up in another music video years later — and this time around, she had a much bigger role. In 2016, she starred in Zayn Malik's "It's You" video. She even got the blessing of Gigi Hadid, Malik's then-girlfriend. Peltz told Teen Vogue, "I called her when I got the offer and she was like, 'Oh my god.' She really wanted me to do it. I mean, I love her so much and I'm really close with her, but yeah, she was excited for me." In reference to the "7 Things" video, Peltz emphasized that she'd grown up since then. "I was like a different human," she told Teen Vogue.
Nicola Peltz has had several big acting roles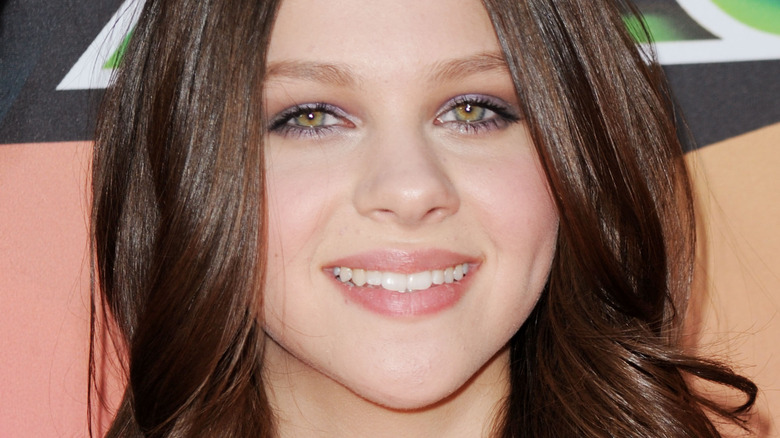 Jason Merritt/Getty Images
In addition to her music video work, Nicola Peltz has a number of other acting credits under her belt. She made her debut in the 2006 Christmas movie "Deck the Halls," and her momentum continued from there. In 2010, Peltz starred in the M. Night Shyamalan film "The Last Airbender." Sure, the role earned her a Razzie nomination, but at least she didn't actually win.
Her next big role came in 2014's "Transformers: Age of Extinction," which garnered her the more positive attention she deserved. Peltz was nominated for a Teen Choice Award for Breakout Star, and a Young Hollywood Award for Breakthrough Actress. Okay, she was also nominated for another Razzie, but again, she didn't win.
From there Peltz went on to appear in the hit series "Bates Motel," the indie film "Affluenza," and Hulu's acclaimed miniseries "Welcome to Chippendales," among others. And it seems as though this is just the beginning for Peltz as she has set her aspirations not only on acting but on writing and directing as well. In March 2023, Peltz spoke to Cosmopolitan about the upcoming film "Lola James," which she wrote, directed, and stars in. "I've worked so hard on it...I would be sad if people didn't like it ... I think when you work so hard on something and then you put it out there, it's super scary because it's so personal."
She has a close relationship with Selena Gomez
One of Nicola Peltz's besties is superstar Selena Gomez. So close, in fact, that when the Disney Channel alum celebrated the release of her documentary "Selena Gomez: My Mind & Me with a slumber party (complete with matching pink jammies) in November 2022, Peltz was right there with her. As Peltz shared on Instagram, she was part of the group of VIPs hanging out with Gomez that evening. (Brooklyn Beckham, meanwhile, was there to make drinks and prep food.) The following month, Gomez, Peltz, Beckham, and others all rang in the New Year together in Mexico.
Peltz has said she sensed an instant connection as soon as she and Gomez first met. "We just clicked and had the best time. And then we became super, super close. I feel like she's my soul sister. I love her so much," she told Cosmopolitan. "She's truly one of the most amazing people I've ever met in my whole life. The kindest person ever. Truly, her heart is gold." We bet we could guess where she stands on all of the Selena Gomez and Hailey Bieber drama.
Nicola Peltz and Anwar Hadid dated for over a year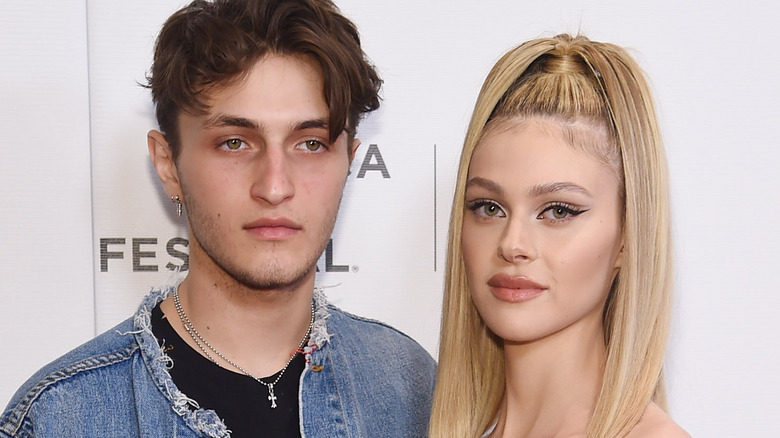 Jamie Mccarthy/Getty Images
Before she married Brooklyn Beckham, Nicola Peltz dated another famous nepo baby, model Anwar Hadid. Anwar is, of course, the younger brother of supermodels Gigi and Bella Hadid, as well as the son of "The Real Housewives of Beverly Hills" alum Yolanda Foster and real estate developer Mohamed Hadid. The two began dating in 2017 when Peltz was 22 and Anwar was 17.
Although the couple seemed happy, with Anwar often posting pics on Instagram of he and the actor, their relationship was not built to last. Anwar was spotted kissing Kendall Jenner in 2018, causing a split which led to Peltz unfollowing the whole Hadid family on social media. 
Anwar went on to date singer Dua Lipa while Peltz moved on with Dua Lipa's ex, LANY frontman Paul Klein. This relationship was short-lived as well, but seemed to end amicably with no drama. Soon afterwards, Peltz met her now-husband with whom she appears to be head over heels in love.
Nicola Peltz has a lot of siblings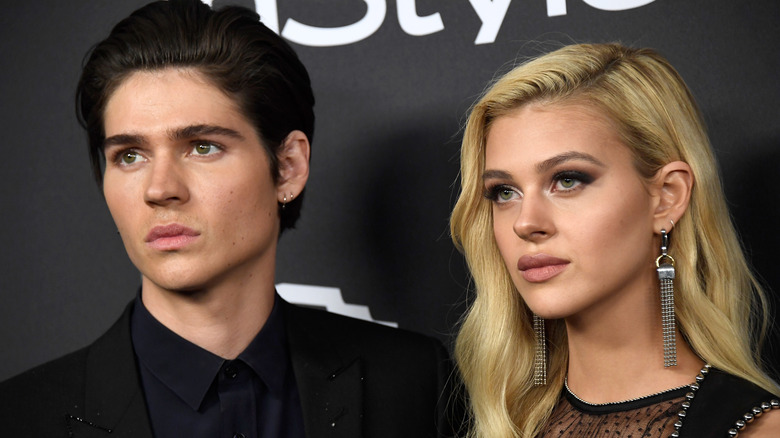 Frazer Harrison/Getty Images
Nelson Peltz, has 10 children, eight of whom he shares with his wife, former model Claudia Heffner. Nicola Peltz grew up with several brothers — Matthew, Brad, Diesel, Gregory, Zachary, and Will Peltz — and a sister, Brittany Peltz Buerstedde. All of the Peltz children are successful in their own right, but only Will Peltz (pictured above) shares Nicola's penchant for the spotlight.
Will is an actor and model who has appeared on "Euphoria," "Manifest," and "Welcome to Chippendales," among other projects. While these two siblings have the entertainment industry in common, Nicola seems to be close with her whole family. Her brothers, especially, have all been protective and supportive. She told Cosmopolitan, "I think growing up with six brothers, they've drilled into my brain, 'You're amazing. You're amazing,' especially with relationships. I've only had three boyfriends because I've always been standoffish until I really like someone. My brothers were always like, 'No. You deserve better. You deserve better. You deserve better.'" It looks like she took their advice.
Nicola Peltz thought she'd have an ice hockey career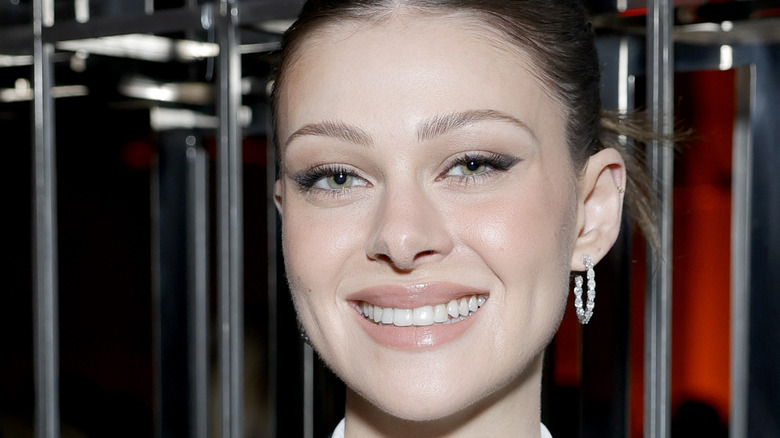 Stefanie Keenan/Getty Images
With Nicola Peltz's natural beauty and her ease in front of the camera, it's hard to imagine her in any other field aside from showbiz. But when she was a child, Peltz aspired to become a hockey player. "I grew up playing ice hockey, and my dad really wanted me to focus on playing ice hockey, he thought it was so cool. I was center-right and right wing," she told Coveteur.
And she might indeed have had a career on the ice. "I thought I was going to be a professional girls ice hockey player. But then when I was twelve, I wanted to try acting and my mom didn't allow me for a bunch of years," she said in an interview with Vanity Fair. "But I finally convinced her and yeah, it's definitely my passion," While we love to see female athletes breaking the mold, we also love seeing Peltz on the big and small screen.
Fear not, she hasn't lost her hockey skills all these years later. In 2021, Brooklyn Beckham shared a clip of his then-fiancée showing him a thing or two on the rink. In the Instagram vid, Beckham Peltz knocks over Beckham with her hockey stick and the two playfully wrestle. "Don't mess with a girl. Throwback to the time @nicolaannepeltz was teaching me how to skate," he wrote.
Playing Dorothy Stratten was a 'special' experience for her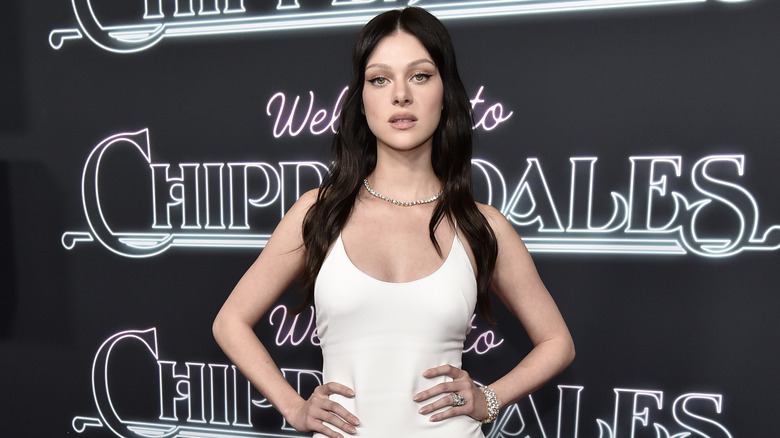 Rodin Eckenroth/Getty Images
In 2022, Nicola Peltz played Dorothy Stratten in the Hulu miniseries "Welcome to Chippendales." The real-life Playboy model and actor helped develop the Chippendales concept and the dancers' iconic costumes, and her connection to the club was depicted in the series premiere. In 1980, Stratten was murdered by her husband, Paul Snider, when she was just 20 years old. 
Peltz had been aware of Stratten's story long before she had the chance to portray her. "I watched the film 'Star 80' [a biopic about Stratten directed by Bob Fosse] and it stuck with me and it just is one of those films and stories that has always just lived in my head," Peltz said in PopSugar.
It was important to the actor to really embody the role, and she did an amazing job. Everything from her voice to Stratten's '80s bombshell style was on point. "When they put the wig on me for the first time and they did my makeup and then I finally went through wardrobe and put on my dress, it was really special because I felt like her so much," Peltz told ET. She also expressed why she felt a certain affinity for Stratten. "I think that people may have looked at Dorothy a certain way because of the way she talked or looked or what she wore and maybe not taken her seriously, so I can relate to that," she said.
No, she isn't feuding with Victoria Beckham
Of course, we all know and love Nicola Peltz's in-laws, David and Victoria Beckham. And naturally, when rumors of a rift between Peltz and her posh mother-in-law began to circulate, the tabloids were all over it. Apparently, it all began with a dress. Peltz was initially planning to wear a wedding gown designed by Victoria Beckham on her big day, but instead ended up in Valentino Couture.
But Peltz insists there was nothing shady about the decision to switch up her wedding wardrobe. "I was going to and I really wanted to [wear the dress], and then a few months down the line, she realized that her atelier couldn't do it, so then I had to pick another dress. She didn't say you can't wear it; I didn't say I didn't want to wear it. That's where it started, and then they ran with that," the actor told Variety in 2022.
People seem to love a famous feud though, so despite evidence that the two women actually quite like each other, Peltz still gets asked about the supposed drama. "I've said this so many times: There's no feud," she said in her Cosmopolitan interview. "No one ever wants to write the nice things. It's really weird, actually, whether it's my life or someone else's life or whatever, when you know the truth and then you read something totally wrong."
The legal drama surrounding her wedding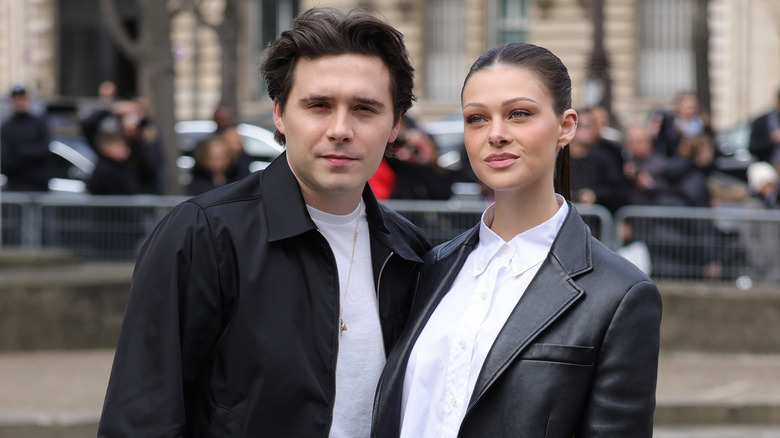 Pierre Suu/Getty Images
Anyone seeking out real, documented drama should look no further than the multiple lawsuits filed regarding the planning of Nicola Peltz's wedding to Brooklyn Beckham. According to Us Weekly, Nicola's father, Nelson Peltz, filed a lawsuit against Plan Design Events and wedding planners Arianna Grijalba and Nicole Bragin, claiming that they misrepresented their competence in planning such a lavish event. Peltz's lawsuit also states that the wedding planners never returned the deposit they were paid, even though they were let go after just nine days into the planning process.
Plan Design Events filed a countersuit claiming breach of contract, naming both Nicola Peltz and her mother, Claudia Heffner, in their suit. This did not sit well with Nelson Peltz who petitioned to have his wife and daughter removed from the case. In a statement obtained by People, Nelson's attorneys said, "PDE shamefully attempts to falsely portray Nicola in an extremely negative light to entice the media and hopefully pressure Mr. Peltz to dismiss his well-founded claims against PDE. While this was tailor-made for the tabloids, it could not be further from the truth." Peltz's petition was filed in March of 2023, so it's yet to be determined what will happen next.
She started a charity for shelter dogs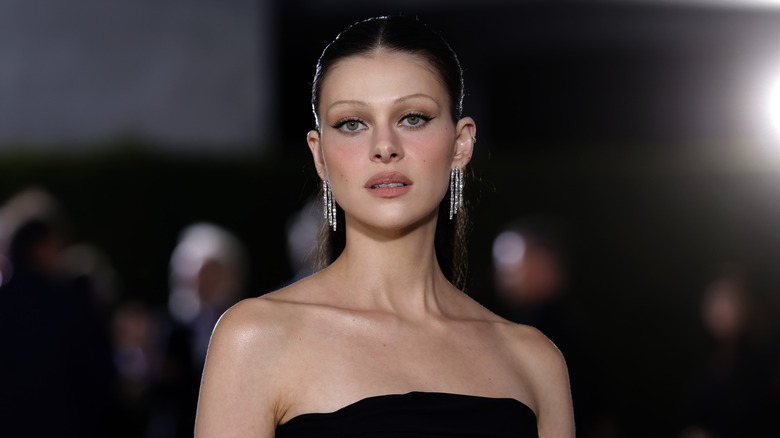 Frazer Harrison/Getty Images
As if her professional life and personal life weren't already packed as is, Nicola Peltz co-founded a dog rescue organization called Yogi's House. The nonprofit, which was launched in 2022, aims to rescue dogs from high-kill shelters and find new homes for them, which is no small undertaking. "I knew some shelters are kill shelters, but I had no idea, and maybe this is so ignorant to say, but I had no idea that someone would euthanize a dog just because there's no space," Peltz told Cosmopolitan in 2023.
And by the sound of it, Yogi's House has already done a lot of good and helped a lot of dogs so far. "We'll wait to see if someone is going to adopt the dog, and if they don't, we'll take the dog before it's euthanized and try to find it a home," the actor said. "We'll take care of medical expenses or training if they need it ... And right now, it's just us trying to figure this out and raise money." Peltz also spoke about how deep her commitment is to the cause, sharing, "it's taken over every single second that I'm not working."
Peltz clearly has a big space for pooches in her heart. In addition to saving dogs with Yogi's House, she's the proud owner of multiple pups. As of this writing, Peltz and Beckham have five dogs of their own. 
She and Brooklyn Beckham want to have a lot of kids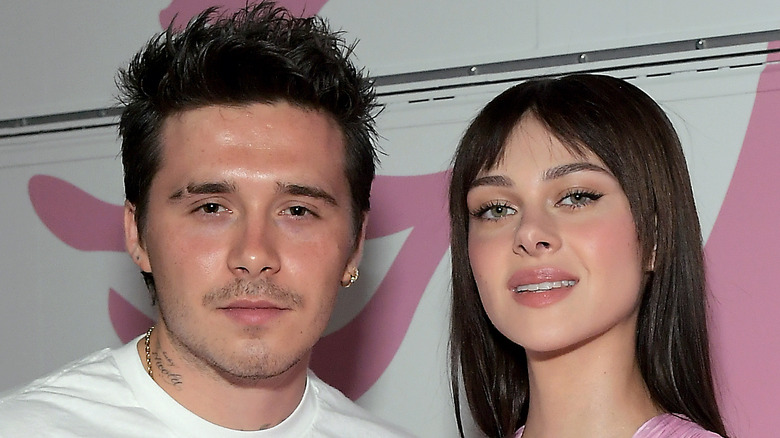 Charley Gallay/Getty Images
While it is clear Nicola Peltz devotes a lot of her time to her career and her charity work, she may soon be thinking about motherhood as well. She and her hubby, Brooklyn Beckham, have both said that they plan to have a large family. "I've always wanted to be a young dad, it's like been my dream ... I could have like 10, but [it's] her body ... it's her decision," Brooklyn told ET. And it seems Peltz is totally on board with raising a large brood. "We really do want a big family," she said in the same interview. "We want to have some of our own kids and then we really want to adopt kids too."
And while we most certainly will be super excited for the couple when they do expand their family one day, it seems Peltz has a few more things she'd like to do before she starts that life chapter. She told Cosmopolitan, "I think as an actor, you always have that dream role in mind or those dream people to work with ... I have so many things I would love to do. And I think when I do them, then I'll feel settled. And then I want to have a baby and then get right back to work." We hope she gives herself a little break to enjoy family life before she heads back to set, but we admire how driven she is.